Archive: July, 2012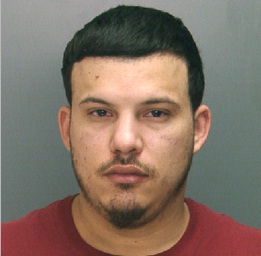 Police are searching for Henry Garcia, 32, in connection with a shooting on 7th Street near Tioga in the Franklinville section of North Philadelphia.
He and another unidentified man allegedly approached the victim on July 18 and immediately began shooting at him, police said. The victim was shot several times, but was able to flee the scene.
Garcia lives on Venango Street near 6th, about three blocks from the scene of the shooting, police said.
A 53-year-old man riding a motorcycle suffered a broken neck and head injuries when a car made an illegal u-turn and hit him Friday afternoon, police said.
The accident happened on University Avenue near Civic Center Boulevard at 3:52 p.m.
Police said the man was heading south on University Avenue near Civic Center Boulevard when the car turned and hit him. The injured man was taken to the Hospital of the University of Pennsylvania, which is near the scene of the accident.
This post has been updated
A 24-year-old man was fatally shot on Yewdall Street near Woodland Avneue in Kingsessing Friday afternoon, police said.
About 4:45 p.m. the man was shot three times in his right leg, once in his right arm, once in his lower abdomen and once in his left side, police said.
A 22-year-old man is recovering from a wound to his right shoulder after being shot on 53rd Street near Woodland Avenue in Kingsessing, police said.
The shooting was reported around 11:15 p.m., however when officers arrived on the scene the victim was no longer there, said Lt. John Walker of the Southwest Detective Division.
Shortly after the shooting was reported, a wounded man walked into the Hospital of the University of Pennsylvania, he said.
An 11-year-old girl is recovering from two broken legs and additional injuries after being hit by two cars on Broad Street near Snyder Avenue in South Philadelphia Thursday afternoon.
Police in the Accident Investigation Division said the girl was standing in between two cars that were parked in the middle lane of Broad Street about 4:40 p.m. when she stepped out from between them and was hit by a minivan. The girl stumbled and was then hit by a second car, police said.
The driver of the minivan fled the scene, police said, and the driver of the second car remained there until police and medics arrived.
US Marshals arrested Charles Davis Thursday in connection with a home invasion robbery and fatal shooting in Strawberry Mansion on March 5.
At about 3:45 a.m., Davis and Ali Marsh, 36, who was arrested March 11 according to court documents, broke into a house on Cecil B. Moore Avenue near 33rd Street and fatally shot a John Paul Jr., 35, and critically wounded his wife, Rhine. The couple's six and 13-year-old children were also at home at the time, but were not injured, police said.
Working from an anonymous tip, marshals found Davis hiding out at a friend's house on Conestoga Avenue near Poplar in West Philadelphia about 5:30 p.m.
Cops on Thursday morning nabbed the man they say was caught on video attempting to abduct a 10-year-old girl as she walked in her South Philadelphia neighborhood with her 2-year-old brother Tuesday afternoon.
Carlos Figueroa-Fagot, 33, surrendered to police in the East Detective Division around midnight Thursday and was directed to the Special Victims Unit before being temporarily released, police said.
Figueroa-Fagot and his relatives knew surveillance of the incident had been released by police, SVU Capt. John Darby said at a press conference Thursday.
A 24-year-old man was in critical condition after he was shot in the chest in Hunting Park Wednesday night.
Cops said the victim was outside on Airdrie Street near Old York Road shortly before 10:30 p.m. when someone opened fire, hitting him once in the chest.
Police took the man to Temple University Hospital, where he was listed in critical condition around 10:45 p.m.