Archive: June, 2013
A 7-year-old girl is in stable condition after her father cut her neck with a knife in East Mount Airy this morning, police said.
Cops were called to the house on Cliveden Street near Belfield Avenue around 8:30 a.m. and arrested the girl's father. Police said they also recovered a weapon in the home.
The young victim was taken to Albert Einstein Medical Center before being transferred to St. Christopher's Hospital for Children, where she was listed in stable condition this afternoon, police said.
Philadelphia police on Tuesday warned residents in two neighborhoods to be on the lookout after a woman was indecently assaulted in Pennsport and a man attempted to lure a 13-year-old girl in the Northeast.
In the incident in the Northeast, a 13-year-old girl was walking near her home on Hasbrook Avenue near Godfrey in Crescentville around 3 p.m. Monday when police say a man she did not know pulled over in a car and tried to get her to come over to him. She ran into the house, and the man took off, police said. The man is described as black and in his 30s with a dark complexion and a mustache. He wore a brown sweatshirt and drove a newer-model light-gray sedan.
In a separate incident Monday evening, police said, a 19-year-old woman was walking to her house on Mifflin Street near 3rd in Pennsport when a man approached and indecently assaulted her before fleeing toward 4th Street.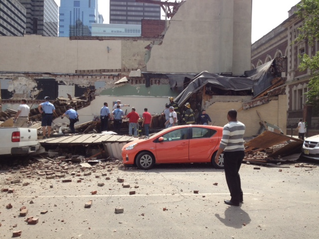 An Overbrook woman who was injured in last week's building collapse on Market Street filed a lawsuit today against the contractor, site owner, permit expediter and the Salvation Army.
Shirley Ball, 60, is seeking more than $50,000 for injuries to her head, back, shoulder, knees, elbows and neck she suffered in the June 5 collapse, according to the 40-page complaint filed in Philadelphia Common Pleas Court.
At least six other victims have also initiated lawsuits.
A 13-year-old girl was struck in the eye by a stray bullet in North Philadelphia this afternoon, according to police.
The girl was on Norris Street near 23rd around 4 p.m. when she was struck once in her right eye by gunshots that appeared to have come from the direction of Norris and Judson streets, about a block away, police said.
The teen was taken to Temple University Hospital where she was listed in stable condition. Police have not yet identified the shooter or intended target of the gunfire.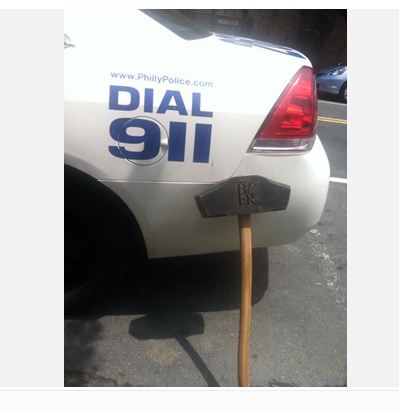 Now here's something to toast about - the Hammer of Glory, the physical symbol of Philly's Beer Week, was returned safely this afternoon after being stolen at a Beer Week event on Saturday.
The hammer, which went missing around 4 p.m. yesterday as it was being passed around for photo ops at the FestivALE in Fishtown, was returned to Frankford Hall today, according to Beer Week executive director Don Russell.
Shortly after it was turned over to Frankford Hall employees, Russell, a Daily News columnist who is also known as Joe Sixpack, received a phone call from the man who claimed to have turned in the hammer.
A woman was pulled into a Frankford appliance store early this morning where she was sexually assaulted by a man with a gun, according to police.
Around 4:50 a.m., cops were called to the Torresdale Appliance store on Torresdale Avenue near Orthodox Street. A Special Victims Unit supervisor said he was not sure who made the initial call to police.
Once on scene, police declared a barricaded subject armed with a handgun inside of the store, according to a police spokeswoman. The barricaded man was eventually taken in to custody without incident around 5:30 a.m.
A man is in critical condition after being shot in the head in Kingsessing, police said.
The shooting happened shortly after 2 p.m. Wednesday on Belmar Street near 57th. Police said the man, estimated to be between 20 and 25 years old, also suffered gunshot wounds to the hip and butt.
He was taken to the Hospital of the University of Pennsylvania.
Police are looking for a second gunman in a North Philadelphia shooting that left a 61-year-old woman wounded Monday morning after she was caught in the crossfire.
Police said the woman was caught in the crossfire when a gun battle broke out near 18th and Cumberland streets on around 9 a.m. Monday. She suffered non-life-threatening injuries and was hospitalized in stable condition, according to investigators.
One of the gunmen was also wounded in the shooting and hospitalized in stable condition, police said. He was in police custody yesterday, and cops were looking for a second shooter.