Police are searching for a man who followed a woman from a SEPTA concourse in North Philadelphia, pulled a knife on her and sexually assaulted her in a parking lot on May 26.
Around 9 p.m., the victim was leaving the Broad Street Line's North Philadelphia station on Broad Street near Lehigh Avenue when she noticed that a man was following her, police said.
The man eventually caught up with the woman, pressed a knife to her stomach and forced her into a parking lot on 15th Street where he sexually assaulted her.
David Reyes, who allegedly shot a man to death in broad daylight at a Jiffy Lube in Port Richmond, was tracked down and arrested by US Marshals in Jacksonville Fla. Tuesday morning.
On May 9, Reyes, 29, approached his victim, Samuel Rivera, 40, and got into a brief argument with him while he was pulling a customer's car into the service bay at a Jiffy Lube on Aramingo Avenue between Castor and Venango.
When the argument escalated, Reyes pulled out a gun and shot Rivera in his face and chest. Reyes ran toward Tulip Street as Rivera slumped over into the passenger seat of the customer's car. Rivera was later pronounced dead at Temple University Hospital.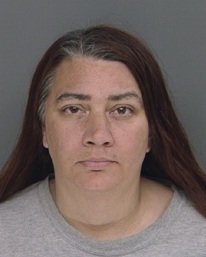 Danielle Dimeo wasn't content to stop and smell the roses, she had to go and steal them, police said.
Dimeo, 44, was arrested last weekend for stealing fake flowers that were tied down with barbed wire in front of Ronald Addes house on 10th Street near Jackson in South Philadelphia around 2 a.m. March 21st.
Police said an anonymous tipster identified Dimeo as the culprit but that wasn't until May 25, nearly two months after surveillance video of the theft was released.
Talk about stealing from the dead!
Two brazen thieves stole white wrought-iron patio furniture from the porch of the Hoffman Funeral Home at Hulmeville Road and Brown Avenue in Bensalem on June 1, carrying several heavy chairs and a loveseat to a pickup truck as nonchalantly as if they were legitimate movers. The theft occurred at 4:30 p.m., during normal business hours when the home was open for business.
Authorities believe the thieves stole the seating to sell as scrap for cash.
A man was hospitalized in critical condition after being shot on Gaskill Street near 4th in Society Hill Monday night, police said.
The man was shot twice in his back just after 11p.m. and was taken to Jefferson University Hospital where he was undergoing surgery around midnight. Police were unsure of the victim's age.
Police were investigating a homicide in North Philadelphia's Hartranft neighborhood late Monday night.
Cops said the victim, a man who remained unidentified just before midnight, was shot several times throughout the body and head on Cumberland Street near 10th around 11 p.m.
Police rushed the man to Temple University Hospital, where he was pronounced dead at 11:25 p.m.
A shooting in the Mantua section of West Philadelphia left a 20-year-old man hospitalized in stable condition Monday night, police said.
Shots were fired on 32nd Street near Haverford Avenue around 10:05 p.m. and the victim was wounded in his left leg and right hand.
Police took the wounded man to the Hospital of the University of Pennsylvania and were canvassing the scene for evidence and witnesses Monday night. Police said a weapon may have been thrown into the bushes near the crime scene.