Archive: June, 2012
A 26-year-old man remains in critical condition after he tried committing suicide at the Philadelphia Archery and Gun Club in South Philadelphia Monday afternoon, police said.
Police and medics responded to the club on Ellsworth Street near 9th around 1:45 p.m. The unidentified man shot himself in his head and was taken by medics to Jefferson University Hospital, police said.
The incident is at least the third of it's kind in the area within the past year.
Police are searching for a man in connection with two violent robberies in the Queen Village area earlier this week.
On Saturday around 6:15 a.m., a woman was walking along Christian Street near 4th when a man approached her from behind, grabbed her by her neck and assaulted her. He then took her purse and fled the scene, police said.
A similar robbery unfolded around 7:25 a.m. on Sunday, police said. A woman was walking on Catharine Street near 6th and noticed a man who was circling the block on his bicycle. The man used a white t-shirt to conceal his face. He approached the woman from behind, grabbed her by her neck and forced her to the ground. He snatched her purse — which contained $300, credit cards and her ID — and fled the scene.
A 29-year-old man was hospitalized Monday night after being shot in his buttocks on 7th Street near Nedro Avenue in Olney, police said.
Shots were fired around 8:20 p.m. and police said the shooter may have been riding in a dark green Nissan Maxima with tinted windows, police said.
The man was taken by private vehicle to the Albert Einstein Medical Center and was in surgery around 9 p.m., police said.
Police said the same man likely robbed two Southwest Philadelphia businesses between June 4 and June 13, and they're asking for help from the public to identify and arrest him.
A man walked into a 7-Eleven on 58th Street near Whitby Avenue, approached the counter and pointed a gun at an employee on June 4 just before 1 a.m., police said.
After he demanded money from the register, a clerk handed the robber an undisclosed amount of cash and he fled the scene on foot. Police believe the same man was recorded on surveillance cameras robbing a BP gas station and Dunkin Donuts on June 13.
A man was recorded forcing open a drive through window at a Dunkin Donuts in Olney and stealing a safe that contained $20,000 in cash, police announced Monday.
The burglary happened June 15 around 4:30 a.m. at a Dunkin Donuts on Front Street near Godfrey Avenue, police said. After the man slid through the drive-through window, police said he forced open the door to an office and found the safe. He pushed the safe through the window and fled on foot, police said.
The man is about 5 feet 10 inches tall, has a thin build and was wearing a black mask, a black t-shirt, blue jeans and white sneakers, police said.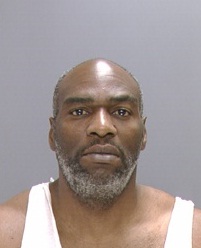 A 41-year-old man who followed a woman from a SETPA station in North Philadelphia and raped her in a parking lot was arrested, and is being held in the Curran-Fromhold Correction Facility, police announced Monday.
Joseph Woods, of Point Breeze, allegedly followed a woman from the Broad Street Line stop on Lehigh Avenue and pulled a knife on her around 9 p.m. on May 26. He forced the woman into a parking lot on 15th Street where he raped and robbed her, police said.
Woods, of Mountain Street near 18th, was arrested after a tipster recognized him from surveillance video the police department released to the public last week. He was also arrested on charges of indecent assault, simple assault and harassment on June 3, according to court documents.
This post has been updated.
A 2-year-old who was shot in the stomach during a triple shooting in the city's Logan section last night remains in critical condition today, according to police.
The little girl was outside on 12th Street near Courtland when gunfire erupted around 9:17 p.m. She was hit once in the stomach and transported to Albert Einstein Medical Center and then to St. Christopher's Children's Hospital, where she was immediately taken in to surgery, police said.
A 27-year-old man was critically wounded in a shooting in the Parkside section of West Philadelphia Friday night, police said.
Around 9 p.m. shots were fired on Harlan Street near 52nd and the victim was wounded twice in his left thigh and once in his lower back, police said.
The man was taken to the Hospital of the University of Pennsylvania and was listed in critical condition as of 10 p.m., police said.