Archive: June, 2011
A blaze sparked by faulty electrical wiring seriously damaged an orthodox synagogue in Overbrook Farms early this morning.
The blaze was reported at 12:44 a.m. at Raim Ahuvim, which is housed in a three-story, stone mansion on Drexel Road near 59th Street, said Capt. Jeffrey Thompson, a fire spokesman. Firefighters had the fire under control in 36 minutes, Thompson said.
Rabbi Harvey Gornish and Rabbi Aryeh Botwinick, who share leadership of the congregation, couldn't be reached for comment. But Marvin Gornish, the congregation's president, "unofficially" estimated damages at at least $100,000. Thompson said electrical wiring in the mansion's roof and ceiling areas ignited the blaze.
Police are probing several overnight shootings and stabbings this morning.
About 9 p.m., three unknown gunmen got into a fight with a man on Clarence Street near Jasper in Harrowgate and turned their guns on his 30-year-old girlfriend. Shot in each leg, she remains in critical condition at Temple University Hospital, police spokeswoman Officer Christine O'Brien said.
About five hours later, a 25-year-old man riding his bike heard three gunshots as he pedaled north on 54th Street near Greenway Avenue in Kingsessing, O'Brien said. He felt pain in his right shoulder and realized he'd been shot. He remains in stable condition at the Hospital at the University of Pennsylvania.
This post has been updated.
Four inmates were stabbed inside the Curran-Fromhold Correctional Facility Tuesday night, leaving one inmate dead, three others hospitalized and the facility on lockdown.
The stabbing unfolded about 10 p.m. inside "C Building, Pod 2," said Lorenzo North, the president of the Prison Guards Union Local 159.
A 30-year-old woman was taken to Temple University Hospital in critical condition after she was shot about 9 Tuesday night in Harrowgate.
The woman was hit once in the right thigh on Jasper Street near Tioga, and had a graze wound to her left thigh, police spokeswoman Tanya Little said.
Police Chief Inspector Scott Small said the victim suffered a broken femur in the shooting.
Police are searching for a man who robbed the Republic Bank on Frankford Avenue near Cottman Avenue in Mayfair Tuesday night.
At around 6:15 p.m., the man handed a teller a note demanding money and walked out with $1,500, police said.
The suspect is described as a thin white man who is about 5-feet-8 inches tall and has a beard.
Two punks robbed a Northeast Philadelphia GameStop earlier today.
Police said the robbers ­– one of whom was wearing a ski mask – barged into the store, on Roosevelt Boulevard near Tremont Street, at 4:07 p.m. and pulled what appeared to be a shotgun.
The thieves, who made off with about $1,600, were described only as black men, police said. No employees or customers were injured.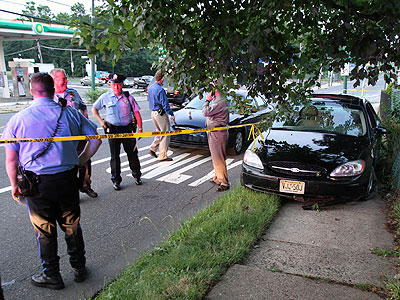 A Philadelphia police sergeant was dragged for half a block by two robbery suspects who were trying to make a getaway earlier tonight in Northeast Philadelphia.
The suspects were in a black Ford Taurus when they were apparently stopped by Sgt. Jeffrey Strunk near TD Bank on Woodhaven Road near Knights Road shortly after 7 p.m., police said.
The pair had just posed as cops and forced a woman who lived on nearby Abby Road to go to the bank and withdraw money, police said, although it was unclear if the victim gave them any cash.
Two men were hospitalized with minor injuries after they were stabbed in Parkwood Manor Thursday night.
Just before 10 p.m. the men, ages 28 and 38, were approached by a group of people they did not know on Byberry Road near Academy Road and got into an argument.
After being stabbed, police said the men were taken to Torresdale Hospital, treated and released soon after.