Archive: June, 2011
This post has been updated.
A man is in critical condition after being shot multiple times while he sat inside a car in North Philadelphia Monday night.
Police were unsure early Tuesday morning of exactly where the shooting took place, but said they found the 21-year-old victim inside the car on Glenwood Avenue near 10th Street at about 7:20 p.m.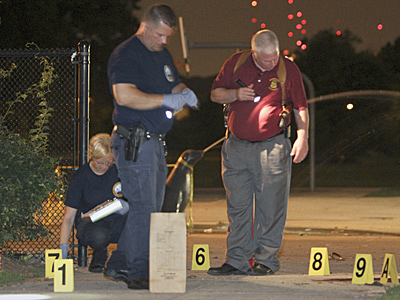 Philadelphia Police Commissioner Charles Ramsey said today that there were 33 people shot in the city within a three-day span from Friday to Sunday.
Of those shootings, five were fatal and one was a suicide.
Homicide Capt. James Clark said the latest killing of Nyeme Taylor, which occurred Sunday night at an unauthorized street party on 33rd and Diamond streets, was the result of Taylor, 30, urging his 14-year-old son to fight five men.
A shooting in the Hunting Park neighborhood left one man dead and homicide detectives searching for suspects Friday afternoon.
A 26-year-old man was shot in the back of the head on Butler Street near 13th Street, police said.
The man was rushed to Temple University Hospital and was pronounced dead.
Police are still on the scene of an early-morning homicide in Mill Creek.
A 58-year-old man was found with a stab wound to the left side of his chest about 6 a.m. this morning on the porch of a home on Westminster Avenue near 51st Street, police spokeswoman Officer Christine O'Brien said. Paramedics declared him dead on the scene at 6:15 a.m. It appears he might have been there a few hours, O'Brien said.
Police reported no suspects or motive. Tipsters can call homicide detectives at (215) 686-3334.
A man is in critical condition after being shot Thursday night in North Philadelphia.
At about 11:15 p.m., the man was shot in the chest on Perth Place near 8th Street, officials said.
Police transported the man to Hahnemann University Hospital, and said he was listed in critical condition at 12:15 a.m.
From Daily News reporter Regina Medina:
Police are seeking the public's help in nabbing an armed thief who robbed a Mayfair 7-11 store last month, fleeing the scene with cash.
The sticky-fingered suspect walked into the 7-11, on Frankford Avenue near Levick Street, around 2:30 a.m. on May 7, and walked behind the counter, police said. He pulled out a black semi-automatic handgun, aimed at the store clerk and demanded money.
Philadelphia police have identified the inmate killed by other inmates at the Curran-Fromhold Correctional Facility last night as Earl Bostic, a repeat violent offender whose rap sheet is three pages long.
Bostic, 42, was stabbed multiple times all over his body, including his chest, in the 10 p.m. incident inside C Building, Pod 2, authorities said. Three other inmates, ages 24 and 28, were also stabbed and are recovering in area hospitals. Bostic had been incarcerated since Jan. 1 on charges stemming from a Dec. 30 armed robbery, according to court records. His trial was scheduled for Oct. 17.
The facility, located on State Road in Northeast Philadelphia, was placed on lockdown after the stabbings.
A teenager found his grandparents dead in a murder-suicide this morning in Northeast Philadelphia, police said.
The 16-year-old went to his grandparent's house on Northeast Avenue near Rising Sun around 10:37 a.m. and found that they had both been shot, police said.
The couple, both of whom were 74, were pronounced dead on scene, police said. Their identities have not been released.