Archive: May, 2011
A double shooting Wednesday afternoon in North Philadelphia left one man dead and another in Hahnemann University Hospital Wednesday afternoon.
Police said the two men were shot on Ridge Avenue, near 19th at about 1:30 p.m.
A 21-year-old man who was shot in the chest died, police said.
An unknown man not only pissed away his money at an area casino, he also pissed his way out of the casino, according to police.
In a news release, state police said the man, who has not been identified, was playing poker at Parx Casino in Bensalem around 3:10 a.m. on May 3. When he left, police said the man kicked over a marble garbage can that caused about $900 in damage (that must have been some can - or some kick).
Afterword, the man proceeded towards the door, but not before he urinated in a planter in the lobby of the casino, police said.
Police arrested two South Philadelphia men in the April 30 beat-down in an Old City parking lot that left a 27-year-old man hospitalized with a broken jaw and shattered eye socket.
Michael Russo, 21, of Carlisle Street near Snyder Avenue, and Edward Costello, 19, of Smedley Street near Oregon Avenue, were charged with aggravated assault and related offenses, police said. Police are still seeking two other suspects.
The victim, whose name was withheld by police, and his friend, 25, left the Mad River Bar, on Chestnut Street near 2nd, about 2 a.m. and headed toward the E-Z parking lot on the same block. A few minutes later, Russo allegedly began arguing with the younger man. Russo and his friends allegedly chased the pair into the lot and began hitting the younger man. They turned their aggression toward the 27-year-old when he intervened to defend his friend. Russo allegedly punched the victim into unconsciousness. The victim required six stitches to his forehead. Surveillance cameras caught the episode on tape, which police released last week. Tipsters helped police identify the bullies.
A man was hospitalized Tuesday night after being shot about 11 on 8th Street near Erie Avenue in Hunting Park.
Fire officials said an adult male was taken to Temple University Hospital with a shoulder wound.
A description of a possible suspect was not immediately available, and officials were unsure of the man's age.
UPDATE:
Homicide Sgt. Bob Wilkins said the victim, 23, was a Penn State University student who was set to graduate later this week.
The young man, whose name was not released, sitting on the stoop in front of his girlfriend's house when the shooter approached and asked for the keys to his motorcycle.
Police have identified the 22-year-old man who was killed by a hit and run driver on Roosevelt Boulevard early Monday morning as Martin Xol.
Early reports indicated that the man was hit by the car after exiting a SEPTA bus.
However, Jerri Williams, a SEPTA spokeswoman, said the man was not one of the passengers exiting the route R bus on the corner of Roosevelt Boulevard and 4th Street at about 1:50 a.m.
How's this for disturbing: six people have been shot in the city tonight — in less than an hour.
The trail of blood began on Crowson Street near Locust Avenue in East Germantown, where a 22-year-old man was shot in the hip at 6:59 p.m., said police Chief Inspector Scott Small.The victim, whose name was not released, was admitted to Albert Einstein Medical Center in stable condition.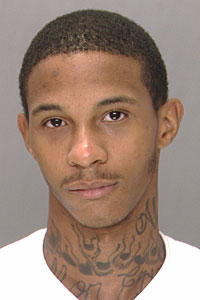 The law finally caught up with the man whom authorities say was involved with the Easter Sunday murder of a West Philly teen.
Julian Frisby was arrested about 5:30 tonight by U.S. Marshals and Philly homicide detectives who tracked him to a house in Norristown, where he was hiding in the basement, authorities said.