Archive: May, 2011
A pregnant woman and a man were hospitalized after a shooting at a house on 60th Street near Lansdowne Avenue, Overbrook, about 9:15 Tuesday night.

Police Lt. John Walker said the woman, 20, is seven months pregnant and was undergoing surgery at the Hospital at the University of Pennsylvania about 10:30 p.m. She was shot once in the back and leg, and was in critical condition, Walker said.

The 20-year-old man was shot once in the leg and back and was found on Lansdowne Avenue. He was listed in stable condition at the hospital.
A man was stabbed this morning while riding on SEPTA's Broad Street line subway, police said.
Around 10:52 a.m., a 21-year-old man was stabbed once in the stomach by a 20-year-old man on the train, police said.
Passengers notified the train operator that a fight had occurred and Philadelphia and SEPTA police met the train at the Ellsworth-Federal station, according to a SEPTA spokeswoman.
A man was shot multiple times on Cambria Street near Bailey in North Philadelphia about 5 p.m. Monday.
Police Chief Inspector Scott Small said the man was shot twice in the back, once in the side and once in the arm. He was taken to Temple University Hospital and was pronounced dead at 5:30 p.m. Officials were unsure of the man's age.
Just before 9 p.m., a man was killed and another was taken to the hospital after they were shot in Hunting Park.
This post has been updated. As of 9:45 p.m., the younger victim is in stable condition, while the 17-year-old has been declared brain dead, police say. For an updated report, click here.
A 1-year-old and two 17 year olds were victims of separate shootings that happened within an hour of each other this afternoon in the city, according to police.
Around 4:08 p.m., the 1-year-old and a 17-year-old were the victims of a double shooting in Kensington, police said. Three men in a green or black Honda Odyssey minivan opened fire on Orleans Street between Amber and Martha and hit the toddler in the shoulder, police said. The 17-year-old was declared brain dead at Temple Hospital Monday night.
Two phenomenons of the Internet age - bad online dating and Nigerian money schemes - came together for one Hatfield man who was almost swindled out of $46,000 this month, police said.
James Thelning, 64, of Hatfield, met someone who called herself "Mary Douglas" through an online dating web site, according to police. "Mary" told Thelning that she was going to Africa to star in a movie and needed some funds to cover the expenses, police said. She told Thelning that after the movie shoot, she was going to come to Hatfield to pursue their relationship, according to police.
Several "people" reporting to be Mary's business manager and then a representative of Mary's business manager, planned with Thelning to have him withdraw $46,000 from his bank account and deliver it to a courier at the Philadelphia International Airport, police said.
A man in Kensington was shot in the thigh at about 10:45 Thursday night, and about five minutes later another man was shot in the foot in North Philadelphia.
When police asked each victim for information concerning the suspects who shot them, the men decided to keep quiet.
District Attorney Seth Williams walked with police, members of the religious community and neighbors along 5th Street in Olney Friday night, hoping to encourage neighbors to feel comfortable cooperating with law enforcement, and to not be reluctant to provide police with crucial information following a crime.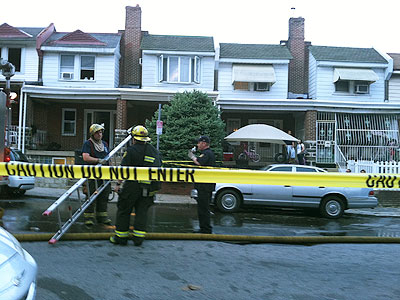 Firefighters responded to a blaze on M Street near Luzerne at about 7 p.m., which temporarily shut down traffic on M Street between Luzerne and Lycoming in Juniata.
There were no reported injuries in the house fire, officials said, and neighbors said it was quickly brought under control.
Many of them were outside watching firefighters bring the blaze under control, some craned their necks out of the windows of their row homes while the smell of smoke lingered over the neighborhood.
An 18-year-old man was shot and killed on York Street, near 5th in North Philadelphia just after 9 p.m. Thursday, police said.
Police Chief Inspector Scott Small said the man was shot once in the chest, and once in the head.
Medics pronounced the man dead at 9:25 p.m., Small said.