Archive: April, 2012
Police are investigating four overnight shootings that left six people wounded, including a teenager.
In the first incident, a 21-year-old man was critical after he was shot during an attempted robbery in East Germantown. The victim had just left his house on Chelten Avenue near Boyer Street around 7:30 p.m. when a gunman accosted him and demanded, "Give me the money," according to police spokeswoman Officer Tanya Little. The two started fighting, Little said, and the gunman fired one shot at the victim, hitting him once in the left shoulder.
The victim was taken to Albert Einstein Medical Center and listed in critical condition. The suspect is described as a 6-foot black man who wore a white hooded sweatshirt and was last seen fleeing east on Chelten.
A 24-year-old man was clinging to life Friday night after being shot nine times on Forrest Avenue near Walnut Lane police said.
Shots were fired just before 10 p.m., and police said the victim was wounded in both thighs, his jaw and suffered a graze wound to his chest — among other injuries.
He was taken by police to the Albert Einstein Medical Center and was listed in critical condition just before 11 p.m.
A 30-year-old man was hospitalized in stable condition after being shot in his left hand Friday night in West Philadelphia, police said.
Shots were fired on 44th Street near Fairmount Avenue around 7:40 p.m. and police said the man suffered a gunshot wound to the ring finger on his left hand.
Lt. John Walker, of the Southwest Detective Division, said the man told police he was approached during an attempted armed robbery, tried grabbing the suspect's gun and got shot.
A 61-year-old contractor who was working on the roof of a Hyperion Bank Branch on the northern edge of Northern Liberties slipped and fell to his death Friday afternoon, police said.
The accident happened on Girard Avenue near 2nd Street around 5:50 p.m., said Officer Tanya Little, a police department spokeswoman.
The man, who has not yet been identified, was working to remove pigeons from the roof and was pronounced dead by medics on the scene, Little said.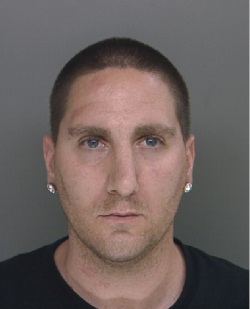 Paul Raffa, 32, of the Pennsport section of South Philadelphia, was arrested Friday in connection with a bank robbery and bomb threat in Center City on Thursday afternoon.
Raffa, of Snyder Street near 3rd, allegedly walked into a PNC Bank branch on Market Street near 11th around 3 p.m. on April 19 and slid a threatening demand note to a teller, police said.
He demanded money and said that he was carrying a bomb in his bag. Police said Raffa left his bag inside the bank and fled with $3,000 in cash.
A 52-year-old man was standing on the corner of 9th and Brown Street when he was wounded in a hail of gunfire Thursday night, police said.
The man was standing beneath a train trestle near the scene of a shooting on 8th and Brown, where cops found 16 shell casings. Chief Inspector Scott Small said he was likely an innocent bystander.
The man was wounded in his knee and was taken to Hahnemann University Hospital. He was listed in stable condition as of 10:40 p.m.
An 18-year-old man was in critical condition Thursday night after he was shot at least three times on a North Philadelphia street after an argument, cops said.
At 8:44 p.m., the victim was outside on Myrtlewood Street near Master when two men opened fire on him, cops said. He was struck in the stomach, arm and leg, Chief Inspector Scott Small said at the scene.
Small said police believe the man was the intended target, and that the shooting was motivated by an earlier argument that may have been over a woman. He was rushed by Narcotics officers to Hahnemann University Hospital, where he was listed in critical condition but expected to survive.
Police are investigating a shooting in North Philadelphia that left a 21-year-old man hospitalized and two parked cars marred by stray bullets.
The man was shot once in his left leg about 5:15 p.m. on 24th Street near Montgomery Avenue and ran inside his house afterward, said Chief Inspector Scott Small. He was taken to Temple University Hospital by private auto and was listed in stable condition as of 8 p.m.
Police said the victim was not forthcoming with information on the shooter's motive, and did not provide a description of the suspect.