Archive: April, 2012
Want to tip police off to crime in your area? Add texting to the ways you can now report wrongdoing.
Mayor Nutter announced the Philadelphia Police Department's text tipline at yesterday's Philly Tech Week Switch Philly event.
"We are using as many tools as possible so citizens can easily reach out to the police to report crimes, illegal guns or to provide tips that could lead to the arrest of dangerous criminals," Nutter said. "This tipline is one more way that citizens of Philadelphia can take back their neighborhoods. I would like to encourage Philadelphians to save this number in their phones. If you know something, say something. The police need partnership with our communities and neighborhoods to keep our streets safe. We will reduce crime in our city only if residents and their police work together."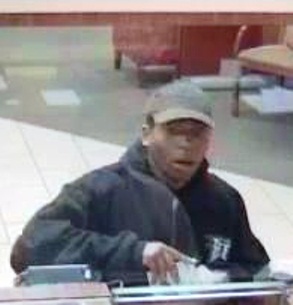 Police and the FBI are asking for help from the public to identify a man who tried robbing a Wells Fargo Bank branch on Broad Street near Glenwood Avenue in North Philadelphia Wednesday afternoon.
The man slid a bank teller a threatening demand note at 1:37 p.m. but ran from the bank empty handed, FBI officials said.
The suspect is described as a black man in his mid-20s to early 30s who is 5'5 and has a thin build. He was wearing a dark hat and a dark hoodie with a Philadelphia Eagles logo on the back.
An argument over food left a 56-year-old man hospitalized with a gunshot wound to his forehead and his 22-year-old nephew behind bars Wednesday, police said.
Lt. John Walker of the Southwest Detective Division gave this account:
Around 10:35 a.m. the victim and his nephew, whom police identified as Brandon Lambert, got in an argument because Lambert ate his uncle's food. The argument eventually escalated to a fistfight in the kitchen of the victim's home on 33rd Street near Wallace in the Manuta section of West Philadelphia.
This post has been updated
A 45-year-old man was shot five times in his leg in Southwest Philadelphia, and was hospitalized in critical condition Wednesday night, police said.
Shots rang out around 7 p.m. on 60th Street near Greenway Avenue, said Lt. John Walker of the Southwest Detective Division. The victim and the suspect were involved in an argument which eventually escalated to gunfire, said Chief Inspector Scott Small. It was unclear what the two were arguing over Wednesday night.
Daily News reporter Morgan Zalot will be tweeting from a press conference at 6 p.m. at Northeast Detectives to discuss the arrest Wednesday in the tire slashing case.
On a mobile phone? Click here to follow along.
This post has been updated
A 39-year-old security guard is in stable condition after being stabbed during an attempted armed robbery at a Home Depot in Port Richmond Wednesday afternoon, police said.
The man was trying to steal copper wire from the store on Castor Avenue near Thompson Street around 4:10 p.m., and stabbed the guard once in the right side of his abdomen, police said. He also cut a second guard on his right arm and fled the store in a white truck, police said.
Give up your gun, get some groceries.
The Knorr Street Shoprite and the Philadelphia Police District Advisory Council will sponsor a gun buyback program this Saturday at St. Joachim's Church Hall, 1527 Church St., Frankford. The event will be 10 a.m. to noon. Anyone who turns in any gun will receive a $50 voucher for a local supermarket. Guns may be given anonymously.
An elderly Maryland man was charged with drug crimes after he allegedly smuggled narcotics into the Chester County Prison for his young paramour, an inmate there.
Dennis Dallas Leffew, 70, of Elkton, Md., was chucked into the same prison in West Chester as his girlfriend Jessica Ann Williams, 25, also of Elkton, after prison mail monitors discovered that Leffew mailed Williams at least four envelopes containing suboxone between Feb. 8 and April 11, according to Chester County District Attorney Tom Hogan. Both are charged with conspiracy, delivering contraband to a prison inmate, drug delivery and related offenses. Suboxone is an addictive medication that, when prescribed by a doctor, is used to fight opiate addiction or chronic pain; abusers use it to get high.
"Hey, if he wanted to be closer to his girlfriend, he just succeeded," Hogan said of Leffew, who was arrested April 11 in the prison's parking lot, on his way in to visit his lover.