Archive: April, 2011
A Colorado couple wasn't just flying high - they were transporting highs - when they traveled to Montgomery County in their personal airplane last week, according to prosecutors.
James Handzus, 51, and Tamara Vincent, 41, both of Rifle, Colo., allegedly used Handzus' 1959 Piper Comanche to transport a large quantity of methamphetamine, police said.
Last Thursday, Handzus landed his airplane at Wings Field in Whitpain Township and the following day, met with an undercover detective posing as a buyer at a local Ruby Tuesday's restaurant, police said.
A body found floating in the Schuylkill River this morning near the Sunoco Refinery matches the description of a man from Korea who went missing while visiting his wife in Philadelphia earlier this month.
Police said the body of an Asian man in his late 30s was found in the river around 9:42 a.m. today about a quarter mile north of the Girard Point Bridge.
The man has not been identified but his description is similar to that of Yong Jin Kim, who was reported missing on April 12.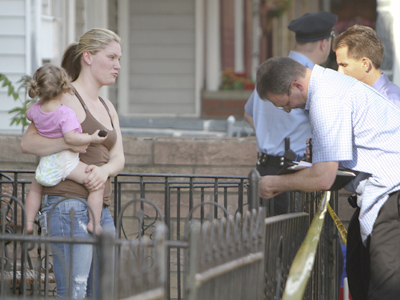 A 23-year-old man was shot in the chest by an off-duty police officer in Northeast Philadelphia earlier today.
Residents and police officials told dramatically different versions of what unfolded on Worth Street near Margaret shortly before 4 p.m.
Police said the off-duty cop, whose name was not released, was helping a relative move into a house on the block when he noticed Josh Taylor walk in and out of a house on the street while carrying a handgun.

Today's Daily News takes an admittedly early look at what comes next now that the fanfare over police Commissioner Chuck Ramsey's decision to stay in Philly has subsided.
A handful of city leaders offered their thoughts on what Ramsey needs to focus on during the next few years, assuming, of course, that Mayor Nutter is re-elected. And Ramsey shared his own thoughts during a lengthy Q&A.
Now, we want to know what you, our dear readers think. What should the commissioner's top priority be?
Homicide detectives are investigating Sunday night's stabbing death of a 37-year-old Kensington man.
The man was found in the second floor kitchen of a home on Boston Street near Cedar, with multiple stab wounds to the torso, police said.
He was pronounced dead at the scene at 7:51 p.m. Police reported no arrests or motive.
Easter night has been a violent one in West Philadelphia.
A 19-year-old man is in stable condition after being shot three times in the back after four unknown gunman opened fire on Ogden Street near 50th around 8:20 p.m.
He was taken to the Hospital of the University of Pennsylvania by police. Police reported no arrests or motive.
At about 2 a.m. Thursday morning, two men walked into a 7-Eleven on Ogontz Avenue near, 78th in Cedarbrook and robbed it at gunpoint.
One of the men, who was wearing a white painter's mask, pulled his black hooded sweatshirt up and exposed the black grip of a handgun tucked in his sweat pants, police said.
The second suspect covered his face with his forearm, and walked to the counter.
Apparently, times are that hard.
A man around the age of 50 was walking along Sansom Street near 53rd, in West Philadelphia, when he was approached by a gun-wielding man at about 1 a.m.
The armed man robbed the victim at gunpoint and ran off with a grand total of $5.