Archive: March, 2013
A 32-year-old man is in stable condition after being shot four times during a bizarre shooting in Frankford, police said.
The shooting happened around 3 p.m. on Wakeling Street near Worth Street. Police said the victim was driving on Wakeling when a man driving a blue car pulled up next to him and started shooting, hitting him once in the left leg, twice in the left arm, and once in the left ear.
Fortunately, the victim was able to maintain control of the car and drove himself to a pizza shop near the corner of Orthodox and Torresdale where someone called 9-1-1. The victim was taken to Temple University Hospital and listed in stable condition.
Police are investigating a double shooting early Sunday at Brothers bar in Kensington.
The shooting happened around 1:15 a.m. at the bar, located at the corner of Water and Ontario streets. Police said a 43-year-old Hispanic male suffered a graze wound to the head and a 28-year-old Hispanic male was shot once in the leg.
Police said someone entered through a side door, walked up behind the first victim and fired, narrowly missing the back of his head. The second victim was found down the street from the bar and may have been the shooter.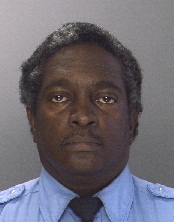 A veteran Philadelphia police officer was charged with driving while under the influence Monday night in Kingsessing.
Joseph Kelly, 53, was off duty when he was involved in a car crash on Woodland Avenue near 49th Street about 9:20 p.m., police said.
Kelly, a 23-year veteran of the force, appeared to be impaired at the scene, police said. He was taken to the Police Detention Unit and given a breathalyzer test, which allegedly showed his alcohol level to be over the legal limit.
A 23-year-old man was fatally shot outside a gentleman's club on South Columbus Boulevard early this morning, police said.
At approximately 4:30 a.m., officers received a call for a shooting in a parking lot outside Club Onyx on South Columbus near the Interstate 95 overpass.
The victim was taken by private vehicle to Temple University Hospital suffering from gunshot wounds to the jaw and back, police said. He was pronounced dead just after 5 a.m. Police have not released his name.
A suspect trying to elude police capture in a stolen minivan caused a car wreck in Olney Friday night, leaving a civilian injured, police said.
Officers in the Northeast's 2nd District detected a hit on the stolen van's license plate on Cheltenham Avenue near Rising Sun shortly after 7:30 p.m., according to investigators. The cops followed the van until the suspect took off at a high rate of speed on Newtown Road, where police lost him.
The suspect continued to flee, until he crashed the van into another car at Front Street and Godfrey Avenue around 8:40 p.m. Both vehicles, badly damaged, ended up on the sidewalk.
Police are investigating the murder of a man who was found shot to death in a boarding house in the city's Hunting Park neighborhood Friday afternoon.
The victim, who remains unidentified but is estimated to be in his 30s, was found around 2 p.m. with at least one gunshot wound to the head lying in the third-floor hallway of what police say is a boarding house on Butler Street near 13th. He was pronounced dead by medics at 2:09 p.m.
The circumstances surrounding the man's murder are unclear at this point, and the investigation continues. No arrests have been made.
This post has been updated.
Two police officers in Overbrook late Thursday night narrowly missed being shot when authorities say a man with a lengthy criminal record opened fire on them.
The cops shot back, department spokesman Lt. John Stanford said, fatally wounding the 32-year-old man, whom police identified Friday as William Washington, of Broad Street near Poplar in North Philadelphia.
A car stop and the sharp eyes of some Cheltenham police officers earlier this week led to the bust of a massive marijuana grow operation in the city's Olney neighborhood, police said Thursday.
Montgomery County Assistant District Attorney Nathan J. Schadler said Cheltenham police stopped a car near the Cheltenham Mall on Tuesday and found a pound and a half of marijuana in the vehicle. Upon spotting burn marks on the hands of the passenger of the vehicle and dirt under his nails, Schadler said, the officers suspected that he may be linked to a grow operation somewhere.
Cops arrested that man, identified as Eugene Horsch, 31, of Philadelphia, and through a joint investigation, tracked down the grow operation at a house he owns on Chew Avenue near 4th Street in Olney, authorities said.