Archive: March, 2011
A 41-year-old Audubon, N.J. woman turned herself into Gloucester City Police Sunday after a hit-and-run car accident that happened last week.
Angela Gattuso's Honda SUV broke down on Broadway at about 1 a.m. Friday, and she called her father to tow the car off the road, police said.
While Gattuso, 21 of Clarksboro, was loading her car onto her father's truck, Deborah Cirulli, driving a Chevrolet Uplander at the time, hit Gattuso and fled the area.
Police are searching for a man in connection with two assaults in Spring Garden last week.
The man, a black male who police said may be 18 to 25-years-old, reportedly grabbed the buttocks of two women on 15th Street near Green, then fled the area on March 10 at about 10 a.m.
The suspect is between 5-foot-6 and 5-foot-8 inches tall, police said. A surveillance camera in the area recorded the man wearing jeans, sneakers, a red plaid shirt and a green vest.
Follow link to view video, http://www.phillypolice.com/news/special-victims-unit-seeks-help-with-suspect-identification
A Bolt Bus driver was busted for allegedly driving drunk when police pulled him over in Mount Laurel Friday afternoon, police said.
The bus left New York and was heading to Baltimore on the New Jersey Turnpike when passengers noticed something was wrong and called police. The bus carrying 48 passengers was pulled over at 3:50 p.m. After a sobriety test, the driver was arrested and charged with driving under the influence, police said.
No one was injured but passengers had to wait until another driver arrived.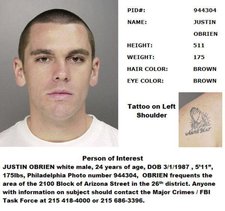 UPDATE: Police just announced that Justin O'Brien, a suspect in three Kensington bank robberies this month, was actually arrested on Friday, a few hours after his photo was released to the public.
O'Brien was charged with three bank robberies, including one each on Friday, Thursday and March 5.
---
Two men were shot in Southwest Philadelphia when gunfire erupted Friday afternoon, police said.
A 19 year-old was shot once in the inner right thigh and a 20 year-old was shot once in the left side of his back on Robinson Street near Dicks Avenue at 4:39 p.m. when a man appeared from an alley and began shooting at a group of people, said Lt. John Walker of Southwest Detectives.
Another man shot back and the victims were injured in the crossfire, Walker said.
A 46 year-old man was shot during an attempted robbery in the Haddington section of West Philadelphia Thursday night, police said.
The victim was shot in the leg on Vine Street near 56th at 10 p.m. during the robbery attempt.
He was treated for his injuries at Misericordia Hospital and released. Police have no arrests or suspects in the shooting.
Yesterday, we told you that Police Commissioner Charles Ramsey was rumored to be among the potential candidates to replace Chicago Police Superintendent Jody Weis, who resigned earlier this week.
The story looks like it might be growing legs. The Chicago Sun-Times is reporting that Ramsey has told a source close to him that he would love to go back to the Windy City, where he started his police career four decades ago.
Says the Sun-Times:
A man was critically injured after someone shot him multiple times inside of his vehicle in North Philadelphia Thursday evening, police said.
The 28-year-old victim was sitting inside of his 2005 Mercedes Benz on Thompson Street near 3rd at 5:13 p.m.
Police said someone shot the man in his forehead and right hand. He is in extremely critical condition at Temple University Hospital.