Archive: March, 2011
A 21-year-old man was shot and killed about 9 tonight in North Philadelphia.
The victim, whose name was not released, was wounded once in the head and twice in the chest on Philip Street near Ontario, police said. He died at the scene.
Police had no suspects or motives. Tipsters can contact the Homicide Unit at 215-686-3334 or -3335.
Life on the lam didn't last too long for Jose Vasquez.
Vasquez -- who was arrested by police on Wednesday on drug charges, and then escaped while handcuffed in Center City -- was nabbed earlier tonight in Kensington.
Members of the 24th District's Burglary Detail Team spotted Vasquez's car on Indiana Avenue near Front Street and set up surveillance, said Officer Tanya Little, a police spokeswoman.
Police are looking for two men who shot and robbed a man on McMichael Street near the Roosevelt Expressway, in East Falls, Wednesday night at around 10:35 p.m.
The suspects got away with a grand total of $3, police said. Adding insult to injury, the thieves also ran off with the man's keys.
The victim, a 39-year-old man, was wounded in the left leg. He was briefly hospitalized and released early Thursday morning, police said.
A man robbed a Wendy's in North Philadelphia Wednesday night, but little did he know that he was captured on surveillance video, police said.
The man walked into the Wendy's near Temple University, on Broad Street near Cecil B Moore Avenue, at 10:31 p.m. with his hand in his shirt. He then handed over a demand note that read, "put money in bag."
The bandit got away with $140, police said. No one was injured. Police are still investigating, adding that they hope to release a still from the video which may help in the arrest.
Police are searching for a man in connection with an armed robbery tonight at a Dunkin' Donuts on Rising Sun Avenue at Roosevelt Boulevard in Olney.
At around 9 p.m. a man walked into the store armed with an assault rifle and demanded money, police said. The suspect left with $150 in cash and fled the scene on foot.
Police are looking for a black male, between 20 and 30 years old who is wearing a blue hooded sweater with a zipper and multicolored strings hanging from it.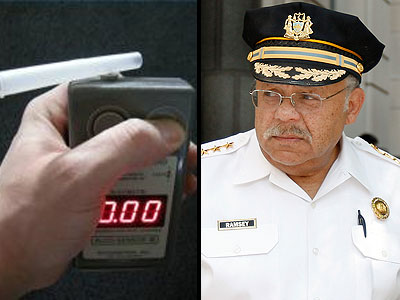 Philadelphia police have discovered that at least four Breathalyzer machines routinely used to test motorists for alcohol and drug impairment were improperly calibrated, throwing at least 1,147 current DUI cases into uncertainty.
"We screwed up, folks," Commissioner Charles Ramsey said this morning at a press conference where he was flanked by District Attorney Seth Williams and a small army of other bigwigs.
A defense attorney noticed the discrepancy and brought it to police attention in February, Ramsey said. Tests on the Department's eight Breathalyzer machines showed that four of them were improperly calibrated. Police initially thought the faulty calibration only affected about 400 cases. But as they tested the machines, they found more cases impacted - adding up, as of yesterday, to at least 1,147 cases dating from September 2009 through November 2010, Ramsey said.
A 28 year-old man was stabbed multiple times outside of a bar in the Overbrook section of West Philadelphia Wednesday morning, police said.
The victim was stabbed in his hands and arms on Lansdowne Avenue near Allison Street at 1 a.m.
He was rushed to the Hospital of the University of Pennsylvania where he is in stable condition.
A 64-year-old motorcyclist who police say rear-ended a Route 57 SEPTA bus in South Philadelphia, died Tuesday night.
The man hit the bus just before 5:30 p.m. on 10th Street near Oregon Avenue, a SEPTA spokeswoman said.
He was taken to the University of Pennsylvania Hospital, where he later died.