Archive: February, 2012
Police are seeking the public's help to track down two suspects in connection with a late-December shooting during an apparent robbery that left a man critically wounded in West Oak Lane.
In surveillance video released by police Wednesday, one suspect approaches the victim's car, goes inside briefly, and then exits. The second suspect then enters the victim's car. That's when cops say the second suspect took out a handgun and shot the victim several times, critically wounding him.
The shooting happened at about 9:40 p.m. the night of Dec. 27 at 19th Street and 76th Avenue.
The family of a Villanova University student killed in 2010 when a motorist fleeing police in a stolen Range Rover crashed into his car in Haverford has started a memorial scholarship fund at the school.
Daniel Giletta, 21, a Villanova senior from Wyckoff, N.J., died Sept. 29, 2010, after Donnie Sayers of Bryn Mawr hit his Volkswagen Jetta at more than 80 mph. Giletta's roommate, Frank Patrick DiChiara, 22, a Villanova junior, was critically injured in the collision but survived. Police arrested Sayers a few days later, and he pleaded guilty last May to homicide by vehicle while driving drunk and on PCP. He was sentenced to 13 to 26 years in prison.
The new scholarship will benefit Villanova students in engineering, Giletta's chosen field of study.
Police are searching for a man wanted in a string of robberies in December and January, including a gunpoint holdup of Holme Circle's Circle Pharmacy, on Holme Avenue near Winchester, Jan. 25.
Cops on Monday released surveillance video of that robbery, during which police said the suspect demanded various medications before fleeing on foot at 6:54 p.m.
Police described the suspect as a thin white or Hispanic man between 5 feet 8 and 5 feet 11 who wore a brown hooded sweatshirt, dark blue jeans, black gloves and a white cloth over his face.
A 24-year-old man was shot to death in broad daylight on an Overbrook street Monday afternoon.
Police said the man was outside at 55th and Hunter streets at 1:41 p.m. when he was shot twice in the chest. He was taken to the Hospital of the University of Pennsylvania by medics, where he was pronounced dead at 2:07 p.m.
Police described the suspect as a thin black man, 5 feet 7 inches tall with a goatee. He wore a gray hooded sweatshirt, blue jeans, black Nike sneakers and a black hat and was armed with a silver revolver.
A 53-year-old man was robbed and stabbed in West Philadelphia Monday night.
The man was near 46th and Walnut streets just after 9 p.m. when he was approached by an unknown suspect who stabbed him in the back four times and stole his wallet, police said. The man was taken to the Hospital of the University of Pennsylvania and listed in stable condition as of 9:45 p.m.
Police have not made any arrests in the incident.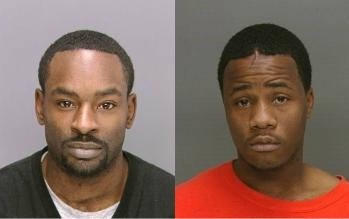 Police on Monday announced the arrest of the second suspect wanted in connection with several gunpoint robberies in North Philadelphia.
Timothy Ballard, 33, of Erie Avenue near 9th Street, surrendered to police on Wednesday. The other suspect, Kevin Wilson, 27, of Franklin Street near Butler, surrendered on Dec. 5.
After receiving several anonymous tips, police identified the pair as suspects in the November robberies, including those of at least four of Temple University students near the school's main campus.
Two men were shot while sitting in a car in Hartranft Sunday night, police said.
The men, who a sergeant in the East Detective Division said are in their 20s, were both wounded by the same bullet near 7th and Cumberland streets. One man was hit in the nose, and the other in the wrist, police said.
The men were taken to Temple University Hospital in stable condition and were expected to be treated and released.
Police arrested Jamal Glover, 23 of North Philadelphia, for allegedly shooting a 19-year-old man to death on Cambria Street near Stiles in late May.
An argument on May 23 escalated to gunfire, and Glover, of Stillman Street near Somerset, shot Britten multiple times throughout his body, police said.
Britten, of Silver Street near 25th, was taken to Temple University Hospital and was pronounced dead around 5:30 p.m.