Archive: February, 2012
An argument over dog feces between neighbors in Tacony led to a shooting Tuesday afternoon that left one man dead and another in police custody.
Police Chief Inspector Scott Small gave this account:
About 4 p.m., officers from the 15th District responded to a home on Torresdale Avenue, between Magee and Hellerman Street, and found a 47-year-old man lying dead on the front porch of a house.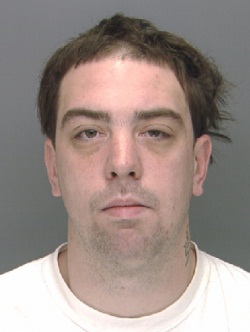 Daniel Potts, 23, was arrested on multiple counts of theft and receiving stolen property after a tipster saw surveillance footage of him stealing goods from an electronics store in South Philadelphia, police said.
Potts stole thousands of dollars worth of merchandise from a Verizon Wireless store and was arrested on Feb. 10, police said.
In late January, a surveillance camera recorded Potts stuffing iPhones and iPads into his sweater, then walking out of the Wireless Zone on South Street near 3rd in Queen Village.
Police were investigating a stabbing in Kensington that left a 50-year-old man hospitalized Sunday night.
The man was outside on Birch Street near Amber at 9:05 p.m. when he was stabbed twice in the back of the left shoulder by an unknown suspect, police said. He was taken to Episcopal Hospital, where he was listed in stable condition.
Police said they were looking for a thin black or Hispanic man who is 5 feet 7 with a dark complexion and wearing a black hooded sweatshirt in connection with the incident. They were unsure what motivated the stabbing.
This post has been updated.
A 25-year-old woman was shot in the forehead on a Kensington street Sunday afternoon.
The shooting happened shortly after 4 p.m. at Ruth and Orleans streets, police said. The shooters were described by police as two thin Hispanic men who were last seen fleeing through McPherson Square at F Street and Indiana Avenue. Police said the men jumped into a white Honda or Acura coupe and headed west on Indiana.
A 26-year-old man was critically wounded Friday night when he was shot near an apartment building on Oxford Avenue near Large Street in Frankford, police said.
Around 6:45 the man was shot in the upper left side of his back and was taken by medics to the Albert Einstein Medical Center, Chief Inspector Scott Small said.
When officers arrived on the scene, the victim was not forthcoming with information on what led up to the shooting, police said.
A 28-year-old man was hospitalized after being shot in his back on 6th Street near Pike in Hunting Park Thursday night, police said.
The victim walked into a convenience store around 11:47 p.m. and when police arrived, he said two men robbed him and stole his identification card when he told them he didn't have any money.
However, police on the scene said no blood or shell casings were found where the man said he was robbed and shot.
A 17-year-old boy who was shot in the nose in Kingsessing Thursday night was able to talk with police and identify his shooter, police said.
The teen was shot at 54th Street and Chester Avenue just after 6:30 p.m. and was able to run about three blocks to 54th Street and Beaumont Avenue, where police found him, Chief Inspector Scott Small said.
Small said the bullet went through the teen's nose and was lodged in his skull, but he managed to speak with police.
A prisoner who escaped from police Thursday evening outside Pennsylvania Hospital had been arrested earlier in the day for narcotics possession, but was taken to the hospital after complaining of pain, police said Thursday night.
Chief Inspector Scott Small said the man had been arrested in West Philadelphia for possession of narcotics with intent to distribute, and was en route to police headquarters at 8th and Race streets to be processed when he complained of pain and was taken to the hospital.
He escaped from police custody at 8th and Spruce streets between 6 and 6:30 p.m., police said.