Archive: February, 2011
A woman experienced her own version of Philadelphia freedom - but not for long - after she hit a pedestrian at 16th Street and JFK Boulevard last Wednesday, got out of her car, stripped naked and got down on all fours on the sidewalk, according to police and online video of the incident.
The Daily News was looking into the story last week and on Monday, cell phone of the incident was posted on Gawker.
Almost as unusual as the woman and her comments, which include "I'm one with God," "Give me a hug" and "You ain't never seen nobody do it like this," are the comments from bystanders. Those who witnessed the bizarre incident had a variety of true Philly reactions from "Yo. It's too cold for this anyway" to "Stay off the crack" and "Put your clothes on."
Two thugs robbed a man at gunpoint of his car and wallet in East Falls Tuesday evening, police said.
A 20-year-old man was approached by two men on Vaux Street near Indian Queen Lane at 10:45 p.m.
The men stole the victim's silver Honda civic and his wallet.
A security guard shot and wounded a gun-toting thug that tried to steal a laptop from a Philadelphia Housing Authority construction site in Mantua Tuesday night, police said.
A foreman was locking down the construction site on Fairmount Avenue near 35th Street at 8 p.m. when he saw a man on the site, said Lt. John Walker of Southwest Detectives.
The foreman alerted a guard who conducted a ground floor search, Walker said, and spotted the man trying to escape through the front door with a laptop in his bag.
Philadelphia police arrested two men today in connection with the Feb. 7 murder of Tovoyia Owens.
Walter Williams and his brother, Robert Canada, got into a fight with Owens, 21, and her boyfriend outside Philadelphia Traffic Court about 2 p.m. that day, said Homicide Lt. Walt Bell.
Owens, who was about four months pregnant, was either punched or slapped by Williams and fell to the ground, Bell said. She died a short while later. A medical examiner ruled her death was caused by blunt impact trauma to her neck.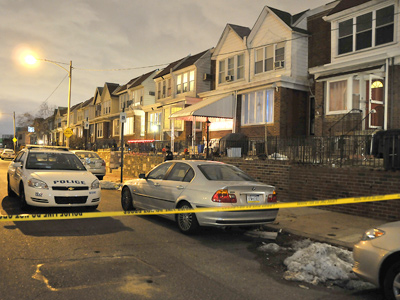 Two women were gunned down inside a rowhouse in Northeast Philadelphia Monday afternoon.
Family identified the victims as Marcedes Ivery, 21, and Tiffany Archie, 19.
The women were found dead by police on the second floor of a property on Rutland Street near Sanger about 3:45 p.m., said Capt. Frank Bachmayer, the commander of the 15th District.
The body of a third person was discovered yesterday in the rubble of a Kensington rowhome where firefighters found one man shot in the head and were greeted by another man with a gun when they went to fight a blaze there Saturday.
Police already reported that the gunman who threw objects at them from the second-story landing of a staircase and another man, found lifeless at the bottom of the same staircase with bullet wounds to his head, were discovered dead in the rubble after the fire was put out Saturday afternoon.
The gunman, who refused to let rescuers pull the shot man out of the house, was himself shot by responding officers, police said. It's unclear if the men died from their gunshot wounds or from the fire, which police believe was intentionally set. Neither of their identities have been released, though police said the gunshot victim at the bottom of the stairs was staying at the house, on Rand Street near Ontario.
A woman was in stable condition after she was stabbed in Southwest Philadelphia early Saturday morning, police said. The 19-year-old woman was stabbed outside of a house on Reedland Street near 64th at about 1:30 a.m.
Police said the woman was taken to the Hospital of the University of Pennsylvania with superficial stab wounds to the chest.
Police said the woman was with her boyfriend when the man's ex-girlfriend started a fight with the victim and stabbed her several times. The bitter ex-girl fled the scene.
A man was shot in West Philly Friday night after an attempted robbery, police said.
The man was followed by another man who demanded that the victim give up his property as he walked on North 64th Street toward Callowhill at about 11:30 p.m.
After the victim ignored the demand, two shots rang out. The man was shot twice in the upper back. Police said the victim dashed down 64th Street to Hirst Street near Master where he collapsed.