Archive: February, 2011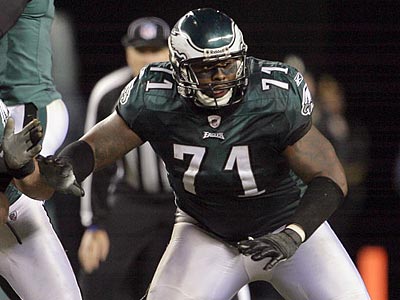 The home of Philadelphia Eagles offensive lineman Jason Peters was reportedly burglarized and the thief got away with an estimated $60,000 worth of property.
Peters had been away since mid-January and returned to his home Wednesday at a condominium development near the Eagles' Nova Care Center training facility and Lincoln Financial Field to find that it had been ransacked, CBS3 reported.
Peters told police the thieves took a number of pricey items including designer watches, high-end diamond jewelry and camera equipment, according to CBS3.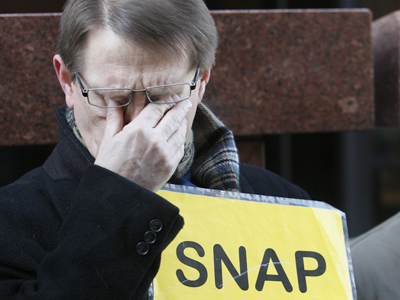 In its continuing crusade to make amends with members miffed about Church officials' alleged coverup of pedophile priests, the Archdiocese today printed an apology to parishioners in their newspaper.
"We are sorry," reads the apology in The Catholic Standard & Times. "We, the Church, are sorry for the sexual abuse suffered by our brothers and sisters when they were young people at the hands of the Church's clergymen and teachers. The Church is sorry for the sins and crimes of some members against other members. The Church begs forgiveness of our brothers and sisters, and of almighty God."
The unsigned apology exhorted readers to rebuild their trust in the Church by taking to heart the changes officials have enacted since the release of a scathing grand-jury report earlier this month.
A gun-toting thug walked-up to a Feltonville Dunkin Donuts drive-thru Thursday morning and demanded cash, police said.
The masked crook pointed a gun at the cashier inside the store, on Hunting Park Avenue near Rising Sun, at about 12:30 a.m.
Police said that the man walked away with about $200. No one was injured but the cashier was pretty shaken-up, according to the manager.
Update: City police have acknowledged that an officer made a mistake when he shot an innocent man's dog to death Wednesday night during a narcotics bust in West Philadelphia.

"My feeling is that the owner of the dog will seek and will probably, definitely get some type of reimbursement from the city," said Lt. Ray Evers, police spokesman.

Following complaints from neighbors about drug sales coming out of a home on Pennsgrove Street near 42nd, police set up a surveillance operation of the house Wednesday night and busted five buyers, Evers said.
In a tragic sequence of events Monday, a Vietnam veteran who neighbors said was a hoarder, died of a heart attack while smoking a cigarette that then fell out of his hands and caught his Wissinoming house on fire, according to findings from the Medical Examiner's Office and the fire marshal.
Neighbors said Bob Irvine, 60, who worked as a welder at the airport, had trash piles throughout his house and an official from the Department of Licenses and Inspections said debris was more than two feet high in the home on Howell Street near Tackawanna.
Today, the Medical Examiner's Office determined Irvine died of a heart attack and was dead before the start of the fire. The Fire Marshal's Office determined that the cause of the fire was smoking, leading to the conclusion that Irvine was smoking when he had the heart attack and then dropped his cigarette, which began the blaze.
A female bartender in Kensington slipped on some ice while chasing a cash-snatching bandit Tuesday night, police said.
The 55 year-old bartender told police that a well-dressed white man, about 6-feet-2 with black curly hair, entered Luke's Bar on Cedar Street near Haggert at 11:30 p.m.
The man didn't make any demands or announcements; instead he simply reached into the register and stole $100, police said.
An arsonist has haunted -- but not physically harmed -- two Upper Darby families twice in the last week.
Upper Darby Police Superintendent Michael Chitwood said the firebug poured gasoline and lit three matches on the first floor porch of an apartment building on State Road near Parkview Road about 2 a.m. today.

A tenant extinguished the small flames with a bucket of water. Chitwood said the arsonist pulled the same stunt on the same porch about 3 a.m. on Feb. 14.
With record warm temperatures Friday night, police in Center City and North Philadelphia were forced to spend time dealing with crowds of teens that had some thinking back to last year's flash mob scares.
At one point, a crowd of teens walking on Chestnut Street west of Broad Street forced the Shops at Liberty Place to lock its doors at 6 p.m., CBS3 reported.
"Nobody was letting anyone come in or out because everyone was really, really nervous," customer Annie Perkins-Link told CBS3. "Security guards were everywhere and a lot of the store personnel were kind of scared."