Archive: November, 2012
With help from U.S. Marshals, police on Thursday took 33-year-old Dominique Haynes into custody. Cops said they were scouring the city for the ex-con on Wednesday after his girlfriend was found shot to death in her North Philadelphia apartment late Tuesday night.
Rasheedah Blunt, 27, was killed while her 6-year-old daughter and the 3-year-old boy she was babysitting for a friend slept in another bedroom in her apartment, on Old York Road near Tioga Street, around 11:30 p.m., cops said. Homicide Capt. James Clark held a press conference and put out Haynes' mug shot on Wednesday.
Police on Thursday said they, along with U.S. Marshals, took Haynes into custody. He was being questioned by homicide detectives on Thursday afternoon.
Two men have been charged in the shooting homicide of a man Friday at Broad Street and Lehigh Avenue.
Cops announced Thursday that earlier this week, they arrested Raheem Robinson, 25, of Mole Street near Cumberland and Jowell Fauntleroy, 23, of Warnock Street near Rockland. Robinson and Fauntleroy are charged with murder, conspiracy, violation of the Uniform Firearms Act and related offenses for allegedly shooting 28-year-old Robert White to death as he stood near a bus stop on Broad Street late Friday afternoon.
White was taken to Temple University Hospital after he was shot, but succumbed to injuries from being shot several times in the chest at 5:05 p.m., cops said.
Homicide Capt. James Clark said police are "all over the city" looking for a the live-in boyfriend of a Hunting Park woman who was shot to death last night in her home while two small children slept in the next room.
Police are searching the streets for Dominique Haynes, 33, whom they described as a "person of interest" in the murder of his girlfriend, 27-year-old Rasheedah Blunt. Blunt was shot multiple times in her apartment on Old York Road near Tioga Street around 11:30 p.m. last night.
Sleeping in the next room when she was shot were Blunt's 6-year-old daughter and the 3-year-old son of a friend, police said.
Philadelphia police on Tuesday announced the arrests of four suspects in connection with the Nov. 23 murder of Johnika Tiggett, an innocent bystander who was cut down by a stray bullet in Nicetown.
Homicide Capt. James Clark said an arrest warrant has been issued for a fifth suspect, Terrell Antwon, 23, of Cleveland Street near Cayuga, who is still on the lam.
Clark said Antwon and the other suspects -- Byron McDonald, 19; Anthony Palmer, 33; Roland Thompson, 36 and Rashon Wiggins, 24 -- were inside a bar called Buffy's on Dennie Street near Wayne Avenue when an argument broke out.
A burglary suspect was jailed on $1 million bail after he allegedly threatened a witness in his case.
Ricardo Rivera, 21, of Leiper Street near Unity, was arrested Nov. 23 and charged with retaliation against a witness, witness intimidation, terroristic threats and simple assault, police said. In the earlier burglary case, Rivera allegedly broke into a neighbor's Unity Street store Oct. 27 and stole $700, court records show. Police arrested him Nov. 2 and charged him with burglary and related offenses.
The latest charges come after he allegedly threatened a woman who witnessed the burglary. Records on the intimidation arrest weren't available, and police spokeswoman Christine O'Brien had no further details.
Police say they have no suspects in a morning murder in East Frankford.
Someone shot a 46-year-old man multiple times inside a third-floor apartment on Orthodox Street near Ditman, police spokeswoman Christine O'Brien said.
Officers responded to a 4:03 a.m. report of gunshots and found the victim, O'Brien said. Paramedics took him to Temple University Hospital, where he died a half hour later, she added. The motive remains unknown.
An argument sparked a fight this morning that led one man to attack another with a machete in Bridesburg.
The victim, 25, suffered injuries to his arms and chest and remains in critical condition at Aria Health-Torresdale Campus after the 12:40 a.m. attack inside a home on James Street near Pratt Police, police spokeswoman Officer Christine O'Brien said.
Police are seeking a known suspect, O'Brien said.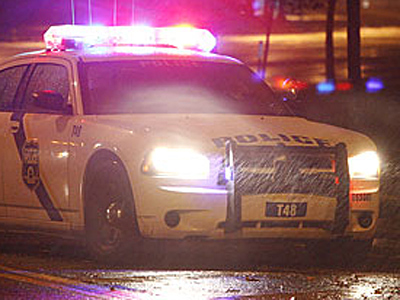 Cops have arrested one man and are looking for two more in a shooting early Friday morning in the city's Nicetown section that left a 25-year-old woman dead.

Police on Saturday arrested Anthony Palmer, 33, in the shootout that cops say killed Johnika Tiggett on Dennie Street near Wayne Avenue. Tiggett was hit in the head and later died at Temple University Hospital, police said.
Palmer was arraigned Sunday on murder and gun charges, and cops are still looking for two other men in connection with the fatal shooting.

Less than a month ago, on Nov. 2, a man was shot to death on the same block of Dennie Street. Police have not said whether that homicide and the shootout that Tiggett died during are related.