Archive: November, 2008
Police, the public and family members are hoping for the safe return of 30-year-old Latifa Greer who was abducted by her estranged husband and his girlfriend from the home of Greer's friend in Sharswood on Saturday.
Read about the abduction here. If you have any information on any of their whereabouts, contact Central Detectives at 215-686-3093.
Heads up, Temple students!
Beware the Knock-Knock Bandits.
Police officials announced yesterday that two men are responsible for a recent spate of home invasion robberies involving unsuspecting Temple University students.
The armed crooks have targeted students who live in off-campus housing between 18th and 20th streets and Montgomery Avenue and Norris Street, said Capt. Sharon Seaborough, commander of Central Detectives.
From Oct. 15 to Nov. 6, the criminals struck five times. In each case, they knocked on the front door of a property and forced their way in when a student opened the door.
Once inside, the handgun-toting men herded the students together in one room and then went to work, stuffing laptops, cell phones, iPods, ATM cards and cash into trash bags, Seaborough said.
"What we don't like is that they're using guns and targeting students," Seaborough said. "It seems like they're striking between noon and 2 p.m., when they know the students will be home."
In all, 16 students have been robbed, but none has been injured.
Seaborough said the victims have described the assailants as stocky black men in their 20s, both of whom are about 5 feet 9 and 200 pounds.
One of the robbers has a wiry beard, while the other is clean shaven with a mole on the left side of his face.
"They wear hooded sweatshirts, but no masks," Seaborough said. "They used bandanas once, but even then, they pulled the bandanas down when they talked to the students."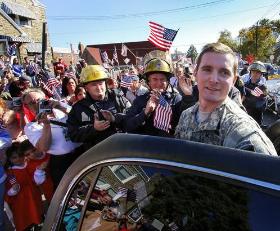 This story was a bit buried in today's paper, but I hope some of you will take time to read it now.
In June, we first wrote about Kevin McCloskey, a 21-year-old Mayfair guy who lost both his legs fighting Operation Enduring Freedom in Afghanistan. Kevin's story generated quite a bit of goodwill in the city and around the country. For a lot of people, he became the face of a conflict that has been somewhat forgotten in the shadow of the Iraq War. (To read the first story, click here.)
Kevin's prognosis was pretty grim in the weeks that followed. Amazingly, he fought through countless infections and setbacks and charted a recovery course all his own. Doctors told his family that with some luck, Kevin could make it home, on prosthetics, by Christmas. He made it back on Halloween. It was something of an honor for me to finally meet Kevin last week and tell his story again: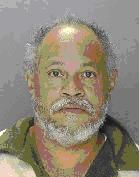 Tomorrow's news tonight! Anyway:
Chances are if you were at a supermarket in North, Northeast or South Philadelphia in the past few months, you might have seen Clifton "Sonny" Wright milling about outside.
If you were unlucky, he might have ambled over and offered to help you with your bags.
Then he probably would have robbed you, according to police.
Wright, 56, was arrested on Monday after investigators linked him to eight strong-arm robberies that occurred outside supermarkets across the city from Sept. 6 to Nov. 8.
His victims were all women, seven of whom ranged in age from 80 to 92.
"Obviously, he's someone who relished picking on weak individuals who couldn't defend themselves," said police spokesman Lt. Frank Vanore. "It's good to have him off the streets."
Vanore said Wright was comfortable hanging out in shopping centers and took advantage of his graying, balding, paunchy appearance.
"He preyed on people's perceptions of what a criminal would look like," Vanore noted.
In all, he preyed on 10 women. The rundown of dates, locations and victims: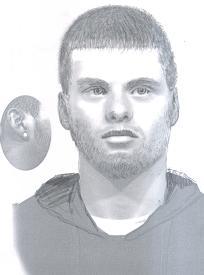 The police Special Victims Unit just released a composite sketch of a gun-toting man who ambushed a woman outside her Kensington home at about 2 a.m. last Friday.
Police said the attacker -- a stocky 23- to 25-year-old white man with blonde hair and blue eyes -- forced the woman, who was taking her trash out, back into her house on Joyce Street near Tioga, robbed her of $600, then tied up her up and sexually assaulted her.
The suspect wore a dark, three-quarter length jacket, a black hoody, white t-shirt, blue jeans, white sneakers and had a large gauge earing in his right earlobe. He also had a brightly-colored tattoo of a sun with stars around it on his right forearm. Tipsters can contact SVU at 215-685-3263 or -3264.
This is a little on the vague side right now because most of the detectives are still out on the street, doing interviews and trying to make sense of the whole thing. That said:
A carjacker struck but didn't get too far in North Philadelphia earlier this evening. At about 10 p.m., police said an unidentified assailant carjacked a man near Erie Avenue and Randolph Street. At some point during the carjacking, the victim -- who police said had a license to carry -- opened fire and wounded the suspect.
The carjacker crashed the stolen vehicle in a housing project parking lot at 11th and York streets, police said. The suspect was arrested by cops and taken to Temple University Hospital. His condition wasn't immediately known. The incident, of course, is still being investigated.
Police are on the lookout for two different sexual predators who struck in the area last week.
A 23-year-old woman told police she was forced into a driveway and sexually assaulted in Northeast Philadelphia on Nov. 6. The woman was walking down Aldine Street near Crispin at about 3 a.m. when the attacker appeared suddenly. Police said the victim described him as an average-built 25-year-old white man who is about 5-foot-6 and wore a red baseball cap.
At about 2 a.m. Nov. 7, a man emerged from the shadows with a handgun on Joyce Street near Tioga in Kensington and pushed a woman who was bringing out her trash back into her home. Once inside, the man demanded money, then bound and sexually assaulted the 24-year-old woman. The victim described her brutal attacker as a stocky white man in his 20s with blonde hair, blue eyes, white sneakers and a large gauge type ear piercing in his right ear. He also had tattoos on both arms, including a brightly-colored moon surrounded by stars.
A neighborhood grocery-store clerk was shot dead yesterday afternoon on a tranquil block in the shadows of Martin Luther King Jr. High School, and police are scrambling to determine the motive and identification of the gunman, while tracking down other weekend homicides. The victim, identified as a 20-year-old Hispanic female, is the city's 294th homicide. She was inside the Family Deli Grocery store, on Walnut Lane near Cornelius Street, Germantown, about 2:20 p.m. when she was shot. She was pronounced dead at the scene. The victim "was shot once, maybe twice," said Police Capt. James Clark of the 14th District. "We are interviewing several workers and witnesses."
Although investigators aren't sure of the motive, Clark said that robbery hasn't been ruled out. "We don't know if it was domestic or something else," he said. "As of right now, we don't know exactly what the motive was."
The shooting was the latest in a string of weekend violence.
- At 3:51 p.m. yesterday, two 24th District officers in a police cruiser were extricated from their vehicle by fire rescue after they were broadsided by a white Honda with stolen Maryland tags, according to police.
The officers were treated at Temple University Hospital and released by 7 p.m. The unidentified male driver of the Honda was taken to Northeastern Hospital, where he remained in stable condition last night.
Police spokesman Ray Evers said the driver has been arrested, but he declined to detail the charges. He said that although the Honda tags have been identified as stolen, it is unknown whether the car also is stolen because the tags did not match the vehicle.
- At 2 a.m. yesterday, a 22-year-old man of Russian descent was stabbed numerous times in the upper body and neck by a man believed to also be of Russian descent, Evers said. The suspect apparently approached the man at a bus stop while he was waiting on relatives on Bustleton Avenue near Haldeman Street in the Bustleton section.
The man was pronounced dead at Frankford-Torresdale Hospital at 1 p.m. Police have not made any arrests. - On Saturday at 3 p.m., an 88-year-old woman was punched in the face by a man, believed to be in his 50s, who helped her load groceries into her car at a Northeast supermarket on Bleigh Avenue near Large Street, Evers said.
He said the woman became spooked after giving the man a ride to Castor and Cottman avenues. After asking the man to leave her vehicle, he instead punched her in the face and took control of her car, a tan, four-door 1998 Chevrolet Prism. The woman escaped with minor injuries. - Later Saturday, a man in his 20s was shot once under his left arm at 11:03 p.m. on Maryland Street near Musgrave, Germantown. The man, unidentified until notification of kin, was pronounced dead at Temple University Hospital at 11:22 p.m. - On Saturday at 1:20 a.m., police said that James Ransome, 19, of 57th St. near Upland, held up three men — two 20-year-olds and one 19-year-old — at gunpoint in the playground of Sharswood Elementary School, 2nd Street near Wolf in South Philly. Ransome allegedly struggled with the two older men, which led to Ransome firing twice, striking the 19-year-old in the stomach. The two other men held Ransome until polcie arrived a short time later. The 19-year-old was treated at Jefferson University Hospital and is listed in stable condition. Ransome was treated for minor njuries at Hanhemann University Hospital. Police have confiscated the gun from the shooting, and Ransome is in police custody. - And on Friday at 11:44 p.m., a 16-year-old boy was shot at least nine times in his buttocks and chest on Frazier Street near Media, in the Kingsessing section, Evers said. The youth was taken to the Hospital of the University of Pennsylvania.