Archive: October, 2012
A landlord in Mayfair stumbled onto a macabre scene Monday night when he went to check on his property and found one of his tenants dead and the other sick from an apparent drug overdose, according to police.
Cops said the property owner went to the house, on Leonard Street near Van Kirk, around 8 p.m. and discovered a 44-year-old man who lives there disoriented and high. When the owner went upstairs to check on the man's 43-year-old girlfriend, investigators said, he found her dead on the bedroom floor surrounded by drug paraphernalia.
The man was taken to the hospital to be treated, and the woman was pronounced dead at the scene. Police said preliminarily, it appears that the couple overdosed on heroin. No related overdoses were reported around 10:30 p.m.
This post has been updated.
Two weeks after a video of a Philly cop punching a woman went viral, another video of another Philly cop beating a man is burning up the Internet.
In this case, though, the man on the wrong end of the officer's baton appeared to have instigated the incident. A poster identified only as tubezzz posted the video on LiveLeak.com a day ago with this introduction: "This idiot and his crew decided to spend South Street's Oktoberfest event spitting at passerby (sic), throwing beer at people, insitgating (sic) fights and generaly (sic) doing their best to ruin everyones (sic) day. play time (sic) was over when the idiot decided to slap a cop."
Outraged about a planned union-sanctioned benefit for the cop fired after he clocked a woman who attended last month's Puerto Rican Day Parade, one activist has launched an online petition drive against it, while another is organizing a protest outside the Fraternal Order of Police hall.
The Daily News wrote about the $30-per-person benefit for Highway Patrol Lt. Jonathan D. Josey II in today's Daily News.
Margarita Padin, a carpenter who has helped organize rallies on behalf of minority construction workers, is urging citizens to protest outside the FOP hall on Spring Garden near Broad during the Oct. 28 benefit.
A 21-year-old man is recovering from a gunshot wound to his chest after being shot on Titan Street near 5th in Southwark Friday morning, police said.
Shots were fired just before 11 a.m. and the victim was taken to Jefferson University Hospital, where he was listed in stable condition early Friday afternoon.
A detailed description of the suspect and information on the shooter's motive was not immediately available.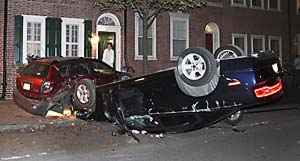 A bizarre scene of twisted metal intruded on a quiet block of Lombard Street in Society Hill late Thursday night after cops say a car took a turn too quickly and careened down the street, crashing into two parked cars before flipping.
Amazingly, cops said, no one was badly injured in the crash, which happened around 10:30 p.m. and left three cars, including the striking vehicle, badly damaged. Police at the scene, on Lombard Street between 3rd and 4th, said at least two of the vehicles appeared to be totaled.
The three occupants of the Dodge Charger that caused the accident got out of the car and fled the scene on foot, according to police and witnesses. Cops said the man believed to have been driving, who is from Camden, N.J., was arrested near Columbus Boulevard and two women who'd been in the car with him were caught closer to the scene. Police said they were unsure if the car belonged to the man arrested, but said it, too, was registered in Camden.
Three Philadelphia men were arrested Tuesday in connection with an attempted home invasion robbery at an apartment complex in Cherry Hill, police said.
Cops responded to the Bishops View apartment complex on Marlton Pike near Lexington Avenue around 9:20 a.m. and were told that the suspects fled in a black Volvo SUV. Police found the men nearby and took them into custody.
A gun the men used in the attempted home invasion was also recovered during the course of the investigation, police said.
A 23-year-old woman was clinging to life Thursday night after police say she was shot in the chest while sitting in her car in East Germantown.
Cops said the woman was in her car with a friend on Duval Street near Baynton just before 6 p.m. when a gunman fired two shots at her through her driver's window. One bullet hit the woman in the left side of her chest, said Chief Inspector Scott Small.
The victim's friend, who was uninjured, moved the bleeding woman out of the driver's seat and jumped behind the wheel, rushing her to Einstein's Crisis Response Center at Germantown Community Health Services, on Penn Boulevard off of the intersection of Wister and Olney avenues. Small said hospital personnel there alerted police to the shooting, but the woman's friend left and drove her to Albert Einstein Medical Center instead.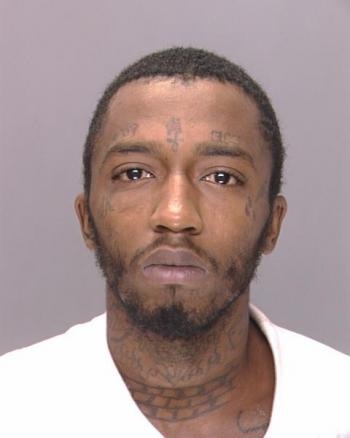 Hakim Benson, 20, of North Philadelphia was arrested Oct. 5 in connection with a series of 13 robberies in the 12th, 16th, 18th and 19th Police Districts — which cover West and Southwest Philadelphia, police said.
Benson faces charges of robbery, assault and weapons violations — among other offenses — in each of the incidents, which occurred between Aug. 30 and Oct. 1.
Benson, of 25th Street near York, is being held in the Curran-Fromhold Correctional Facility and is set to appear in court on Oct. 17, according to court documents.