Archive: October, 2012
A man was with his girlfriend and their 2-year-old child less than a block from a police district in Mayfair early Friday morning when police say two men brazenly robbed the woman and shot the man when he struggled with them.
The couple and the baby were in a rear alley on Mershon Street near Levick -- not far from 2nd/15th Police District headquarters at Harbison Avenue and Levick Street -- around 12:30 a.m. when they were approached by two men who grabbed the woman's purse, Chief Inspector Scott Small said. Her boyfriend fought with the men and was shot in the leg during the struggle.
He was taken to Aria Health's Torresdale hospital and listed in stable condition.
Cops chased and arrested a man who they saw ditch a gun minutes after a man was fatally shot on a North Philadelphia street Thursday night, police said.
Police found the victim, a 26-year-old man, with gunshot wounds to his neck, chest, stomach, arm, both legs and buttocks lying in a vacant lot on 24th Street near Ridge Avenue shortly before midnight, Chief Inspector Scott Small said. He was rushed to Temple University Hospital, where he was pronounced dead at 11:59 p.m.
Small said 22nd District officers were in the immediate area when they received the call for the shooting and saw a man jump out of a vehicle at 24th and Montgomery streets, less than a block from where the man was shot. The officers chased the man and saw him toss a handgun as he was running, Small said. They eventually caught up with him, placed him under arrest and recovered the gun.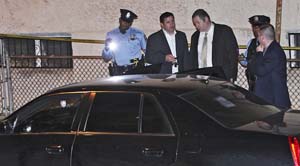 Two men were shot -- one fatally -- inside a car in West Philadelphia late Thursday night, and cops were working to determine what led to the shooting.
Cops were called to the scene, at 54th and Ludlow streets, at 9:15 p.m. and found two men in their 20s suffering gunshot wounds inside a black Cadillac, Chief Inspector Scott Small said.
A 20-year-old man was pronounced dead in the driver's seat of a gunshot wound to the neck. The second man, 27, was taken to the Hospital of the University of Pennsylvania in critical condition. Cops said he was shot at least five times in the neck, hip and wrist.
Cops responding to a shooting in Germantown Thursday night spotted the shooter chasing his already wounded victim, gun in hand, police said.
Chief Inspector Scott Small gave this account of the shooting:
Police were called to Manheim Street near Keyser shortly before 6:30 p.m. and, on nearby Seymour Street, found the 37-year-old victim -- already shot at least once in the back --running from the gunman. Cops managed to catch the gunman, also 37, arrest him and match the 9mm handgun he'd been carrying to casings found at the scene on Manheim Street.
Two teens were wounded -- one critically -- when late-afternoon gunfire erupted in the city's Logan section Thursday.
Police said the teens, ages 16 and 19, were at 15th and Duncannon around 5:30 p.m. when shots rang out. The 16-year-old boy was wounded in the right leg, and the 19-year-old was shot in the back and both arms.
Both were taken to Albert Einstein Medical Center by medics, where the 19-year-old is in critical condition and the 16-year-old is stable.
Police are investigating a string of burglaries at convents in Grays Ferry and North Philadelphia, which occurred between Oct. 9 and Oct. 18.
The most recent pair of blasphemous burglaries both unfolded at the convent of St. Gabriel Parish on 29th Street near Dickinson in Grays Ferry, police said.
A burglar stole $150 from a nun's purse as she slept in the convent around 1:45 a.m. on Wednesday, said Officer Christine O'Brien, a police department spokeswoman. The suspect crept away while the nun continued sleeping, cops said.
This post has been updated.
A 29-year-old man who died on the sidewalk in Fairhill after being shot several times late Wednesday night was identified Thursday as Domingo Rivera.
Rivera, police said, lived on Leithgow Street near Cambria, less than a block from where he was gunned down at the corner of Cambria and Lawrence streets.
Police are searching for a man and woman in connection with a shooting and attempted armed robbery in North Philadelphia from Sunday night.
A 43-year-old man was walking along Watts Street near Poplar Avenue when a red, two-door SUV pulled up, police said. A passenger got out and told the victim, "Give it up," police said. When the victim turned and tried running away, the suspect fired at him. It was unclear whether the suspects stole anything from the victim before they fled the scene.
The gunman is described as a bearded, dark-skinned black man. He was wearing a black shirt, a black jacket and a black baseball cap with blue and white writing on it. His getaway driver is described as a light-skinned black woman who was wearing a red shirt.