Archive: October, 2010
From DN reporter Jan Ransom:
It turns out that Nathaniel Dotson, who police first thought died after he was robbed and knocked to the ground by a pregnant woman, was the one committing the crime.
Nathaniel Dotson, 60, took two tax-return checks from the woman's apartment a week before he died Monday at Temple University Hospital, according to Homicide Lt. Philip Riehl. Surveillance footage shows the woman knocking Dotson to the ground near the hospital and going through his pockets before fleeing.
Two thieves were caught by police with their hands in the bag this afternoon in the parking lot of a Wendy's fast-food restaurant in Kensington.
The men weren't pulling out French fries from the bag, but rather, the jewels they had just stolen, police said.
Cops were called to a home on Convent Lane near Torresdale Avenue in Torresdale around 12:50 p.m. for a report of a burglary. It wasn't immediately clear if the burglars, who allegedly stole $25,000 in jewelry from the house, were spotted by the homeowner or a neighbor, but someone was able to relay to police the description of their get-away vehicle, a Dodge Durango, and its tag number.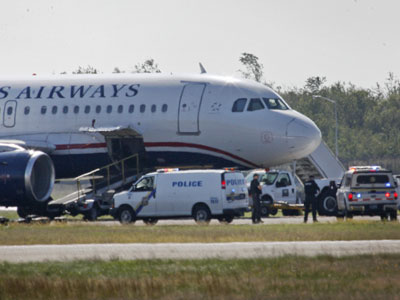 Several local and state agencies are investigating an unusual incident at the Philadelphia International Airport this morning.
According to police, three baggage handlers were loading luggage on to a flight bound for Bermuda around 10:56 a.m. when two of the handlers noticed a third was not wearing an identification badge. When questioned about it, the third man took off and has yet to be found by police.
The plane was towed to a remote area of the runway, the passengers were unloaded and all the of the baggage is in the process of being inspected, police said.
A jailed officer's sister said financial woes led her brother to allegedly rob money and drugs from an undercover cop.
Sinking to new lows - and not during a game of limbo - is Alicia Tolton, who cops say faked cancer, took donations for her "treatment" and planned a beef and beer in her honor to be held during Breast Cancer Awareness Month, all to fund her partying.
DN reporter Natalie Pompilio looks into the mystery of S.S. Poet, a ship that disappeared after leaving South Philadelphia in October 1980.
The roads in Bucks County will be brimming with bikers this Saturday, but it's for a good cause.
The 4th annual Bucks County Ride for Heroes will start and end at the Bensalem Police Department, with about 500 police-escorted motorcyclists expected to roar about 65 miles through upper Bucks County.
The ride raises awareness about the Bucks County Heroes Scholarship Fund, which was established in 1990 to give financial aid and educational scholarships to the surviving spouse and children of law enforcement officers, firefighters or paramedics who die or become permanently disabled in the line of duty.
Mother of the Year Award goes to (not!): Cynthia Roberts. Cops say the Upper Darby woman attacked the cable guy and then used her 11-year-old daughter as a shield when arresting officers broke out a stun gun.
A case for vigilantism: Hero driver runs molester off the road in California, saving his 8-year-old victim.
I think droopy pants are stupid too, but this is not how one should object to them.
Earlier today, we briefly previewed the election showdown between FOP president John McNesby and Frank Zampogna, who unsuccessfully ran against McNesby three years ago. The election results were in by about 8:45 tonight; McNesby rolled to a resounding victory.
"We had 91 percent of the votes," he said during a brief telephone interview. Click here to read the rest.
An Asian woman was bound, beaten and robbed inside her home on Lester Road near Dunks Ferry Road in Northeast Philadelphia earlier today.
Police spokeswoman Officer Tanya Little said the victim was attacked at gunpoint by a black man who barged through her door about 3:30 p.m. She was struck in the head and body several times, but apparently did not sustain any serious injuries.
Little said the attacker stole three laptops and about $8,000 in cash, and fled on foot in an unknown direction. A more detailed description of the assailant was not yet available. Tipsters can contact Northeast Detectives at 215-686-3153.