Archive: October, 2010
A 60-year-old man was killed when a one-alarm fire broke out inside a property on 17th Street near Allegheny Avenue about 8 p.m. yesterday. Deputy Mayor for Public Safety Everett Gillison said the victim was living in an illegal rooming house that didn't have working fire alarms. The cause of the blaze was unknown. No other injuries were reported.
More than 150 firefighters spent at least five hours last night battling a staggering five-alarm fire that raged inside an old Kensington warehouse.
Authorities said the fire started about 6:50 p.m. inside the five-story property, on Boston Street near Emerald. No injuries were reported, but a number of local residents were evacuated from their homes.
Even the veteran cops, the grizzled ones who have seen just about everything, had a hard time handling what they found in Somerton earlier today.
A 46-year-old woman looked out onto her patio deck about 3:30 p.m. and discovered something utterly horrifying: the recently severed head and front paws of a Husky. Cops and members of the Pennsylvania SPCA rushed to her home, on Byberry Road near Blakeslee Drive, and tried to make sense of the disturbing scene.
As of tonight, they had some answers.
Police officials said the dog went missing Sunday night about three miles away from the patio where part of its remains ended up.
The family that owned the dog had let it out for a walk about 9 p.m. "It took off running and never returned," one investigator said.
Sherri Verdon, the woman who found the severed remains on her porch, told CBS 3 that she believed that it was the work of an old neighbor who has long had a problem with her. She could not be reached for additional comment.
Police said they were looking into Verdon's claims, but had not yet identified a suspect.
It was unclear, an investigator said, where the dog had been dismembered. "There was no blood at the house," he said.
Marc Peralta, chief operating officer of the SPCA, said it "appeared [the dog] was sawed in half."
"This is something you'd never think you'd see," he added.
A man was shot after he aimed a gun at two police officers in Feltonville earlier tonight.
Police spokesman Lt. Ray Evers said cops were called to Palethorp Street near Louden about 8:20 p.m. for a report of an armed robbery. When the officers arrived, Evers said, they encountered the robber, who pointed a gun at them. Both cops opened fire; the man was wounded twice.
He was admitted to Temple University Hospital in stable condition. A weapon was found at the scene, Evers said. The shooting will be investigated by the Internal Affairs Bureau, as is routine.
From DN reporter Jan Ransom:
Neighbors of William Glatz remained in a state of shock Friday, a day after their friend was gunned down by an escaped prison inmate during a failed robbery of his Northeast Philadelphia jewelry store.
"I fished with him every Monday," said Gerry Blinebury, 50, who lived next door to Glatz on Brook Drive in Holland, Bucks County. "He was an incredible man. I was lucky to have known him."
The escaped prison inmate who got in a shootout with a Lawndale jeweler yesterday, leaving both dead, was a serial armed robber and repeat offender who police believe committed a similar robbery less than a week after he broke out of a city jail earlier this month, police said this morning.
Kevin Turner, 22, of Lehigh Avenue near Front Street in Fairhill, had 13 prior arrests, most for narcotics offenses, police Dep. Commissioner William Blackburn said at a morning news conference.
Six days after he escaped the Curran-Fromhold Correctional Facility on Oct. 12, he and other suspects committed a similar robbery on Oct. 18 at a gold business on Cottman Avenue at Hanford Street, Blackburn said. Prison officials and city detectives have refused to release details on how they believe Turner was able to escape the city prison, saying the matter remains under investigation.
Police pulled a man out of the Delaware River this morning after he stopped his car on the Walt Whitman Bridge and jumped to his death.
The man, who remained unidentified, drove from New Jersey, parked mid-span and leaped about 10 a.m., police said. His body was recovered at 10:25 a.m.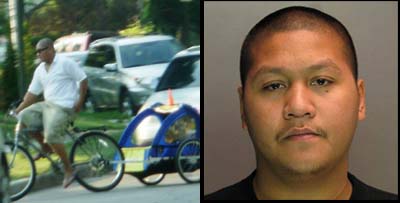 Montgomery County authorities have arrested a man with a twisted idea of "Take Your Child to Work Day."
Chheng Ploysy, 24, of Lansdale, allegedly sold drugs to undercover officers at least three times — while toting his 3-year-old child along for the illicit deals, according to Montgomery County District Attorney Risa Vetri Ferman.
Ploysy on Sept. 1 even delivered cocaine and marijuana to an undercover officer on his bike, with his son sitting behind him in a bike trailer, police said. Ploysy also sold drugs to undercover officers on two other occasions, unaccompanied by his toddler, police said. The sales occurred between Aug. 4 and Oct. 19, police said.
A South Philadelphia man died early this morning after a gun-toting robber shot him during a mugging, police said.
Anthony DeMarco, 20, of Ritner Street near 4th, was shot multiple times in the abdomen and back about 11:30 p.m. last night on Jackson Street near 2nd, police said. He died at Thomas Jefferson University Hospital about 40 minutes later.
Police reported no suspects. Tipsters can call homicide detectives at (215) 686-3334 or -3335.