Archive: October, 2008
Residents in a humble Port Richmond witnessed a rare scene on their block yesterday when a confrontation between two cops and two suspects, left one bad guy with a bullet in his stomach and a cop banged up.
Two 24th District cops responding to a call of an armed man, encountered two men in a red Pontiac van parked near Clearfield and Memphis streets, police said. When the cops, from the 24th District, with headquarters at Whitaker Avenue near Erie, approached the vehicle, the suspects drove off and crashed into a tree a short distance away. Moments later, the passenger, identified by police as Israel Perez, tried to flee, but the responding officer caught up to him, and the two struggled over the officer's gun, said spokesman Lt. Frank Vanore. During the struggle, rounds in gun's magazine fell to the ground, but as the suspect tried to grab the weapon, a bullet in the chamber discharged, striking Perez him in the abdomen, said Vanore. The suspect was listed in stable condition at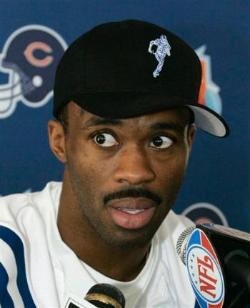 Way back in late April, local and national reporters couldn't get their pens and microphones together fast enough when word broke that Colts wide receiver Marvin Harrison was linked to a North Philadelphia shooting. When the case failed to develop -- that is, when Harrison was never charged and the police publicly never mentioned him as suspect or person of interest -- the story faded away.
Guess who's back.
I started rooting around a few weeks ago to see if anything new was brewing in the case. Presto:
A 44-year-old man was shot in the leg during an attempted robbery earlier tonight in West Philadelphia. The victim, whose name was not released, encountered three assailants near 51st and Market streets at about 7:40 p.m., said Lt. John Walker, of Southwest Detectives.
The victim was taken to the Hospital of the University of Pennsylvania in stable condition. The triggerman, an unidentified man in his 20s, was arrested, as was his unidentified female cohort, Walker said. The third would-be robber is still on the loose.
"You know, I have one simple request. And that is to have sharks with frickin' laser beams attached to their heads!" -- Dr. Evil
Lenny J. Tavarez didn't have the sharks, but he did, according to cops, have the laser. Tavarez, 19, was arrested in Hunting Park Tuesday night after he shined a Philadelphia police helicopter pilot in the eye with a laser. Police officials said Air Tac 2 was flying near Palmetto Street and Hunting Park Avenue at about 10:30 p.m. when Tavarez used a silver, pen-like green laser to briefly blind the pilot.
The pilot and his partner used Tac Air's spotlight to single out Tavarez, who continued to target the helicopter with the laser. Cops on the ground followed the light and arrested Tavarez. He was charged with risking a catastrophe, aggravated assault and related offenses.

I can't believe I didn't post this earlier. Daily News reporter Jason Nark had an eyebrow-raising story today about Robert Melia Jr., a Moorestown, N.J., cop who was indicted Thursday for having sex with underaged girls and, er, cows. No, really:
"Two weeks later, authorities filed animal-cruelty charges and official-misconduct charges against him, alleging that he had performed sexual acts on cows in rural Southampton, Burlington County, several times in 2006.
The Burlington County Prosecutor's Office declined to comment on the indictment yesterday, or to elaborate on Melia's alleged trysts with livestock."
Sad to note to add tonight, folks.
The outlook is not so good for Sgt. Andrew Stackwicz, the 26-year veteran who suffered an apparent heart attack while on duty last Friday. Police officials said earlier tonight that Stackwicz was removed from life support at Temple University Hospital, where he had been listed in critical condition for the past week. "His condition is very grave," a police source said. "It could be just a matter of time."
A resident found Stackwicz, 57, unconscious in his patrol car on Glenwood Avenue near Diamond Street at about 6:45 p.m. and called 9-1-1. A handful of cops performed CPR on Stackwicz on the way up to the hospital. Later that night, Mayor Nutter deemed their efforts life-saving. Stackwicz is married with two children.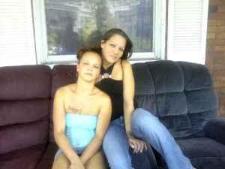 The Police Citywide Vice Unit had their hands full earlier today in Northeast Philadelphia, where a self-described "mother and daughter combo" were arrested.
Police said Traci Young, 38, and Tammy Smith, 22, ran a prostitution business inside their home on Ditman Street near Benner. Young and Smith solicited customers and offered to "provide ... the fantasy of a lifetime" on Craigslist. (The link can still be found here.)
While some folks might argue that the media is making too big a deal out of Young and Smith working in the World's Oldest Profession, neighbors and police said both women neglected Smith's three young children, ages 3, 5 and 7, all of whom were taken into custody today by DHS. There will be more, of course, in tomorrow's Daily News.
This one will surely get some folks' blood boiling:
It looked like Edward Burgess had gained the upper hand during a life-or-death struggle with Officer Stephen Mazzoni in a dank North Philadelphia alley last Nov. 11.
After beating Mazzoni senseless, Burgess leaned on top of the cop and tried to grab his gun, according to police records obtained by the Daily News.
Then the 38-year-old career criminal made himself perfectly clear: He would kill Mazzoni before ever being hauled back to jail, the records state.
Luck was on Mazzoni's side that day, as backup officers arrived and arrested Burgess before the showdown could get any worse. It's unclear, though, if justice is on the veteran cop's side.
On Sept. 22, Common Pleas Judge Rosalyn K. Robinson ordered Burgess, who had 13 prior arrests, to be released on house arrest to await the start of his trial, which is scheduled for March 25, 2009.
The judge's decision — which came just a day before Highway Patrol Officer Sgt. Patrick McDonald was slain by convicted felon Daniel Giddings in North Philadelphia — infuriated police officials and union leaders already at their wit's end over the rising tide of violence aimed at police.
Law enforcement sources said that the District Attorney's Office immediately filed a detainer to keep Burgess behind bars, and is preparing to file a motion for reconsideration.
"This is one more example, I think, of a judge not making the right decision," Police Commissioner Charles H. Ramsey said in an interview last night.
"This person assaulted a police officer, tried to take the officer's gun and threatened to kill him, and he was put on house arrest? It's ridiculous."
Burgess — whose arrest record stretches back to 1988 and includes seven convictions — was pulled over by Mazzoni and his partner on Westmoreland Street near Germantown Avenue in November, for a traffic violation, according to police.
The cops allegedly found a crack pipe and several empty crack bags in Burgess' car and ordered him to get out. He fled down an alley, where he beat Mazzoni and punched another officer, while stating that he had AIDS, police records show.
The sources said that Robinson's decision was likely prompted by Rule 600, a state criminal-procedure regulation that maintains that no defendant should be held in pre-trail incarceration for more than 180 days. Burgess' case has been plagued with several continuances since February, including some that were attributed to Mazzoni not being well enough to make it to court, sources said.
"That right there tells you this was no minor incident," Ramsey said. "If anything, it's all the more reason to hold the guy and not trust him to abide by some house-arrest rules."
Robinson did not return a phone call to her office from the Daily News late yesterday. A former prosecutor, she was elected to the bench in 1997 and earned another10-year term last year with the blessing of the Philadelphia Bar Association, which recommended her retention.
Earlier this week, leaders of the city's Fraternal Order of Police sounded a warning to judges they deemed as too lenient.
"That wasn't just for show. We're going to take a proactive approach and hammer judges who let people like [Burgess] go," FOP President John McNesby said last night.
"We're going to assign someone to watch the courts and work with the D.A.'s office. We're going to make sure our officers and our citizens are protected."
In response to the FOP's salvo on some judges, Common Pleas President Judge C. Darnell Jones II said that "blaming the judiciary is not an appropriate response to this type of terrible criminal conduct."