The man allegedly behind a fatal shooting in North Philly last month has been arrested, police said today.
Jonathan Peralta, 25, was taken into custody yesterday. He's been charged with murder and firearms violations in the slaying of Steven Justiniano on May 15, police said.
A SEPTA police officer, on patrol in the area, found Justiniano about 7 p.m. facedown on the sidewalk along Front Street near Susquehanna Avenue. He had been shot in the upper left side of his chest, and police took him to Temple University Hospital.
The victims of recent violence were identified today by police as investigators continue to probe their murders.
Jonathan Rodriguez, 20, and Jerry Keith Lawson III, 22, were slain hours apart Tuesday in unrelated incidents.
Officers found Rodriguez lying facedown on the pavement, shot in his chest and arm just before 11 p.m. on Wishart Street near Front in Kensington, not far from his home on Clearfield Street near 7th in North Philly.
A 20-year-old man was gunned down late last night not far from his home in Kensington, police said.
The gunfire rang out just before 11 p.m. on Wishart Street near Front. When officers arrived at the scene, they found the victim lying on the pavement, unresponsive.
He had been shot in chest and arm, and was taken by medics to Temple University Hospital, where he was pronounced dead minutes later, police said.
A week after an East Mount Airy man was found slain in his home, investigators have ruled his death a homicide, police said today.
Police initially didn't know what to make of the death of Stanton Sims, 43, when they were called to his apartment on Ardleigh Street near Mt. Pleasant Avenue on June 15.
Sims had been shot once in the head as he sat on a couch in his home, Chief Inspector Scott Small said at the time. He was pronounced dead by medics at the scene.
Police have arrested a Belmont man for the gun slaying two weeks ago of a Hartranft man.
Raymond S. Latane, 27, of Preston Street near Fairmount Avenue, was jailed without bail pending a July 8 preliminary hearing in the June 10 death of Rasheen Broadnax, 31, of 9th Street near Huntingdon, said Officer Christine O'Brien, a police spokeswoman.
Police responding to the area of 8th Street and Lehigh Avenue for a report of a person with a gun found Broadnax laying on sidewalk bleeding from gunshot wounds to his chin, neck and torso, O'Brien said. Paramedics rushed him to Temple University Hospital, where doctors declared him dead just after 10 p.m., O'Brien said.
Fallout from the controversial fatal police shooting of Brandon Tate-Brown continued in an unexpected place last week - beneath a mural memorializing fallen officers outside Olney's 35th police district.
Slogans like "DA PIG PEN" and "F**K CHUCK," an apparent reference to police Commissioner Charles Ramsey, were chalked on the sidewalks and brick walls early last Wednesday beside a mural honoring Chuck Cassidy, Walter Barclay and Bob Hayes, officers gunned down while on duty. Activists with the group Philly Coalition for R.E.A.L. (Racial, Economic And Legal) Justice were outside the district at the time, holding a solidarity rally for an activist inside who SEPTA police had arrested earlier. The group took credit for the chalkings in an online Flickr page.
It's not the first anti-police graffiti that has sprouted in Philly since Tate-Brown's Dec. 15 death during a routine car stop in Mayfair. Vandals in West Philly spraypainted "Cop Lives Don't Matter" on a fence and similar sentiments on a church and another building nearby a few days afterward, and activists earlier this month chalked up the sidewalks outside the Criminal Justice Center after a judge acquitted 10 anti-police protesters arrested for disrupting a Lawncrest community meeting in March. Marches and news conferences held by Tate-Brown's supporters also have been accompanied by chants and shouts such as "Jail the killer cops!"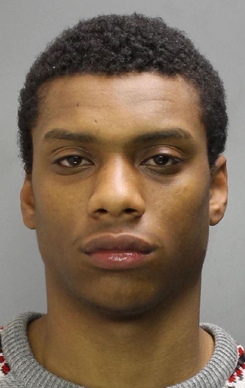 Police are asking the public's help in finding a Belmont man wanted in the murder two weeks ago of an Overbrook man.
Quameer Smith, 21, should be considered armed and dangerous, police warn. Smith, of Poplar Street near 41st, is wanted for the June 9 murder of Kaleem Jones, 22, of Woodcrest Street near 57th. Officers found Jones, shot in the face, in his home just after 1:30 p.m. that day. Police rushed him to Penn-Presbyterian Hospital, where doctors declared him dead at 1:45 p.m. Police say an argument sparked the deadly gunfire.
Smith is described as 6-foot-5, 200 pounds, with brown eyes and brown hair. Anyone with information on his whereabouts can call homicide detectives at (215) 686-3334 or -3335, or 9-1-1. A $20,000 reward is available for information leading to his arrest and conviction.
Police arrested a West Philly man on murder charges yesterday after he allegedly stabbed his girlfriend to death last week in Logan.
Gerrell Hall, 28, of Gross Street near Callowhill, is being held without bail pending a July 8 preliminary hearing, according to court records. Officers responding to a report of someone screaming found Brittany Lange Green, 28, collapsed and bleeding in her home on Warnock Street near Rockland at 7:15 a.m. last Wednesday. Paramedics declared her dead at the scene at 7:50 a.m. Green, a mother of three, died of stab wounds to her neck, according to the Medical Examiner's Office.
Hall was scheduled to appear in court to face drug charges on the day he allegedly killed Green, according to court records. But he was a no-show, prompting the judge to order a bench warrant, records show. Hall is a repeat offender with past arrests for offenses including robbery, aggravated assault, theft and corruption of minors, court records show.