A Wissinoming restaurant will hold a fundraiser tomorrow for the family of slain Philadelphia Officer Robert Wilson III.
The fundraiser will be 11 a.m. to 9 p.m. at Johnnie's Fine Italian Cuisine on Comly Street near Harbison Avenue. For $30 per person, you get soup or salad, choice of entree and dessert. All proceeds and tips will go to the officer's family.
Wilson, 30, an eight-year veteran and father of two, was patrolling North Philly on March 5 when he stopped by a Game Stop for a security check and a quick gift for his son's upcoming birthday. Two brothers intent on armed robbery burst in, not noticing Wilson nor his partner, who was waiting for Wilson in a parked, marked cruiser outside. Wilson announced himself and exchanged shots with the brothers. He was hit three times in the shootout and died shortly after at Einstein Medical Center. Wilson's partner got in a second shootout with brothers Ramone Williams and Carlton Hipps as they fled the video game store, injuring one. Williams and Hipps were arrested and charged with Wilson's murder.
Police are investigating the death of an inmate at the Philadelphia Industrial Correctional Center this morning as a homicide because he appeared to have been stabbed, sources said.
Correctional officers found the inmate, 52, just after 7 a.m. this morning in his cell, and medics declared him dead on the scene at 7:25 a.m., said Shawn Hawes, a prisons spokeswoman. A police source identified the victim as Daryl Warthen, who court records indicate was awaiting a mental-health status hearing in two cases: a 2002 burglary and a 2004 criminal-trespassing incident.
Warthen was found bloody and unresponsive in a locked cell, sources said. His cell mate, whom sources identified as Sylvester Smith, 47, was being questioned. Court records show Smith was transferred to PICC Monday as he awaits a trial in an aggravated-assault case from December.
Dana DiFilippo & Vinny Vella
@ 12:08 PM 
Permalink
|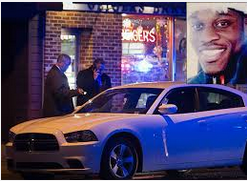 The mother of a man gunned down by police during a routine car stop in Frankford is expected to file a civil-rights lawsuit within the next day.
Tanya Brown-Dickerson has led protests and marches since her son Brandon Tate-Brown's Dec. 15 death on Frankford Avenue near Magee, saying two officers made an unjustified car stop and then wrongfully shot Tate-Brown, 26, in the back of the head after a violent struggle. Police instead contend that officers stopped Tate-Brown because he drove a rented 2014 Dodge Charger with its headlights off, and one shot him after he broke free from them and reached for a stolen gun stashed inside the car. The District Attorney's Office cleared the officers last month.
Brown-Dickerson's attorney Brian Mildenberg declined to comment today.
Police have arrested a 14-year-old boy on murder, robbery and related charges in last week's death of a Chinese deliveryman in Crescentville.
Sahmir Walker, 14, is being held without bail for allegedly gunning down Rendong Zheng, 49, of North Philly, at the Hill Creek Apartments during an attempted armed robbery, police said.
A second teen, Tyquail Duffy, 15, was charged with aggravated assault, terroristic threats, intimidating witnesses, gun offenses and other crimes, court records show. He was ordered held on $250,000 bail pending a May 14 preliminary hearing, records show. Duffy and Walker both live in the apartment complex, police said.
Police have arrested a Kensington woman on child endangerment charges after she allegedly locked them in the basement overnight without food, running water, a bathroom or heat.
Charnae Lee, 29, of Atlantic Street near Jasper, was charged with unlawful restraint, false imprisonment, endangering the welfare of a child and recklessly endangering another person. She was jailed on $50,000 bail pending a May 15 preliminary hearing, court records show.
Charnae's 13-year-old son called 9-1-1 about 1:30 p.m. Sunday to tell police his mother had ordered him, his 9-year-old brother and two sisters, ages 12 and 10, to drag their mattresses into the basement and stay there as punishment, police said. Firefighters and officers who responded to the call had to get into the home by climbing through a second-floor window, police said. The kids were taken to St. Christopher's Hospital for observation.
A police officer opened fire this morning in South Philadelphia during a foot pursuit, but nobody was injured by the gunfire, according to a police spokeswoman.
Around 9:14 a.m., cops responded to a radio call for a person with a gun on 25th Street near Jackson, police said. Once on scene, the officers spotted two men fitting the descriptions of the suspects and gave chase.
During the pursuit, one of the men reached in his waistband for a weapon, police said, causing one of the officers to fire a single shot. That shot did not hit anyone, police said. The suspect then surrendered and his weapon was recovered, but his accomplice got away, according to authorities.
An East Mount Airy woman has been charged with drug offenses after a boy brought heroin that allegedly belonged her to his elementary school Tuesday, police said.
Latoria Faulk, 25, was arrested early this morning after police served a warrant on her Toyota Avalon, parked near a home at 10th Street near Indiana in North Philly, a police spokeswoman said. In addition to the drug charges, she also faces endangering the welfare of a child and related offenses.
A 7-year-old boy who lives at that home told police that he had found packets of heroin in the kitchen there and then brought them to William Cramp Elementary, on Mascher Street near Tioga, where he's a first-grade student.
One armed robber in Overbrook didn't realize that the dog walker he targeted last night was a cop. Nor that he was armed.
The incident happened about 11:30 p.m. on 58th Street near Malvern Avenue, according to a police source. The officer was out walking his dog after coming from his shift in Southwest Philly's 12th District when he heard someone running up behind him, yelling at him.
When he turned, he saw that the unidentified man was pointing a gun at him, the source said. The officer, who was not wearing his uniform, produced his own gun and fired eight times.