This post has been updated.
Police pulled two sets of human remains from the Schuylkill this afternoon, bringing the number of bodies pulled from the waterway in three weeks to four.
Just before noon, Marine Unit officers were called to the river after passersby saw the body floating near the Walnut Street Bridge, according to police spokeswoman Officer Christine O'Brien.
Two men were wounded in a rain-drenched shooting in North Philadelphia tonight.
It happened about 11:30 p.m. on Cumberland Street near 11th, Chief Inspector Scott Small said.
He provided the following account:
There are plenty of questions, and few answers, in a violent stabbing tonight in Port Richmond.
Here's what police do know: About 8:30 p.m., police found a 48-year-old man stabbed between five and seven times in his back inside a house on Agate Street near Ann, Chief Inspector Scott Small said.
The victim was taken to Temple University Hospital in very critical condition, Small said, but has since been upgraded to stable condition.
What started as a car stop in West Philly became much more heated this morning, with bullets flying on the streets of Upper Darby, police said.
Just after 2 a.m., two officers on patrol in the 19th District saw a "suspicious" van with tinted windows pull out of a closed gas station on 63rd Street near Vine in West Philly, Upper Darby Police Superintendent Michael Chitwood said.
When the officers approached the van, it sped off, heading west toward Delaware County.
The months-long search for Gregorio Andino ended tragically last weekend, authorities said today.
Andino, 38, was pulled from the Schuylkill near the Walnut Street bridge Saturday morning, police spokeswoman Officer Jillian Russell said.
His body was recovered by Marine Unit officers after they spotted it just after 10 a.m., Russell said.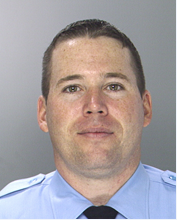 A Philadelphia police officer has been arrested for an off-duty incident last fall in which he allegedly drove into a pedestrian - and then threatened to kill him, shouted racial slurs and flashed his gun.
Officer Edward Sawicki III, 33, turned himself in to police today to face charges of terroristic threats, simple assault, possession of an instrument of crime, harassment, and disorderly conduct. Police Commissioner Charles H. Ramsey suspended him for 30 days, with intent to dismiss.
The Oct. 20 incident occurred at 2:45 a.m. as a pedestrian was walking on Ninth Street near Wharton in South Philadelphia, according to the District Attorney's Office. Sawicki was backing up in his car when he hit the 37-year-old man in his knee. The victim pounded on the trunk of Sawicki's car with his hand to alert Sawicki that he'd hit him.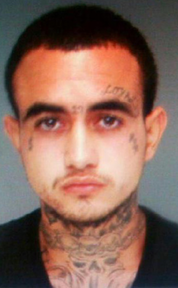 Authorities this morning captured a Spring Garden man wanted for killing a teenage friend last weekend.
Sergio Santiago, 22, of Wallace Street near 16th, had been on the run since Sunday, when he allegedly shot Antonio Flores, 17, of Mount Vernon Street near 17th, in the head in a home on Santiago's block. At 8 a.m. this morning, officers found him at the Neshaminy Inn, just past the city border on Route 1 in Bensalem, and took him into custody without incident.
If the Neshaminy Inn sounds familiar, maybe that's because of this. Or this. Or this. Or this. I could go on, but I don't have the time.
Police have charged two Kingsessing men with murder after a man they shot in a street robbery in 2007 died.
Rashad Darby, 24, of 53rd Street near Greenway Avenue, and Derrick Wilson, 23, of Upland Street near 53rd, were charged with murder, conspiracy and weapons offenses for allegedly killing Stanley Radford, 44, of Chestnut Street near 62nd in West Philadelphia, said Officer Christine O'Brien, a police spokeswoman.
Darby and Wilson already were behind bars at Graterford (Darby for attempted murder, Wilson for aggravated assault) for shooting Radford throughout his body on Aug. 14, 2007, on Upland Street near 52nd, O'Brien said. Radford survived that shooting but never fully recovered; when he died more than six years later on Nov. 29, 2013, he was at Mercy Suburban Hospital being treated for complications from the shooting, O'Brien said.