What an incredible morning it was in City Council chambers.
First, 17-year-old Joseph Chambers was honored for the heroism he showed while saving Ofc. Mark Kimsey from his burning police car last weekend. The humble Chambers, who is a volunteer firefighter, said he hopes more people will get involved when they have the opportunity to do so.
"Don't just stand by and watch," he said. 'That's the problem with kids today. They want to videotape. Get involved."
Investigators are looking for a 50-year-old man they believe tried to run down an officer during a traffic stop, police said.
Just after 9:30 p.m., two officers in the 22nd District were flagged down by a resident while responding to a report of a person with a gun on Oxford Street near 20th in North Philly, Chief Inspector Scott Small said.
The resident pointed out a man in a 2002 Volkswagen Passat, who the officers pulled over a block away, Small said.
One man died and another is clinging to life tonight after a gunman shot up a quiet South Philly block, police said.
Neighbors on the block said the victims were two good men, one a hardworking SEPTA bus driver.
Just before 8 p.m., at least 26 shots rang out on a busy street corner, Chief Inspector Scott Small said.
WAYNE Robert Ellington Sr. never missed a chance to watch his son, Wayne Jr., a guard for the Los Angeles Lakers, play ball - even if it was just on TV.
So when detectives knocked on the door of the West Mount Airy home he shared with his mother at 9:30 Sunday night - just as the Lakers' game against the Charlotte Hornets was about to tip off - to deliver the grim news that Ellington, 57, had been found in his car with a gunshot wound to the head, his mother thought they must be mistaken.
"I thought he was downstairs getting ready for his son's game," Betty Ellington, 79, said quietly last night in her living room as she struggled to make sense of her son's killing. "I'm devastated. I couldn't even believe this."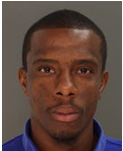 The timing must have been satisfying for these Bucks County crime-solvers: Bensalem police arrested a man today - Veterans Day - for burning American flags that had been flying at gravesites in two cemeteries.
Anthony Davis Carter, 29, of Feasterville, was charged with institutional vandalism, arson and related crimes for allegedly burning flags, flag holders and other gravesite decorations five times at Roosevelt Memorial Park on Old Lincoln Highway and Rosedale Memorial Park on Richlieu Road, police said.
Investigators linked Carter to the crime spree through DNA and related evidence, police said. Carter will be arraigned today at 4 p.m.
Four inmates were injured Monday night in a brawl inside the Philadelphia Industrial Correctional Center, officials said.
Just before 11 p.m., about 15 inmates got into a fight inside the prison, on State Road near Ashburner Street in Holmesburg, during medication rounds, said Shawn Hawes, a spokeswoman for the city Prison System, and police spokeswoman Officer Christine O'Brien.
Hawes said it was unclear what the fight was over, but confirmed that no corrections officers were injured.
Vinny Vella and Dana DiFilippo
@ 11:21 PM 
Permalink
|
Rasul Hinton allegedly had one wild night on Friday, and he has a rap sheet to prove it.
Hinton, 24, has been charged with aggravated assault, reckless endangerment, conspiracy and related offenses, as well as drug violations, after he allegedly tried to hit four undercover officers with his Cadillac Escalade during a suspected drug deal, police said yesterday.
Just after 10:30 p.m., the officers on Frankford Avenue near Dyre Street in Frankford, saw Hinton, of Dungan Road near Nafle Avenue in Burholme, involved in a "hand-to-hand narcotics transaction" with Christine Durross, 34, of Levittown, Officer Jillian Russell, a police spokeswoman, said.
Honey, you've got to slow down.
A man in the throes of a bitter divorce didn't heed Prince's famous advice, and drove his "Little Red Corvette" into the Delaware River Monday night, police said.
Just before 4 p.m., police received reports of a man driving the vehicle into the Delaware River at a fishing pier on State Road near Magee Avenue in Tacony, Chief Inspector Scott Small said.