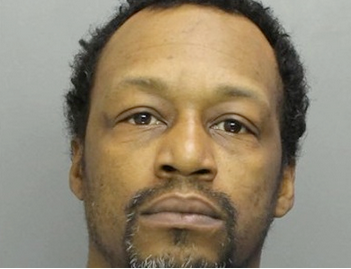 A man who punched a schoolgirl after her backpack bumped him on a SEPTA trolley in January pleaded guilty to simple assault today in Philadelphia Municipal Court, earning himself 9½-23 months in prison.
Damon Oliver, 40, a former facility caretaker in the city's parks and recreation department, was riding the crowded Route 15 trolley when he grew enraged and pummeled the girl, 17, who was on her way to Bodine High School for International Affairs in Northern Liberties, where she was a junior. The girl suffered a broken nose and black eye in the assault, which was captured by SEPTA's surveillance cameras as well as at least one bystander's smartphone.
The teen and her family have since moved to Montgomery County, and she enrolled in a suburban school.
Police have identified the man gunned down last night in West Philadelphia as Marquan Royster, 18.
Royster, of Irving Street near 60th, was shot several times in his head and right leg on his block shortly before 10 p.m., police said. Police rushed him to Penn Presbyterian Hospital, where doctors pronounced him dead at 10:15 p.m., police said. Royster was the city's 52nd murder victim of 2015, police data shows.
Police reported no suspects or motive. Tipsters, call homicide detectives at (215) 686-3334 or -3335. The city offers a $20,000 reward for tips leading to the the arrest and conviction of the killer.
Two Temple University football players have been arrested on assault charges for allegedly beating another Temple student at an off-campus party.
Dion Dawkins, 20, of Rahway, N.J., and Haason Reddick, 20, of 17th Street near Westmont in North Philadelphia, turned themselves in to East Detectives this morning, police said. The pair allegedly were beating a 21-year-old man about 1:30 a.m. on Jan. 18 at Club 1800, on 5th Street near Montgomery in Ludlow, police said. When the man's friend, also 21, tried to intervene, someone kicked him in the face, breaking his right orbital bone, police said. The victim was treated at Wills Eye Hospital and Thomas Jefferson Hospital, police said.
Dawkins and Reddick are charged with aggravated and simple assault, criminal conspiracy and recklessly endangering another person. Court records show their preliminary hearings scheduled for March 31. Both posted bail, which had been set at $10,000 each.
Police have identified a man stabbed to death Saturday in West Philly as David McMillian, 60.
Detectives arrested Keith Beckham, 20, of 54th Street near Market for murder, possession of an instrument of crime and related offenses for the 12:45 p.m. incident on Market Street near 52nd, said Officer Leeloni Palmiero, a police spokeswoman.
An argument sparked the violence, Palmiero said. McMillian, who was stabbed in the neck and face, died at Penn Presbyterian Medical Center about 13 hours afterward. Police listed his address as the 100 block of Wynnwood Avenue but listed no hometown.
"It takes time to heal—there are no words that can instantly take away the pain that they feel right now," Police Commissioner Charles Ramsey said as hundreds of his colleagues filed in behind him.
"But we certainly can do what we can to pay the proper honor and let his family know what he meant to all of us."
Today, that healing process began. Both for the family of Officer Robert Wilson III and the thousands of police officers in the city who have been in mourning since Wilson was gunned down inside a GameStop in North Philly last week.
A 25-year-old woman was raped at the Montgomery Township tanning salon where she worked in late February, according to police.
The victim was at the salon, the name of which the Daily News is withholding to protect her identity, when Marshall Gibson, 19, entered and asked to use the bathroom around 8:45 p.m. Feb. 25th.
He was given permission to use the restroom after which, he and the victim entered one of the tanning rooms together, police said. While in the room, Gibson performed unwanted sexual advances on the woman and then pulled out a knife, placed it to her throat and threatened to hurt her if she did not comply with his demands, according to the arrest affidavit.
A sea of people gathered tonight to honor Officer Robert Wilson III on the same basketball court where he spent his summers as a kid.
"He was just an awesome guy; this tragedy happened to someone who cared so much for the community," said Tyrone "Cakes" Sims, a man who watched Wilson grow up.
Wilson was gunned down a week ago today while stopping a robbery inside a GameStop in Hope Plaza, on Lehigh Avenue near 21st in North Philly.
GameStop has provided a "sizable donation" to the family of the police officer gunned down inside one of its stores last week, according to John McNesby, the president of the Fraternal Order of Police Lodge No. 5.
McNesby, who met with executives from GameStop today, declined to disclose the amount, only saying that it was "very large."
Officer Robert Wilson III was killed March 5 during a gunbattle with armed robbers inside the GameStop in Hope Plaza, on Lehigh Avenue near 21st Street in North Philly, police said. Wilson entered the store just before 5 p.m. to buy his oldest son, Quahmier, a PlayStation 4 as a reward for doing well in school.