The state Attorney General's Office has arrested two Philadelphia men, a Montgomery County woman and a New York man for running a "Grandparent Scam," in which they allegedly bilked at least $162,600 from 11 senior citizens in eight states.
Besides the $162,600 lost, the suspects also are accused of trying to steal $37,325 more by snookering victims into thinking they were paying money to help troubled grandchildren, according to the Attorney General's Office. One victim, a woman from Texas, was allegedly defrauded of $64,900, according to the office.
Arrested today were Spencer Compas, 29, of Etting Street near Snyder Avenue in South Philadelphia; Witson Lavilette, 38, Roosevelt Boulevard near F Street in Crescentville; Johanne Wesh, 37, of Abington; and her brother Kens Wesh, 38, of Brooklyn, N.Y. All were charged with corrupt organizations, criminal conspiracy, identity theft and theft by deception. Compas, Lavilette and Wesh are being held on $1 million bail, pending an Aug. 21 preliminary hearing. Wesh remains on the lam; he's believed to be in New York City, and police are hunting him.
Four months ago, Ryan Duboise told police he found his girlfriend dead in bed, naked and brutally beaten by an unknown killer.
His story didn't hold up long; police had been called before to quell domestic troubles between the couple. Before they could question him further, Duboise allegedly fled.
But Delaware County police picked him up three days later and jailed him for an October incident, in which he'd been charged with disorderly conduct, resisting arrest and related offenses. And yesterday, Philly detectives officially charged him with killing girlfriend Monet Hall, 26, of Allegheny Avenue near F Street in Kensington.
A North Philadelphia man learned the hard way this week that his luck dodging the law on a murder charge wouldn't last forever.
Especially not if he was going to keep picking up new raps and showing up at the Criminal Justice Center, which is swarming with cops on any given day, for hearings.
Dante Hill, 25, who lived on Oxford Street near 17th in North Philly, went to the CJC for a court hearing on drug charges on Tuesday, police said.
Police are seeking suspects in a double shooting in Mill Creek last night that seriously injured a teenager and another man.
The incident happened at 10:51 p.m. on Fairmount Avenue near 49th Street, said Officer Tanya Little, a police spokeswoman. A 16-year-old boy suffered gunshot wounds to his neck and side, while a 24-year-old man was shot several times in his left arm, Little said. Both are in stable condition at the Hospital of the University of Pennsylvania.
Police reported no suspects or arrests.
This is not a good week for cats and dogs.
A fugitive assaulted a Delaware State Police canine as troopers tried to arrest the man yesterday afternoon.
Troopers headed to a Bowers Beach, Del., home about 3:30 p.m. to help probation officers find Robert N. Berry, where they'd heard he was hiding out after leaving his court-ordered house arrest and cutting off his ankle GPS tracking device, state police said.
A depraved and demented heroin addict allegedly tried to strangle a kitten, slammed its face into the pavement and drugged it with heroin before spray painting the words "SLAM IT YOU PU$$Y" onto a roadway in West Whiteland Township Sunday, according to the Chester County District Attorney's Office.
Around 4:40 a.m., a West Whiteland officer on patrol along Dunwoody Drive near Phoenixville Pike saw James Myers' car parked in the middle of the roadway with his driver's door open and a small black kitten just outside of the vehicle, prosecutors said.
When the officer approached the car, he saw the kitten had a rope tied tightly around its neck, was bleeding from the face and had several of its teeth knocked out, police said. At the same time, the cop also noted the offensive spray painting on the roadway, according to court documents.
Homicide detectives have picked up the investigation into the death of a woman whose body was found early Tuesday morning along the edge of Pennypack Park in Northeast Philadelphia, police confirmed Tuesday evening.
The 46-year-old woman, whom a police source identified as Constance "Connie" Murray, who lived on Tolbut Street near Ashton Road a few blocks from where her body was found, had gone out to jog around 9 p.m. Monday, Homicide Capt. James Clark said.
When Murray hadn't yet returned home around 11 p.m., Clark said, her husband became worried and went out searching for her. He was unable to find her, and filed a missing persons report a few hours later.
Stephanie Farr and Morgan Zalot
@ 12:08 PM 
Permalink
|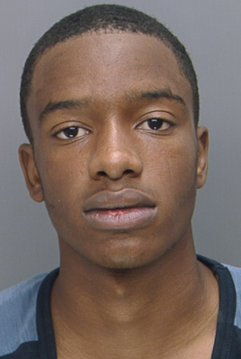 A South Philadelphia man who was paroled less than a month ago on a felony gun charge is now wanted for killing a 3-year-old girl Friday in Grays Ferry during an argument, police said this afternoon.
Homicide Capt. James Clark said at a news conference police have issued an arrest warrant for Brandon Ruffin, 22, of Wharton Street near 23rd, on a murder charge for the death of Tynirah Borum.
"There is some indication that he's still in the South Philadelphia area, but wherever he is, we will find him and we will bring him into justice," Clark said.