Archive: February, 2013
Police are looking for two men and a van captured on surveillance video outside the scene of a Jan. 18 murder in the city's Feltonville section.
In the video, released by police on Monday, a light-colored van can be seen circling the block and two men can be seen walking in the area of Wyoming Avenue near 2nd Street shortly before 8:30 p.m. that Friday night. Police say they believe the men caught on video are responsible for shooting 56-year-old Pablo Valdez to death inside his home on Wyoming Avenue near 2nd Street.
Police said they believe the van may be a 1998 to 2002 Chevrolet Venture. The men were last seen heading north on 2nd Street from Wyoming Avenue after Valdez's murder.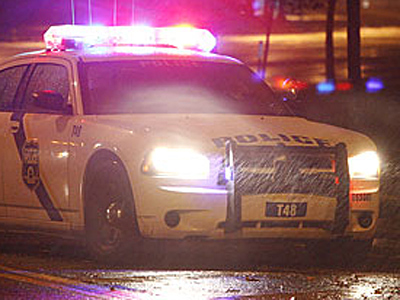 Police are investigating the death of an 82-year-old man who was found lying on the ground in his garage Monday afternoon.
An insurance agent who went to the man's house on City Avenue near Greenhill Lane found his body partially under his vehicle inside his garage around 12:30 p.m., police said. The garage door was open.
The door to the man's house was also open, and his house appeared to be ransacked, investigators said. There were no obvious signs of trauma on his body, according to police, and his death remains under investigation.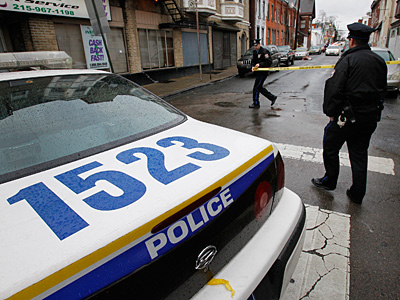 Police are investigating a deadly crash that killed a 58-year-old woman near Wissinoming Park on Sunday.
The accident occured around 9:30 a.m. on Frankford Avenue near East Cheltenham. Police said a Pontiac minivan was traveling south on Frankford when it jumped the curb and struck a 58-year-old woman before hitting a tree.
The woman, identified as Teresa Marquard, of Wissinoming, was taken to Hahnemann Hospital where she died a short while later.
Gerald Gibson, a veteran Philadelphia police narcotics officer, was suspended Friday by Police Commissioner Charles H. Ramsey for 30 days with the intent to dismiss.
Gibson, the son-in-law of Gov. Corbett, was taken off the street on Jan. 31, the same day he was allegedly caught on camera stealing $140 from a car he believed had been seized during a drug raid.
Police sources previously told the Daily News that the money had been treated with a glow-in-the-dark chemical and hidden in the vehicle by investigators from the FBI and the Police Department's IMPACT Unit.
After a 12-day manhunt, police on Friday morning nabbed a 34-year-old fugitive accused of beating a gas-station attendant to death during a robbery in New Jersey earlier this month.
Zedrick T. Johnson, of Willingboro, N.J., was found in a house on 23rd Street near Howell in Camden, N.J. around 7:45 a.m., according to the Burlington County Prosecutor's Office. U.S. Marshals tracked down Johnson after he was on the lam – and on a holdup spree, according to police – for nearly two weeks since the murder.
Police say Johnson robbed a Lukoil station at Route 130 north and Charleston Road in Willingboro Feb. 11 and beat attendant Bal Krishna Karki to death in the process. Karki's body was found by a customer around 2:30 a.m. that morning.
Warning: Images contain graphic content.
Bail for two cousins who police say brutally beat and robbed a taxi driver in Southwest Philadelphia last week has been set at $1 million each.
Once surveillance video of the suspects, cousins Nahfeeh Williams, 18, and Dawald Williams, 25, walking in SEPTA's 69th Street Terminal in Upper Darby before they allegedly robbed the cab driver on Valentine's Day was released, the pair didn't stand much of a chance. On Tuesday, police received a tip call that they were hiding out at an apartment on Copley Road near Market Street in Upper Darby.
The two thugs who carjacked and robbed a cabbie on Valentine's Day, beating him so severely he needed 100 staples to close a head wound, are cousins who police were able to arrest earlier today, thanks to tipsters who recognized them from video surveillance footage, said Lt. John Walker of Southwest Detectives.
Dawand Williams, 25, and Nahfeeh Williams, 18, whose last known address was on Mifflin Street near 20th in South Philadelphia, were charged with aggravated assault and related offenses for the attack on a 53-year-old driver for County Cab. That man, whose name wasn't released, remains at the Hospital of the University of Pennsylvania after surgery, Walker said.
The driver picked up the cousins just after 11 p.m. on Feb. 14 at the 69th Street Terminal in Upper Darby, Walker said. The pair directed him to take them to the housing projects at 82nd Street and Lindbergh Boulevard, where one took off his belt and wrapped it around the driver's neck while the other rifled through the driver's pockets and stole his wallet, Walker said. Unsatisfied with the $100 they found, they beat driver with an unknown object until he gave them his pin numbers for his debit cards, Walker said.
Does the name "New Market" mean anything to you? Or do you recognize the house and men pictured here?
The FBI is asking for the public's help to identify the unknown child posed in sexually explicit positions in photographs that have been circulating online in child-pornography forums since February 2003.
The photos include a yellow t-shirt with the text "New Market Basketball" above the outline of a basketball. Investigators found many New Market locations in the United States, including in Pennsylvania, New Jersey and Delaware (as well as Iowa, Indiana, Maryland, Virginia, Alabama, Tennessee, Minnesota, Ohio and North Carolina).