A North Philly man faces assault charges after he allegedly attacked a Fox 29 cameraman Tuesday.
Jerel Dial, 25, has been charged with simple assault and reckless endangerment in the incident, which took place just before 2 p.m. outside Powell Mortuary Services, on 27th Street near Cumberland, police said.
A cadre of journalists — including a photographer from the Daily News — had congregated on the block after police found rotting corpses entrusted to the funeral home stashed in a nearby garage owned by Chris Dailey, the son of Janet Powell Dailey, Powell's owner.
Police responding to reports of a foul odor this morning found three rotting corpses in a North Philadelphia garage owned by a funeral home.
Officers made their gruesome discovery at 10:45 a.m. on Hagert Street near 26th. The garage belongs to Powell Funeral Home, which operates a mortuary around the corner on 27th Street. Funeral home representatives told police they were aware of the bodies in the garage, but police were holding the location as a possible crime scene.
Officer Leeloni Palmiero, a police spokeswoman, said the Medical Examiner's Office is investigating abuse of a corpse allegations. M.E.'s Office spokesman Jeff Moran, though, said: "None of the deceased individuals were were M.E. cases. The M.E. has no investigative jurisdiction over how funeral homes store bodies. We are making referrals to the D.A.'s Office and the State Board of Funeral Directors. The D.A. could choose to investigate if they felt that any criminal laws had been broken. The State Board, which licenses funeral directors, could choose to investigate whether or not this funeral director had violated any state regulations."
Police have identified the victims of two recent murders in Kensington.
Alexis Rosado, 36, of Kensington Avenue near H, was shot in the head about 9 a.m. Monday in the doorway of a home on his block. He died within the hour at Temple University Hospital.
Emmanuel Cintron, 22, of H Street near Westmoreland, was shot multiple times in front of his home at 9 p.m. Sunday. He died at 5:11 a.m. at Temple Hospital, police said. Witnesses told police Cintron approached a northbound car - a dark-colored sedan, possibly a Buick - but got shot. Cintron then ran into his home and collapsed on his living room couch, police said.
Three people were injured in a drive-by shooting tonight in Kensington, targeted by a violent gunman wielding an assault rifle, police said.
It was the second shooting on the block — a tiny, one-way side street­ — in as many days.
Just after 6 p.m., Josue Pizzaro, 25, his cousin Stephanie Rivera, 22, and an unidentified man were sitting outside Pizzaro's home on Boudinot Street near Auburn, according to Susalyn Marrero, Pizzaro's mother and Rivera's cousin.
A woman was robbed and sexually assaulted Sunday night by an unknown assailant in Port Richmond's "Graffiti Pier", police said today.
The incident took place about 6:30 p.m., as the woman was walking with another woman and a man at Pier 124, on Beach Street near Cumberland. Residents colloquially refer to the area as "Graffiti Pier" for the eclectic blend of street art that decorates its walls.
An unidentified man in his late 20s or early 30s walked up to them and struck up a conversation, police said, before producing a handgun and demanding their money.
Aka Jones has a tattoo on his forehead proclaiming him as a "Bad Guy." Friday, he lived up to his name when police arrested him for the murder of an East Mount Airy man.
It was one of several murder arrests Philly police announced this morning.
In Jones' case, he is accused of gunning down Nafis Armstead, 23, of Horter Street near Germantown Avenue just after 8:30 p.m. July 27 on Sharpnack Street near Musgrave. Armstead died of multiple gunshot wounds at Einstein Medical Center about a half hour after he was shot. Another man, 26, also was shot repeatedly but survived.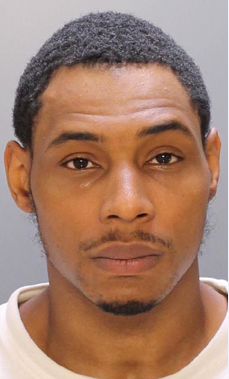 Police have charged a Wynnefield man in the gun murders of two Wynnefield men.
Kyree Darrisaw, 28, of Euclid Street near 53rd, is accused of killing Meshach Brightly, 21, of 54th Street near Woodbine Avenue, just before midnight Aug. 4 on Berks Street near 53rd, police said. Brightly, who was shot in the head, died at the scene.
Police also charged Darrisaw for the death of Basil Amir Anderson, 23, of 54th Street near Columbia Avenue. Anderson was gunned down May 10 on Hazelhurst Street near Georges Lane. He died at Penn-Presbyterian Hospital at 2:15 p.m., about 10 minutes after someone shot him in the back of the head.
Police are seeking suspects in a gun slaying this morning in Kensington.
Someone shot a 36-year-old man several times in the head and body at 9 a.m. on Kensington Avenue near H Street , police said. Paramedics rushed him to Temple University Hospital, where he died at 10:31 a.m., police said. Police reported no suspects or motive and are withholding his name until his family can be notified of his death.
Tipsters, call homicide detectives at (215) 686-3334 or -3335.