A repeat offender with a violent history was arrested yesterday in last month's gun slaying of a West Philly man.
Justin Buchanan, 23, of Webster Street near 55th, was jailed without bail in the Oct. 18 homicide of Robert Reynolds, 33, of Girard Avenue near 38th, said Officer Rafeeq Strickland, a police spokesman. Reynolds was shot in the head, neck and chest just before midnight and died about three hours later at the Hospital of the University of Pennsylvania, Strickland said.
Strickland said he didn't know the murder's motive.
Police have identified the driver who died Tuesday after her car plummeted into the Schuylkill.
Shanita Jackson, 42, was behind the wheel of her 2005 Volvo SUV just before noon when it crashed through a retaining wall on Hunting Park Avenue near Kelly Drive in North Philadelphia, police said.
A team of officers from the police Marine Unit and the city Fire Department recovered the SUV and pulled Jackson from the wreckage. She was pronounced dead minutes later.
Someone beat an elderly Spruce Hill man to death with a dumbbell Monday morning, and police are hunting for suspects.
Theodore Hudson III, 60, of Chester Avenue near 42nd Street, was declared dead in his home after he was found just before 10 a.m. Monday, said Officer Jillian Russell, a police spokeswoman. He had been beaten in the head with the dumbbell, which was recovered at the scene, Russell said. Russell didn't know who found Hudson in his rear basement apartment, nor how long he may have been dead there.
Police reported no suspects or motive. Tipsters can call homicide detectives at (215) 686-3334 or -3335.
A man was killed this morning in Bucks County after a train hit him on tracks between the Bristol and Croydon stations.
The 35-year-old man, whose name wasn't released, was hit at 9:15 a.m. on the Trenton Regional Rail Line, said SEPTA spokesman Andrew Busch. The two-car train, which was inbound from Trenton into Center City, had 96 passengers aboard when it hit the pedestrian, Busch said. No one on the train was injured, but the incident prompted 30-minute delays for more than two hours, he added.
Investigators haven't determined if the incident was accidental or intentional but do not suspect foul play, Busch said.
A woman is dead after her car veered into the Schuylkill River in Fairmount Park this afternoon.
The incident happened just before 1 p.m. today, police spokeswoman Officer Jillian Russell said. Witnesses told police a woman driving a silver Volvo drove into the river off Kelly Drive. Marine unit divers fished the woman, who was 41, out of the water, but she was declared dead at the scene at 1:35 p.m., Russell said.
Investigators haven't determined whether she drove into the river accidentally or intentionally. They are withholding her name until her family is notified.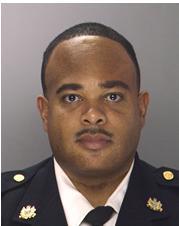 A Philadelphia police lieutenant has been charged with aggravated assault on police for struggling with officers who responded to a domestic situation he was a part of on Sunday, according to police.
Lt. George Holcombe, 42, a 23-year veteran of the department, was allegedly involved in an argument with the mother of his children on Kraydor Street near Ditman in Holmesburg Sunday and "struggled" with officers who responded to the scene, police said in a news release.
Holcombe has been charged with aggravated assault on police, simple assault, resisting arrest, disorderly conduct, terroristic threats, harassment and endangering the welfare of a child.
This post has been updated.
An inmate in a Northeast Philadelphia jail attacked a prisons sergeant and two correctional officers with a jail-made shank Monday afternoon, stabbing each of them.
About 2:30 p.m. inside the Philadelphia Industrial Correctional Center, Sgt. Gregory Trueheart, a 29-year veteran, was attempting to stop the inmate, identified as Fred Avery, from attacking his cellmate, according to Lorenzo North, president of District Council 33 Local 159, the union representing correctional officers. When Trueheart intervened, North said, Avery turned on him, slashing him near his eye with the weapon, cutting his face and eye.
A Brooklyn woman returning from a vacation in Jamaica really managed to stir it up at Philadelphia International Airport last week.
According to police, when 22-year-old Jody Ann Graham of Brooklyn, N.Y., was stopped for a secondary inspection at the airport on her way back from Montego Bay, Jamaica, on Nov. 10, U.S. Customs and Border Protection agents said they discovered two pounds of cocaine in her luggage, according to a news release.
The drugs were sewn inside the bottom of two bags Graham had in her possession, CBP officials said, and the total combined weight of the cocaine was two pounds, nine ounces. Police said it had a street value of $80,000.