A 28-year-old gay man who was walking his dog with friends in Center City on Friday said he was attacked by a group of drunk Mummers who punched him in the face and called him a "f----t."
John Holtz, of Philadelphia, said he and two of his friends were on Rodman Street near Broad about 2 p.m. taking his parents' dog for a walk. The group noticed four or five men in full Mummers gear who were wearing patriotic colors and face paint. Holtz said some of the Mummers were urinating in the alley and all of them were "very intoxicated."
At first, the Mummers were friendly with Holtz's dog, but things turned tense quickly, he said.
A janitor has been arrested for stealing three laptops from the Boys Latin Charter School in West Philadelphia.
Officials at the school, on Cedar Avenue near 55th Street, called police shortly after 2 p.m. on Wednesday and reported that school surveillance footage showed the janitor, Reginald Hawk, stealing the devices from a computer lab, according to police records.
Hawk, 43, who works for a maintenance company that cleans Philadelphia schools, was filmed walking into the lab with an empty blue school bag. When he walked out, the bag appeared to be heavier, according to the records.
Four people were stabbed over a 24-hour period this weekend in Philadelphia and motives for the violence range from broken hearts to fights, according to police.
The latest stabbing occurred around 3:30 a.m. inside of the Moonlight Cuisine Restaurant Lounge on Limekiln Pike near Haines Street in West Oak Lane.
Police said a 29-year-old man was stabbed twice in the left side of his chest by another patron he was fighting with inside of the lounge. The victim was taken to Einstein Medical Center in critical condition. The suspect remains on the loose. Police described him as a black man with a Jamaican accent who is 5-foot-10 and weighs between 160-and-180 pounds.
All Ryan Kelly wanted was a late-night snack at Wawa.
So, despite his mom's protests, he walked less than a mile to the convenience store on Aramingo Avenue from his Port Richmond home.
It was about 5 a.m., not long before the sun would rise on an unseasonably warm Thanksgiving Day.
A spat between two men in Oxford Circle ended in fatal gunfire Friday, with the shooter claiming he fired in self-defense on a man who tried to gun him down.
Officers responding to reports of gunfire found the victim, 29, shot once in his chest and lying on the pavement on Dorcas Street near Hellerman just after 2 p.m. They took him to Einstein Medical Center, where he was pronounced dead about 20 minutes later, Chief Inspector Scott Small said.
Near the man's body was a bag containing nearly two pounds of what police believe to be marijuana. It's unclear what role, if any, the drugs played in the shooting, according to Small.
One Norwegian man allegedly took an explosive approach to ensuring he wouldn't miss his flight Thursday night at Philadelphia International Airport, police said.
That visitor to our city, 30, was arrested after allegedly making two separate phone calls from inside the airport to 9-1-1, both times claiming that he had a bomb, Chief Inspector Joe Sullivan said.
The first call was made about 3:30 p.m., a "general threat" about an explosive at the baggage claim at the airport's Terminal A, Sullivan said. About an hour later, that same man allegedly made a second call, this time demanding that the airport ground all planes operated by British Airways, Sullivan said.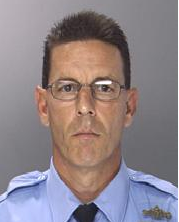 A Philadelphia police officer was arrested on Thanksgiving and has been suspended with intent to dismiss after he allegedly beat his girlfriend at her Bensalem home last week.
Joseph Sees, 48, a 17-year veteran, was charged with simple assault and harassment for the incident that happened at 10:30 p.m. last Wednesday on Newgate Court near High Road, police said. His girlfriend suffered a bloody, possibly broken nose and multiple scratches, police said. Neighbors who heard the sounds of a violent assault alerted police.
The girlfriend told responding officers that she and Sees had spent the night out drinking and the fight erupted "because she was upset that he was driving drunk" and that Sees "began to drive out of control and aggressively, to the point that it was scaring her," according to a probable cause affidavit. The woman's complaints about Sees' driving "appeared to set Sees off," the woman told responding officers. After they returned to her apartment, Sees allegedly followed her inside, yelling, and "that's when all hell broke loose," she told officers. He allegedly left after the assault, and police arrested him the next morning.
Christmas lights sparkled Monday on Almond Street, illuminating the block on a silent, chilly night in Port Richmond.
But Ryan Kelly's house was dark, closed to the world.
Kelly, 21, was gunned down early Thanksgiving Day during what investigators believe was a botched robbery, Homicide Capt. James Clark said yesterday.