Police aren't sure what led up to a violent shooting outside a bar in Germantown tonight.
But it's results are clear: A 33-year-old man is clinging to life at Albert Einstein Medical Center after being shot three times in his side and arm.
The incident happened just before 10:30 p.m. on Wayne Avenue near Chelten, not far from Victor's Tavern, Chief Inspector Scott Small, who responded to the scene, said.
A teen is fighting for his life today after a shooting near an ex-NFL player's auto-body shop in Brewerytown, police said.
Just after 5 p.m., officers from the 22nd District found two men shot near Chuckie's Garage on Thompson Street near 25th, police spokeswoman Officer Christine O'Brien said.
The shop, owned by former Indianapolis Colts wide receiver Marvin Harrison, appears to be unrelated to the shooting, police said. It was the scene of another, much-publicized shooting in 2008.
This post has been updated:
A man was critically injured after two undercover police officers shot him in an apparent "misunderstanding" in Kingsessing.
Deputy Commissioner Richard Ross told reporters this morning that the 20-year-old Upper Darby man shot last night was a pizza delivery driver who may not have heard the plainclothes officers announce themselves as police and who tried to flee because he feared they were robbers trying to ambush him.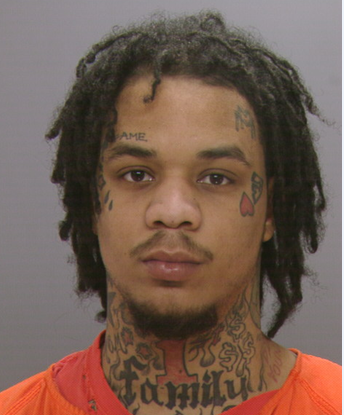 Philadelphia police have charged an alleged drug dealer with killing an Olney man last fall.
Lamont Chyanne Blount, 22, of Rush Street near 13th, was charged with murder and gun offenses in the Oct. 16 death of Gregory Simmons, 37, of Mascher Street near Nedro Avenue, said Officer Christine O'Brien, a police spokeswoman. Police responding to a report of a shooting found Simmons in a bedroom of his home, suffering from gunshot wounds to the head, just after 2:15 p.m., O'Brien said.
Blount already was in prison after federal authorities arrested him in January for his role in a drug ring that supplied cocaine and heroin to Williamsport and Tioga and Lycoming counties in 2012 and 2013. In that case, he was indicted along with five other men from Philadelphia and Williamsport. The men, who were known as the "Tat-Gang," also allegedly bought, sold and traded firearms, according to the indictment.
A trio of robbers hid in the bathroom of a Somerton Target store last night and robbed the store of tens of thousands of dollars when employees closed it for the night, police said.
About 10 minutes after employees closed the Target on Roosevelt Boulevard near Haldeman Avenue at 10 p.m., the trio – at least one of whom was armed – emerged from the restroom and demanded the key to the safe, police said. When the employees told the bandits they didn't have access to the safe, one brandished a small silver handgun and forced them to open six cash registers. One of the men unloaded cash from each register into a dark-colored bag held open by another, according to investigators.
Police said today that the amount of cash taken was unknown, but estimated it to be up to $30,000.
Curious as to how the bandits in yesterday's armored-car heist pulled it off so easily?
Experience, at least according to a law-enforcement source close to the investigation.
The suspects in that robbery, which occurred about 9 a.m. in the parking lot of the TD Bank at Frankford Avenue near Magee in Mayfair, are the "same guys" who ripped off another armored car in October, according to that source.
One man is dead and another is clinging to life after a brutal, execution style attack in Crescentville, police said.
Just before 6 p.m., officers from the 2nd District found two men shot on Newtown Avenue near Godfrey, a narrow, trash strewn street, Chief Inspector Scott Small said.
Both had duct tape covering their faces, and were bound at the wrists with the same material, Small said.
One of the men was able to free himself from his bindings and talk to the officers. He had been shot three times in his back, arm and leg, and was transported to Albert Einstein Medical Center in critical condition.
A Mantua woman sought by police in connection to her daughter's accidental gun death turned herself in to police today, authorities said.
Tiffany Goldwire, 31, was escorted to the department's headquarters in Center City by her lawyer, Eugene P. Tinari just after 1 p.m., police spokeswoman Officer Jillian Russell said.
A warrant had been placed for her arrest yesterday in connection to the death of her daughter Jamara Stevens, who was killed after a loaded gun left in Goldwire's home was accidentally fired by Stevens' 2-year-old brother, police said.