A 26-year-old man was in stable condition after police say he was shot twice in Southwest Philadelphia Thanksgiving night.
The victim, shot twice in the back, ran inside the back of a house on Belmar Terrace near 59th Street just before 8:30 p.m., Chief Inspector Scott Small said. He did not live in the house he ran inside, but resides in the area, according to police.
Police said the man was uncooperative with officers and declined to tell them where he was when he was shot, so they were unable to locate a crime scene. Detectives from Southwest Detective Division were in the area where the victim ran canvassing for more details about the incident. As of 9 p.m., police had no motive or suspects in the shooting, Small said.
UPDATE, 9:17 p.m.: Per police radio reports, the missing teenager has been located.
--
A 16-year-old boy never returned home after leaving his school in Northeast Philadelphia's Bustleton section Wednesday afternoon, and police are seeking the public's help to find him.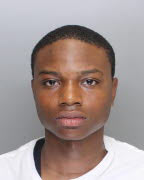 A North Philadelphia man, not even a year into adulthood, has been charged with the murder of a 17-year-old boy in September, according to police.
Jason "Cassius" Broaster, 18, of Harold Street near 26th, has been charged with murder and related offenses for the death of Naaire Murray on Sept. 8. Police said Broaster was arrested today in Atlanta, Ga., without incident.
According to police, Murray was shot inside of his house on Huntingdon Street near 25th around 8:50 p.m. He was taken to Temple University Hospital, where he was pronounced dead at 10:50 p.m.
A rowhouse fire claimed the life of a child Monday in Feltonville, officials said.
The blaze broke out just after noon on Wyoming Avenue near 2nd Street, Capt. Clifford Gilliam, a Fire Department spokesman, said.
Fire crews arrived at the three-story home minutes later, and it took them about 40 minutes to extinguish the flames, Gilliam said.
A federal judge ruled last Thursday that a civil lawsuit can proceed against the School District of Philadelphia, the School Reform Commission and the substitute teacher on duty when a kindergartner was kidnapped from class last year and later sexually assaulted.
The school district had asked U.S. District Judge Jan E. DuBois to dismiss the complaint against the district and teacher Reginald Littlejohn, in which attorney Tom Kline argued the victim, then 5, was denied her constitutional right to personal safety at Bryant Elementary School in West Philadelphia.
The lawsuit, filed by the girl's family, claims Littlejohn violated school policy on Jan. 14, 2013, by releasing the child to Christina Regusters, 21, a stranger hidden head-to-toe in Muslim garb. Regusters worked at an after-school program the girl attended and was permitted to take the child out of class without providing identification.
An imprisoned man has been charged with homicide and related offenses for the October slaying of a North Philadelphia resident.
Angel Colon, 20, of Philadelphia, was charged with murder, recklessly endangering another person and firearms offenses for allegedly shooting Alexander Ruiz to death on 4th Street near Indiana Avenue at around 12:11 a.m. on Oct. 25th.
A police spokeswoman said Colon was also shot to his hip and buttocks during the incident. The spokeswoman said Colon was arrested for Ruiz's murder while he was in jail, but she didn't know what the details of that case.
Taleon Goffney had a lot of down time to write the strange-but-true story of his life of crime and pornography - six years in prison to be exact.
Now, the man who once worked with his twin brother on gay porn films and on intricate rooftop heists, has released his story in a book called "ON MY SEARCH FOR A BETTER LIFE THIS IS HOW I BECAME ... INFAMOUS."
The book, which has been published by Xlibris, is authored by "Kent T. Jackson," a pseudonym Goffney, 32, said he had to use to "get through a lot of red tape."
An armed security guard shot and wounded a knife-wielding robbery suspect at an East Mount Airy pharmacy Thursday night.
Police were called at 8:24 p.m. to the Rite Aid at Stenton and East Mount Airy avenues, where an armed guard shot a 33-year-old man several times after he entered the store armed with a knife and attempted a robbery, according to police.
The wounded robbery suspect was taken to Albert Einstein Medical Center by medics and was in critical condition about 9:20 p.m., police said.