Archive: September, 2008
Thousands joined together yesterday to bid a somber farewell to slain Highway Patrol Officer Patrick McDonald. McDonald is the fourth Philadelphia police officer killed in the line of duty in the last 11 months. The 30-year-old was gunned down last Tuesday in North Philadelphia by Daniel Giddings, a recent parolee from state prison who already had a warrant out for his arrest for assaulting several police officers. Giddings was later killed during a gun battle with police.
McDonald's send-off was stirring and unique, to say the least. Police Commissioner Charles H. Ramsey announced during the funeral Mass at the Cathedral Basilica of Ss. Peter and Paul that he was promoting McDonald posthumously to the rank of sergeant. Hundreds of motorcycle cops from up and down the East Coast were a part of the motorcade that carried McDonald to his final resting place at Resurrection Cemetery in Bensalem. A high-ranking cop told me it was the largest motorcade the police department had ever seen.
The murder of McDonald, a hard-scrabble football player and lifelong resident of Morrell Park in Northeast Philadelphia, has left many in the city reeling. To his brothers and sisters in blue, McDonald's death was another crushing reminder of the dangers they face and the willingness -- if not downright eagerness -- of thugs to pull a trigger when they spot a cop. To residents who still admire and respect police officers, McDonald's death inspired them to reach out and show their support.
A 25-year-old man, who was shot in his South Philadelphia home early yesterday as he lay sleeping next to his girlfriend and 3-year-old daughter, was one of four victims of violent crime this weekend among those critically injured in four violent crimes this weekend. Three other people in other cases died from their injuries — one after being beaten by a one-time friend and the other who was shot after attempting an armed robbery of a victim who was carrying his own gun. About 4:30 a.m. yesterday, police said, an unknown number of people kicked down the back door to a house on Pierce Street near 17th and shot the 25-year-old resident and a 19-year-old unidentified male friend in his house, said Det. John Ruth, of South Detectives.
The woman and child sharing a bed with the resident escaped unharmed, he said. The 19-year-old male, who was wounded in the stomach and buttocks, remains in intensive care at the Hospital of the University of Pennsylvania. The 25-year-old victim, shot in his leg and buttocks, was in surgery last night at HUP. Police said they have been unable to interview either victim because of ongoing medical treatment, but the home did not appear to be otherwise ransacked. A firearm, believed to belong to the resident, was found in the upstairs bedroom where he was shot, Ruth said. Just hours earlier, about 1:15 a.m. on 52nd Street near Florence Avenue, in the Kingsessing section, three men were approached by two armed, 17-year-old males who attempted to rob them, Homicide Sgt. Tim Cooney said.
One of the victims, who had a permit to carry his own, concealed weapon, pulled a gun on his teen attackers — shooting one twice in the chest and the other two times in the arm, Cooney said. The young man shot in the chest was taken to HUP, where he was pronounced dead at 1:55 a.m. His accomplice remains at the same hospital in stable condition, police said. Homicide and Southwest detectives are working together to determine if the duo was involved in previous robberies.
I'm surprised this didn't kick up a little bit more controversy. Smokin' Joe Frazier's daughter, Jacquelyn Frazier-Lyde, is a city municipal court judge. She found herself in quite a pickle Thursday when she down-graded charges against a man who allegedly punched a cop in the throat, and then directed a wise crack at the clearly upset officer. An excerpt from the story Wendy Ruderman and I did:
It's a scenario that plays out again and again in courtrooms all over the city. Johnson and other cops say they've almost come to expect judges to toss out the felony charge in police-assault cases.
But in rendering her decision, Frazier-Lyde made remarks that left Johnson fuming.
Crazy night tonight, folks. The Police Department held its collective breath when a veteran sergeant was found unconscious in his patrol car in North Philadelphia at about 6:45 p.m.
Mayor Nutter and Police Commissioner Chuck Ramsey emerged from Temple University Hospital shortly before 9 to deliver the news: Sgt. Andrew Stackwicz, 57, was in critical condition after he suffered an apparent heart attack. He was undergoing tests in an ICU and appeared to be responsive, the mayor said.
Stackwicz is a 26-year-old veteran who works in the 22nd District. He was out on a patrol when a citizen spotted him in his cruiser. Nutter -- visibly relieved that he didn't have to once again address the loss of an officer -- praised the unidentified resident, who called 9-1-1 and even waited with Stackwicz until help arrived. Nutter said four cops performed CPR on the married father of two on the ride up to the hospital, probably saving his life in the process.
For the past four years, Patrick McDonald spent part of his spare time as a member of the Philadelphia Blue Flame, a police football team that plays other big city police and fire department squads to raise money for charities.
The former standout at Archbishop Ryan fit right in with tough cops on the team. "He was as intense as they come, hard-nosed with a desire to succeed and win every time he stepped on the field," said Mike McKay, the coach of the Blue Flame.
McDonald's high point on the team came about three years ago, when he scored an 18-yard rushing touchdown against a team of Los Angeles police officers during a game in Northeast Philadelphia. "Man, he was thrilled that day," McKay said. The coach said McDonald and his girlfriend, Joanne Heary, a police officer assigned to the 15th District in Northeast Philadelphia, often took opposing team members out to dinner after a game. "She went to every one of his games and followed us when we went to different cities," McKay said. "They were a great couple."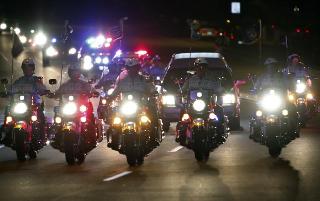 This is an image that we're getting all too accustomed to seeing -- scores of motorcycle cops escorting a hearse carrying a body of a fallen Philadelphia police officer.
Like everyone else in the city, our thoughts tonight are with the family of Highway Patrol Officer Patrick McDonald.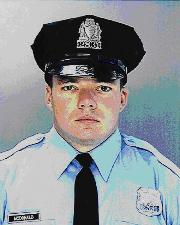 I got out to Morrell Park earlier today long before the full shock of Officer Patrick McDonald's murder had taken hold of his tiny Northeast Philly neighborhood. Many of his neighbors were just getting home from work and seemed to have no idea why some people were standing on their steps, sobbing. A few were kind enough to talk with me about what Patrick meant to his friends and loved ones. This is their story:
FOR MUCH of the past 30 years, Patrick McDonald was the heart of Morrell Park.
At first glance, he was like a lot of guys from the tiny, tidy Northeast Philadelphia enclave — a tough, hard-nosed son of a fireman.
But as the years wore on, McDonald's friends watched in wonder as other qualities emerged.
He proved to be kind and generous, and had a knack for leadership — attributes that seemed to grow even stronger when he joined the Police Department eight years ago.
His neighbors — who were thrilled a few years ago when he bought the house he grew up in — considered him their son, brother, protector.
Yesterday, they wept for their fallen hero.
Word spread quickly up and down the winding, neatly manicured streets of Morrell Park after McDonald, 30, was fatally shot in North Philadelphia yesterday afternoon.
The neighborhood has long been home to cops and firefighters, many of whom stopped what they were doing and ran outside to mourn together outside McDonald's home on Whitehall Lane near Crown Avenue.
One woman stopped on the sidewalk when she learned of McDonald's murder and cried out, "Pat's dead! Oh, God, no!" Other neighbors quickly rushed to her side and joined in a tearful embrace.
"Everybody's devastated. He was the heart of this neighborhood," said Steve Mentusky, a longtime friend who has spent much of the past year renovating McDonald's childhood home.
"It's going to be weird not seeing him coming out in the morning and getting on his police motorcycle. We're going to be crying around here for days."

McDonald, a 1996 Archbishop Ryan High School graduate, made a name for himself as an undersized lineman who played through the pain on his high school football team.
In 1995, McDonald earned second-team All-Catholic honors from the coaches in the Catholic League Northern Division.
"He always gave his all. After games, he'd be totally drained. Really beat up," said his old coach, Glen Galeone.
"I remember that he played with a knee brace. Maybe even had a small tear in there. But you couldn't keep the kid off the field. That's how determined he was."
McDonald's father, Larry, retired from the Fire Department as a captain in 2004.
Neighbors said he was especially close to his mother, Patricia, and sister, Megan.
We grew up together. He had a huge heart and was like a brother to everyone around here," said Sean Flanagan.
Mentusky said McDonald had a top-shelf gym installed in his basement and a bar and a big-screen TV put on his back-yard deck.
"On Sundays," Flanagan said, "everyone around here would go to his house to watch Eagles games. He didn't care who you were, as long as you liked the Eagles."
McDonald — an avid weight lifter — added a sense of security in many of his neighbors' minds."We felt so protected to live on his street," said Barbara Covello, as she wiped tears from her eyes. "This just can't be true."
As the afternoon wore on, cops and curious passersby visited McDonald's block and paid respects.
A female cop hysterically sobbed when she broke the news of McDonald's slaying to her father, who lived next door to McDonald.
"They shot him in the head and chest," she cried, as other neighbors stood back and quietly wept.

Dorien Oberlton had Eric Derrickson in his sights with no one there to help Derrickson, so Oberlton struck, police say.

And in Oberlton's mind, a years-long grudge against the man, who supposedly stole his girl, was settled, said family members of Derrickson.

Yesterday, authorities issued a warrant for Oberlton's arrest after several witnesses came forward to identify him in Tuesday's attack in an underground subway concourse, said Capt. Sharon Seaborough of Central Detectives.