Archive: August, 2008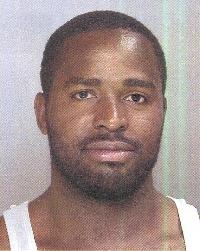 Police officials issued an arrest warrant yesterday for Daniel Giddings, 27, for injuring two Highway Patrol officers in an incident earlier this week.
Giddings led the cops on a car chase through North Philly at about 1 p.m. Wednesday when he was stopped for a traffic violation. The car chase eventually turned into an old-fashioned foot chase, which ended with Giddings escaping after he sent two cops to the hospital with neck and back injuries.
Giddings is known to hang around 25th Street and Cecil B. Moore Avenue, 55th and Chew Avenue, Griscom Street near Arrott and 66th Street near Malvern Avenue. He has a tattoo that reads "RIP MACK" on his left bicep, and "Theresa" written across his right bicep. Tipsters are asked to call Central Detectives at 215-686-3047.
Fire Commissioner Lloyd Ayers and Mayor Nutter, fresh off his trip to the DNC, offered well wishes tonight to 23 firefighters and EMS workers at the Fire Academy in Northeast Philadelphia.
Ayers said the group -- comprised of 10 paramedics, 10 firefighters, one battalion chief and two mechanics -- are headed to Louisiana along with 12 other "strike force" teams from Pennsylvania to help out ahead of Hurricane Gustav.
"We were down there before, when Hurricane Katrina hit," Ayers said. "Now it's almost three years to the day when that happened, and it hits you that, wow, this could be happening again. So we want to help out however we can." Ayers said the team will visit New Orleans and many other towns and cities across Louisiana.
Busy night, folks, so I only have a little to post on this right now.
Basically, a 78-year-old man and two of his pals were hanging out tonight on the porch of a VFW post on 33rd Street near Fontain. Homicide investigators said two or three young men barged onto the porch at about 6:10 p.m.
It's not clear if they demanded money or anything else, but one of the punks shot the elderly man under the left cheek. He died at Temple University Hospital. Investigators have yet to make contact with the victim's family, so his name is being withheld. The suspects remain on the loose.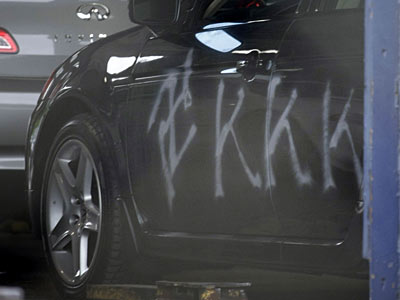 City Councilman Darrell L. Clarke was the victim of an apparent hate crime, police and Clarke just told Philly Confidential.
Clarke said he walked outside his house this morning and found Nazi symbols and the letters "KKK" spray-painted on his car, a vehicle belonging to a relative of one of his staffers and another local resident's car. Crime Scene Unit investigators are currently dusting his car for prints while detectives try to determine what motivated the incident.
"Some idiot decided for whatever reason they needed to paint a swastika and 'KKK' all over my car," Clarke said. "I couldn't believe it."
Kudos to the following Philly police officers who've been promoted to the rank of detectives:
Det. Anthony Anderson, 19th District
Det. Richard Antonini, 3rd District
Det. Megan Bolognone, 14th District
Det. Van Buren Brown, 12th District
Det. Tanisha Bryant-King, 5th District
Det. Justin Carlton, 25th District
Det. Thomas Demalto, SWAT
Det. Dennis Dusak, 24th District
Det. Joseph Dydak, 2nd District
Det. Patricia Eberhart, 26th District
Det. Edward Enriquez, SVU
Det. John Frei, 17th District
Det. Laura Hammond, SVU
Det. Robert Hennessy, 7th District
Det. Steven Jefferson, Narcotics
Det. Constance Lassiter, Northwest Detectives
Det. Denise Murray, 7th District
Det. Ismael Navarreto, Safety Office
Det. Erica Ortiz-Griffin, 17th District
Det. Edward Pendleton, Impound Lot
Det. James Poulos, 39th District
Det. Timothy Quinn, 1st District
Det. Michael Rocks, 23rd District
Det. Francis Sheridan, Major Crimes
Det. Angela Torian, 5th District
Police Commissioner Charles Ramsey will make the announcement at a formal ceremony tomorrow at Temple's Tomlinson Theater, 13th and Norris streets at 10 a.m.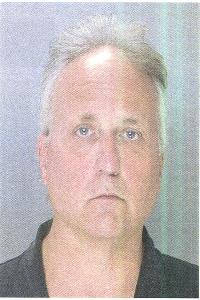 Below is an excerpt of a story we're working on about a local jeweler who now finds himself in quite the legal bind:
On his cheerful Web site, Ben Sorkin describes himself as a jeweler and "chief optimist."
But according to police, the longtime Jeweler's Row shop owner might want to add another title to his list: peeping tom.

The 52-year-old was charged Wednesday with three counts of invasion of privacy after investigators concluded Sorkin had used a hidden camera to videotape three female employees in the bathroom of his store, Ben Sorkin Jewelers, on Sansom Street near 7th.
A 15th District police officer suffered minor injuries when he was involved in a car crash near Frankford and Cottman avenues in Northeast Philly about an hour ago.
Police spokesman Lt. Frank Vanore said the unidentified officer was responding to an officer assist call when his cruiser collided with another car. The officer, who complained of pain in his side, was taken to Jeanes Hospital for observation. No other injuries were reported.
Officer Christoper Simone, meanwhile, was still listed tonight in critical but stable condition at Hahnemann University Hospital from the injuries he sustained in a brutal car wreck yesterday morning. Simone, a 12-year veteran, was also responding to an assist call when police officials said another motorist smashed into his cruiser at Broad and Spring Garden streets at about 1 a.m. Simone suffered head trauma, broken ribs and a broken leg and was put in a medically induced coma. The female driver of the other car, who has not been identified, was upgraded to stable condition earlier today, police said.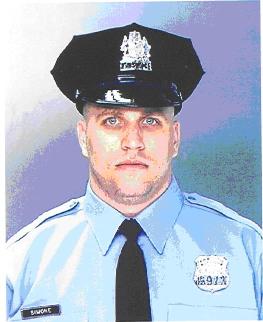 Officer Christopher Simone is still in a medically induced coma after being involved in a nasty car wreck earlier today. Simone, a 12-year veteran, was rushing to Hahnemann University Hospital shortly after 1 a.m. this morning when another car crashed into his cruiser at Broad and Spring Garden, said police spokesman Lt. Frank Vanore.
"He had his lights and sirens on. It appears the other driver, who was going west bound on Spring Garden, just didn't see him," Vanore said. Simone, who was on his way to Hahnemann to help officers struggling with an unruly emergency room patient, suffered head trauma, broken ribs and a broken leg. The unidentified driver of the other vehicle was also listed in critical condition.