Archive: June, 2010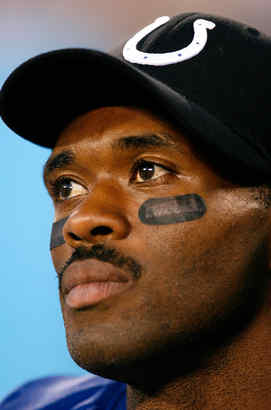 A pair of patrol cops confiscated a 9 mm handgun from former NFL star Marvin Harrison in North Philadelphia earlier today.
A police source said Harrison was stopped for driving a Cadillac Escalade the wrong way on Berks Street near 27th about 2:40 p.m.

The minor traffic incident got a bit more interesting when the officers started to question the ex-Indianapolis Colts and Roman Catholic wide receiver.
Harrison showed the cops a permit to carry a firearm that was registered in Montgomery County, where he owns a home, the source said.
However, he failed to mention that he had a handgun in the SUV, which he was required to do by law, the source noted.
A man was shot and killed in Kingsessing earlier tonight. Police said two gunmen wounded the victim, whose name was not released, in the head and upper body on Windsor Avenue near 56th Street about 7 p.m.
The man died at the scene. Police said the shooters fled west on Windsor Avenue in a gold Buick LeSabre that might have a Pennsylvania license plate. The shooting might have been prompted by an argument.
Anyone with information can contact the Homicide Unit at 215-686-3334 or -3335.
Life was looking pretty good through the eyes of 6-year-old Aasin Williams.
The little guy was positively giddy today, and for good reason: he was going to celebrate the last day of first grade by having a sleepover with some pals, his family said.
But instead of playing games and laughing at silly jokes with his buddies, Aasin spent the night in a big hospital, recovering from a gunshot wound.
Police said the boy was struck in the shoulder by a stray bullet when a trigger-happy thug shot up the corner of 13th and Pike streets in Hunting Park at 4:25 p.m.
A 25-year-old man who was the apparent target of the shooter was wounded once in the leg, said Detective Shawn Leahy of East Detectives.
Both victims were listed in stable condition at Temple University Hospital tonight, Leahy said. The gunman was still on the loose.
"It's really unfair that this happened," said Hakim Pitts, Aasin's cousin.
"He was out there playing with his friends. No one could expect anything like this to happen in broad daylight."
Pitts, 22, said his little cousin was ecstatic because he had finished school for the year at Mary McLeod Bethune Elementary School.
"He was supposed to go on a sleepover," he said. "He just happened be out there when this guy came out and just started shooting."
Police said the gunman fired at least 10 shots from the northwest corner of the intersection; little Aasin and the other victim were standing on the southeast corner.
At least two bullets tore through a boarded up store front where the victims fell.
Leahy said the gunman, described as a 5-foot-7 black man who wore khaki pants and a white shirt, fled in a white SUV. Tipsters can contact East Detectives at 215-686-3243.
"There was at least 30 people out here," Pitts noted. "I know some people are afraid [to speak up] but they shouldn't be. There is a child involved."
Several residents on tree-lined Pike Street spoke wearily of how their neighborhood has worsened over time.
"I'm afraid for myself. I don't be outside that much," said Annie McBride, 68, who's lived in the area for more than 30 years.
"We used to have problems, but nothing like this. It's bad out here, real bad."