Archive: May, 2011
An 81-year-old Chester County man has been charged with assaulting his granddaughter with a BB gun last week, according to court documents.
The 31-year-old victim and her grandfather, Howard Cantler, got in an argument sometime around 6:30 p.m. on May 25 at the home they share in Oxford, police said. The victim, who asked not to be identified, said the fight was over accusations her grandfather made about her husband.
During the course of that fight, Cantler allegedly pulled a BB gun on his granddaughter and hit her on the face with the butt of the gun, causing bleeding and bruising, according to court documents.
A fight between two roommates that started over a pinched beer ended with the alleged brew thief stabbing his roommate and his landlord in Northeast Philadelphia last night, police said.
David Gentner, 50, and his 33-year-old female roommate got into a heated argument around 8:30 p.m. at the house where they live on Sanger Street near Summerdale Avenue because Gentner took the woman's beer, police said.
At some point, the woman threw a punch at Gentner but missed and the 54-year-old landlord got in between the two, according to police. Gentner then pushed the landlord out of the way and punched the woman once in the nose, police said.
Delaware State police have charged the treasurer of the Beta Sigma Phi Chapter V/Xi Upsilon Sorority with stealing more than $4,000 from the sorority.
Police said Becky Mills, 29, was named the treasurer of the Ocean View, Del., sorority just a day before she began writing checks to herself from the sorority's accounts. The bank soon notified the head of the sorority that two of its accounts had been depleted.
Police said Mills had also written two checks to the sorority, both of which bounced.
Police detectives are looking for two suspects in an armed robbery who forced a man to buy cigarettes and cigars for them at a gas station before they ran off with his cell phone.
About 1 a.m. Tuesday the suspects approached a man on Cedar Avenue near 47th Street in West Philadelphia, took his phone and then walked him to a nearby Sunoco station on Baltimore Avenue, police said.
The two forced the man to buy the smokes, then returned and had him withdraw an undisclosed amount of money from his account.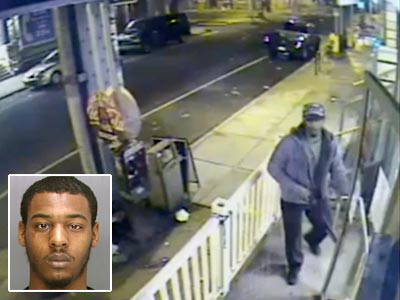 Have you seen this guy?
Police say he's the robber who killed store clerk Moustafa Shaker during a stickup inside a North Philadelphia convenience market early Thursday.
Quasheam Richburg, 20, of Ridge Drive off of 27th Street in North Philadelphia, faces murder charges in the 3 a.m. attack on Shaker, 50, inside Trax Foods, a market under the El station on Front Street near Girard Avenue.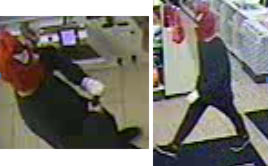 This was definitely not the work of a friendly neighborhood Spider Man.
A man in a Spider-Man mask stormed a Wilmington 7-Eleven early yesterday morning and ordered the young clerk to hand over the contents of the cash register. The clerk complied, and the robber shot webs out of his hands and escaped by swinging from skyscraper to skyscraper. Actually, that didn't happen. He and an armed accomplice in a boring black face mask escaped on foot toward Elizabeth Avenue.
Delaware State Police today released a photo of the swindling Spider Man in hopes the public can help identify him - although the public might need to use their Spidey Sense to see through that Spider-Man mask.
Police are seeking suspects in the overnight slaying of a man in Southwest Philadelphia.
A gunman shot the victim, 21, multiple times about 3 a.m. at 65th Street and Greenway Avenue, police spokeswoman Officer Tanya Little said. Paramedics declared him dead on the scene 20 minutes later. Police reported no suspects or motive. The victim's name is being withheld, pending notification of kin. Tipsters can call homicide detectives at (215) 686-3334.
Police this morning identified the motorcyclist killed in a wreck yesterday on Kelly Drive as Robert Sparrow, 36, of 68th Avenue near 16th Street in West Oak Lane.
Sparrow was traveling north on Kelly Drive when he made a right turn and hit a car and then a stone wall near Lemon Hill Drive about 1 p.m., police spokeswoman Officer Jillian Russell said. He died on the scene. A 25-year-old passenger on Sparrow's motorcycle was taken to Hahnemann University Hospital, where she remains in critical but stable condition, Russell said.