Archive: April, 2012
A 20-year-old man is in stable condition after being shot once in his left side and once in his right leg inside a house on Keim Street near Hilton in Kensington Monday night.
The man was shot around 11:20 p.m. and was taken by a private vehicle to St. Christopher's Hospital for Children.
A 56-year-old man is in stable condition after a bullet pierced his right leg and traveled into his left knee in a North Philadelphia shooting, police said.
The man was shot on Marston Street near Diamond just after 9 p.m. Monday night and was taken to Temple University Hospital.
Police early Tuesday morning were unsure of the shooter's motive, and a description of the suspect was not immediately available.
An argument over a woman between her child's father and her new boyfriend turned deadly Monday night, cops said, after a fight between the men escalated into gunfire.
The pair were arguing in front of a house on 44th Street near Fairmount Avenue in West Philly's West Powelton neighborhood around 9:45 p.m., police said. The suspect got out of a green Pontiac Bonneville and the argument took a violent turn when cops say the boyfriend of the woman they were fighting over pulled out a 9mm handgun and fired at least four shots at the victim.
The man, 21, was wounded twice in his face and once in his chest. He was rushed to the Hospital of the University of Pennsylvania, where he later died just after 11 p.m., police said.
A person in Feltonville stumbled upon a man dead of a gunshot wound inside a running car Monday night, cops said, and investigators were trying to figure out the circumstances surrounding the murder.
Police said they received a call for a man slumped down in the driver's seat of a red 2001 Mercury Sable parked in a driveway behind an apartment complex on Lawrence Street near Annsbury at 8:29 p.m. When they arrived at the scene, they found the 37-year-old victim dead in the driver's seat of what appeared to be a single gunshot wound to the neck.
Investigators found one .40-caliber shell casing behind the car, and one bullet hole in the rear driver's side window. They were unsure what motivated the shooting or how long the man had been there. He was pronounced dead at the scene by medics at 8:36 p.m.
Cops are searching for a gun-toting man who robbed the Green Line Café on Lancaster Avenue near 36th Street around 4:20 p.m. and fled the scene with about $500 Monday afternoon.
He fled the coffee shop on foot and police in the Southwest Detective Division took in a man for questioning soon after who fit the suspect's description. The man was released Monday night after police determined that he wasn't the suspect.
The Powelton Village café closed early Monday afternoon, and two officers from the 16th District sat inside filling out reports while the unidentified man was being questioned at Southwest Detective Division headquarters on 55th Street near Pine.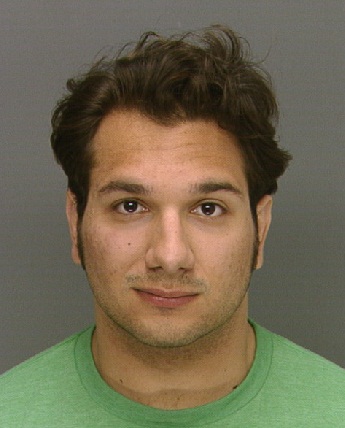 Police on Monday identified a Temple University student arrested on drug charges after three gunmen forced their way into a house and robbed him and three other students Sunday night.
Cops busted Massimo Pulcini, 21, for drug possession and related charges, a spokeswoman said, after they found marijuana inside his house on Page Street near 15th while investigating the home-invasion robbery.
According to Pulcini's LinkedIn profile, he's a journalism student set to graduate next year (insert jokes about journalists having to take side jobs to pay the bills here). On his Twitter, he says he's a Philadelphia journalist and photographer.
I've offended everyone from Irishmen to truck drivers in my time at the Daily News, but my colleagues and fellow Philly Confidential bloggers Dana DiFilippo and Phillip Lucas set a new bar with their recent cover story on strip clubs and now, the strippers are coming for us.
At 3 p.m. tomorrow, a group of strippers plans to protest in front of our building at 400 N. Broad Street, to let us know "Stripping is not a crime, it's an art," according to a Facebook page created for the event.
The creator of the event, Melissa Bang Bang Forgione, writes that the article was "bias" and despite the claims of an expert that stripping is a "toxic industry" that keeps dancers silenced, she has "never met an unwilling, silent stripper!"
Police officers fired at two men, both of whom were named Smith, in separate incidents in the city this weekend.
In the first case, Richard Smith was struck once in the buttocks by police gunfire Friday night and listed in stable condition. In the second incident, Phillip Smith managed to escape injury despite an officer firing at him five times early this morning, according to police spokesman Lt. Ray Evers.
Around 12:30 a.m. today, two officers on patrol in a marked vehicle heard several shots coming from Franklin Place near Fairmount Avenue in North Philadelphia, Evers said.