Archive: April, 2011
A man in his 30s was walking outside his house on 73rd Avenue near Andrews Avenue in West Oak Lane Friday night when he was robbed of $1,000 at gunpoint, police said.
The victim was approached by a man with a silver and black revolver at about 9 p.m., but was not injured in the incident, according to police.
Detectives were interviewing the victim and a description of the suspect was not immediately available.
To honor slain Philadelphia Police Sgt. Patrick McDonald, the Philadelphia Blue Flame - a tackle football team comprised of Philadelphia police and firefighters - will take on the Washington Generals at Lincoln Financial Field Saturday at 6:30 p.m.
McDonald was part of the department's Highway Unit, and was a member of the Blue Flame team who was killed in the line of duty on Sept. 23, 2008.
He was shot and killed after pursuing a passenger who fled on foot during a routine car stop.
Police are investigating a shooting in Fishtown that left a man hospitalized in stable condition.
A man was shot once in the right arm on Delaware Avenue near Fairmount at about 7:15 p.m., police said.
Officials were unsure of the man's age at about 9 p.m., but said that he was taken to Hahnemann University Hospital.
A 31-year-old man was taken to Temple University Hospital in critical condition after he was shot once in the left side.
Police said the shooting happened on the corner of 22nd street and Berks Street in North Philadelphia at about 8:05 p.m.
Just before 9 p.m., detectives said there were no witnesses, and a description of possible suspects was not yet available.
A 41-year-old man is in critical stable condition after he was repeatedly stabbed in the chest Thursday night outside a Dunkin' Donuts drive-through in West Philadelphia, police said.
The crime took place around 11:35 p.m. on Callowhill Street near 63rd and the victim had unstable vital signs when he arrived at the Hospital of the University of Pennsylvania. Investigators haven't been able to speak to the victim yet to determine motive or possible suspects.
Meanwhile, two men are in Aria-Torresdale Hospital after an attempted robbery sparked a shootout late Thursday, police said.
A man who was shot one time in the head inside his Fairmount apartment was identified Friday as Derek Wheeler, 43, of Judson Way near Poplar Street, said Officer Jill Russell, a police spokeswoman.
Wheeler was shot around 2:30 p.m. and was pronounced at 3 p.m. at Hahnemann University Hospital, Russell said. No arrests have been made in the case and there is no motive in the shooting, she said.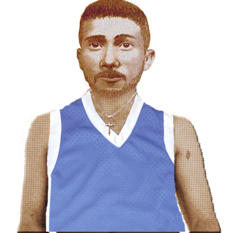 The Fairmount Park rapist remains unidentified and uncaught, so Philadelphia police will be out educating sunshine-seeking park-goers about his savage spree tomorrow, distributing leaflets and cautionary advice and hoping to generate new tips.
The Special Victims Unit officers will be on East River Drive, West River Drive and Forbidden Drive and Bells Mills Road in Fairmount Park and at Rhawn Street in Pennypack Park from 10 a.m. until dusk.
DNA evidence confirmed that the monster is responsible for three attacks on female joggers between April 30, 2003, and Aug. 11, 2007, including the July 2003 murder of Rebecca Park, a petite medical student raped and strangled during her daily run.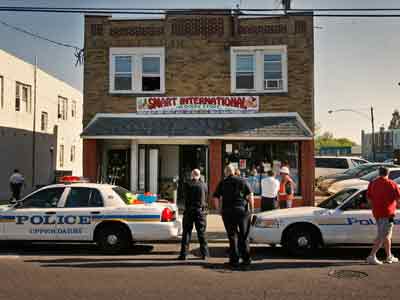 Two men were found dead this morning of apparent carbon monoxide poisoning in their Upper Darby apartment.
Police made the grim discovery around 8 a.m. this morning in the two-story apartment, which sits atop the Smart International Grocery Store on West Chester Pike and is across the street from the police department.
"Right now, we got it as a homicide investigation," said Police Superintendent Michael Chitwood.