Archive: April, 2010
The usual sound of teens chattering and lockers clattering was interrupted today when a gunshot echoed through the halls of Communications Technology High School.
A 15-year-old sophomore who had smuggled a handgun into the Southwest Philadelphia school — thanks, apparently, to a broken metal detector — accidentally fired the weapon about 10:15 a.m. when he tried to stuff the gun into his third-floor locker, police said.
The bullet torpedoed toward the neck a 16-year-old girl, who was standing inches away from the boy.
A lucky earring saved the day — and, possibly, the young girl's life.
"The bullet struck a metal piece on the girl's earring, causing it to break into pieces," said Lt. John Walker, of Southwest Detectives. "The earring probably prevented the bullet from going into her body."
The girl's neck was burned by gunpowder because she was so close to the shot, Walker said. She fell when the shot rang out, and later told police that she went temporarily deaf.
The teen was admitted to Children's Hospital of Philadelphia in stable condition.
The young gunman darted away when a teacher walked out of her classroom and yelled at him, Walker said.
He returned moments later, although without the gun, and was taken into police custody.
The teen, whose name was not released, will face a litany of charges, including aggravated assault, firearms violations and recklessly endangering another person, Walker said.
The lieutenant said investigators believe the teen found a .22- or .25-caliber gun on his way to school and decided to sneak it in the building, on Lyons Avenue near 82nd Street.
The gun had not been found as of last night.
Walker noted that the school was locked down once Philadelphia police arrived.
Fernado Gallard, a spokesman for the School District of Philadelphia, said the school's metal detectors "were down" from 7:25 a.m. until 8.
"If the metal detectors go down, [security guards] are supposed to use handheld wands to search the students," he said earlier tonight. "Right now, I don't know if they did."
Gallard said the shooter would immediately be suspended from school and could face expulsion.
A Drexel University student received a crash course in aggressive business mergers from a pair of gun-toting thugs in University City on Tuesday.

The trouble started about 2 p.m., when two men barged into a rental property at 40th and Ludlow streets and found Kevin Ulrich in his second-floor bedroom, police said.

They forced Ulrich, 22, to the floor and barked "Where is it? Where is it?" said Lt. John Walker of Southwest Detectives.

The "it" in question, Walker said, was $27,000 in cash and seven pounds of marijuana that Ulrich had stashed in a Drexel lacrosse bag in his room.

But the Drexel University senior didn't answer his interrogators, who pistol-whipped him several times, opening three deep gashes on his head.

"While they were striking him, one of the guns went off," Walker said. "The bullet went into his closet."

A roommate of Ulrich's walked in on the drama and was handcuffed by the assailants. He somehow managed to escape, and the would-be thieves, described as 6-feet-tall black males in their 20s,gave chase.

When they couldn't catch up to the roommate, they decided to flee, Walker said.

Ulrich, of Ambler, Pa., needed several staples to close the lacerations on his head. He now faces drug possession charges, Walker said.

"He most likely was dealing to the student population in the area," Walker said, adding the marjiuana was stamped with the words "White Rhino" and had been imported from California.

"These guys probably felt he was cutting in on their business, and they went after him pretty aggressively."
A busy South Philadelphia street corner served as the familiar backdrop to another double shooting today.
At least 10 bullets were fired during a shoot-out between two young men that apparently started on Dudley Street near 20th about 5:20 p.m., police said.
The thugs kept firing as their gun battle moved south on 20th Street, and one slug struck a 31-year-old man in the right leg as he stood at the corner of 20th and Snyder Avenue, police said.
"He's partially deaf. He sweeps the sidewalks for some of the businesses around here," Chief Inspector Scott Small said of the victim earlier, as a chilly breeze swept across the intersection.
"He's an innocent victim in all of this."
Also wounded was an 18-year-old man who was struck in the right hand.
"We believe he might have been the intended target," Small said. "He's not being cooperative with us at all."
Both victims were taken by police to the Hospital of the University of Pennsylvania. They were listed in stable condition, Small said.
The gunmen, described as black males in their late teens, wearing blue hoodies, ran from the scene, Small added.
Both victims were wounded at almost the exact spot literally inches from the spot where two women, ages 27 and 24, were struck by gunfire on April 19.
In that case, police determined the women — one of whom was carrying a 2-month-old infant — were innocent victims who were shot while standing in front of the Sun King House takeout shop.
Police later charged a 22-year-old man, Sharief Durbin, with wounding the women; he apparently had been firing at another man, officers said.
The motive for yesterday's shooting was unknown. There appeared to be no connection to last week's shooting, an investigator said.
Anyone with information about yesterday's case can contact South Detectives at 215-686-3013 or -3014.
Note to randy travelers: do not — we repeat, do not — leave your backpack near the entrance of a major airport terminal.

Especially if the bag has your laptop.

And, ahem, your pornography.

One likely despondent traveler learned this lesson the hard way at Philadelphia International Airport tonight, when the discovery of an abandoned bag prompted police to close down a major roadway for more than half an hour.

The trouble started about 7:30 p.m., when a Philadelphia police officer spotted a backpack on a curb near the entrance of Terminal A-West on Arrivals Road, said Homeland Security Chief Inspector Joseph Sullivan.

A bomb-sniffing dog checked out the bag and stopped when he picked up on a possibly troublesome scent, Sullivan said.

Arrivals Road was shut down, as were portions of the terminal, while bomb technicians were called to the scene.

Ultimately, Sullivan said, the bag was determined not to be a threat. "There was a laptop with a pretty large battery in there," he noted, "and porn. A lot of porn."

No flight delays were reported and it took investigators about half an hour to respond to and clear the possible threat.

"We pride ourselves in doing it fast," Sullivan added.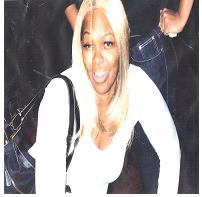 Police are asking for the public's help as they search for a missing Kingsessing woman.
Jeanette Dupriest, of Beaumont Avenue near 56th Street, was last seen by her family on April 2. Relatives told police she frequents the area around 54th Street and Springfield Avenue.
Dupriest, 41, is 5-foot-11, 190 pounds, with blonde hair. Tipsters can call Southwest Detectives at 215-686-3183.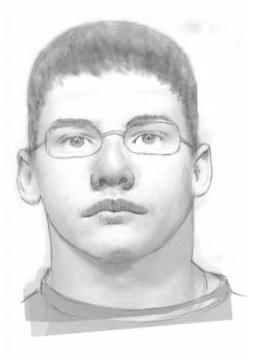 Investigators from the police Special Victims Unit today released a sketch of a man wanted for an attempted sexual assault that occurred in Kensington yesterday.
A 30-year-old woman told cops she encountered a medium-built, 17- to 20-year-old white man with short, light brown hair about 7:30 p.m. on Trenton Avenue near Norris Street.
The woman said the man, who was about 5-foot-5 and clean shaven, exposed himself, grabbed her and then attempted to sexually assault her. Police said the creep wore square metal-framed glasses, a plain white t-shirt and royal blue shorts. Tipsters can contact SVU at 215-685-3251.
As dusk fell across Northeast Philadelphia on April 8, Mark Wallace unwittingly made a grave decision.
The 55-year-old walked across Knights Road near Fairdale Road, and briefly crossed paths with a car driven by an off-duty firefighter named Gerard Shaffer, police said.
Shaffer yelled at Wallace for walking in front of his car; Wallace yelled back. It was a pointless encounter that could have ended there.
But then Shaffer, 47, jumped out of his car and began pounding Wallace with his fists, police said.
The veteran firefighter was soon joined by his 21-year-old son, Gerard, who was also in the car and eagerly landed blows on Wallace, according to police.
When the savage beating was over, Wallace was left with severe head injuries that doctors said would likely prove to be fatal.
The Shaffers fled the scene that night, but they didn't elude investigators for long. Father and son were both arrested on Monday, said police spokesman Lt. Frank Vanore.
They were charged with aggravated assault, simple assault and related offenses.
Vanore said that if Wallace, of Patrician Drive near Kirby Drive, dies, the Shaffers could face murder charges.
He noted that numerous witnesses assisted police during the investigation into the brutal beating.
"It's a sad, sad thing that happened," said Fire Commissioner Lloyd Ayers.
"It's very shocking to us. We don't expect to see things like this," he said. "Most of our firefighers are law-abiding citizens who help people."
The older Shaffer, of Farmdale Road near Fairdale, had been a firefighter for the last 23 years. Most recently, he worked at Ladder 34 on Bustleton Avenue near Bowler Street, Ayers said.
The commissioner added that Shaffer has been suspended with the intent to dismiss.
Wallace's sister, Nancy Kolenkiewicz, could not be reached for comment tonight.
Recently, she told NBC 10 that her brother's death was "imminent. I mean, they said there is no coming back from such severe brain swelling."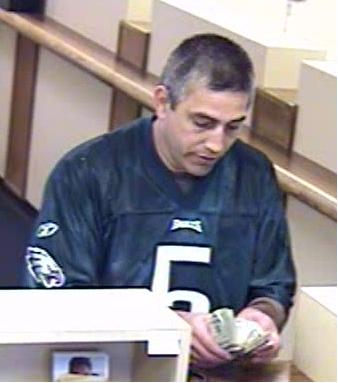 Joseph Baer likes to gamble.
He's been rolling the dice quite a bit lately, but it's only a matter of time before his luck runs out, authorities say.
Baer, 39, robbed a Northeast Philadelphia Citizens Bank today, the third heist he's pulled since escaping from a federal halfway house on April 13, the FBI said.
Investigators believe that Baer, a known gambler, has been taking the loot and heading straight for casinos in Chester or Atlantic City, said Special Agent Bastian Freund, a bank-robbery coordinator for the FBI's Philadelphia division.
"He's an addict like anybody else," Freund said. "His addiction isn't drugs or alcohol. It's gambling."
Seeking to bring an end to Baer's casino days, the feds announced today that there was a $1,500 reward for information that leads to his arrest.
The reward is being provided by the U.S. Marshals Office. Freund noted that other reward money could be offered by the FBI to the person who calls in the winning tip.
Freund said Baer has likely been relying on public transportation to get to and from his bank heists.
Yesterday, he allegedly struck at the Citizen's Bank on Cottman Avenue near Large Street. Last week, he was accused by the FBI of robbing a PNC Bank in the Northeast, and a TruMark Bank in Center City.
In each heist, Baer, a 5-foot-10 white man with brown eyes and salt-and-pepper hair, made no effort to hide his face, the FBI said. Thus far, he's been filmed wearing a Donovan McNabb Eagles jersey, and T-shirts bearing pictures of John Lennon and Iron Man, Freund said.
"He's one of those guys who's so used to the prison system, he's probably ready to go back," he said. "We just have to catch him."
It could have been worse. Much worse.
A young mother who had an infant strapped to her chest and a toddler nestled in a stroller in front of her was shot in the shoulder on a busy South Philadelphia street corner today.
Another woman, who was standing a few feet away, had a bullet graze the back of her head, police said.
Neither was seriously injured. Clearly, though, they had been inches, maybe centimeters, away from something far more tragic.
"It was a miracle," an investigator said last night. "Absolutely a miracle."
Divine luck aside, here's what was known for certain: Both women were shot next to the Sun King House take-out store at 20th Street and Snyder Avenue about 4 p.m., said police spokesman Lt. Frank Vanore.
The shooting unfolded in a neighborhood that's long been accustomed to the sound of random gunfire interrupting otherwise quiet afternoons.
The mother, a 27-year-old woman whose name was not released, was struck by a slug in her right shoulder.
Her 2-month-old boy, who was snuggled in a baby carrier on her chest, was not harmed, nor was her little girl, who was in a stroller, Vanore said.
The other victim, a 24-year-old woman whose name was not released, had a bullet scream by the back of her head.
Both women, Vanore said, were admitted to the Hospital of the University of Pennsylvania.
The gunman drove up in a green car, got out and fired four shots as he stood at 20th and Mercy streets, half a block north of where the women were standing. The shooter got back in the car and sped off.
The motive was unknown. Whether either woman was an intended target was also unclear, Vanore said.
Several residents appeared weary at the mere mention of the shooting.
"People have to live their lives in fear around here," said Darryl Hollis, 54, who leaned against a railing on 20th Street as he stared at the crime scene.
"Bullets don't have no names on them. Anyone can get shot," he said. "The people shooting at each other, they have no concern for other people."
On nearby Mercy Street, a woman sweeping the pavement in front of her house, who asked not to be named, sighed when asked about the shooting.
"The cops are here all the time. It doesn't faze us any more," she said. "I'll be watching over my shoulder if I go up that way."
The upchuck that was heard 'round the world continues to fascinate people, in a horrified sort of way.
I'm talking, of course, about Matthew Clemmens, the Cherry Hill, N.J., man who allegedly forced himself to vomit on the 11-year-old daughter of Easton Police Capt. Mike Vangelo at Wednesday's Phillies game. (To read the original story, click here.)
Today, my colleague Jason Nark caught up with one of Clemmens' relatives, who defended the 21-year-old. I checked in with Vangelo, who stands by the disturbing chain of events that he and police say unfolded earlier this week. Oh, and the Phillies released a statement, expressing regret for the ordeal Vangelo and his two daughters endured. Here's a brief glimpse of the story, which will appear in tomorrow's Daily News: