Archive: December, 2010
Two men are clinging to life this morning after they allegedly got into an argument and tussled over a gun in a North Philadelphia house.
The incident occurred at 1:22 a.m. this morning on 25th Street near Norris, police said. During the argument, the 46-year-old man who lives in the home allegedly shot his 44-year-old friend in the chest. The wounded man in turn tried to wrestle away the gun, which went off and struck the first man in the eye, police Spokeswoman Jillian Russell said. Both victims are in critical condition at Temple University Hospital. Charges are pending.
A woman found dead in a Kensington rowhouse on Christmas Eve was not a victim of the Kensington Strangler, according to police.
The women, identified today as Crystal Dawejko, 25, did not die of strangulation or trauma, according to the Medical Examiner's Office, which is awaiting toxicology results to make a final determination on the cause of death.
Dawejko, of Vandike Street near Unruh Avenue, was found dead around 3:07 p.m. Friday in a house on C Street near Somerset, police said. Her death has not been declared a homicide but the Homicide Detective Division is still looking into the case while toxicology reports are pending, police said.
Police have identified two men slain in unrelated cases this week as William Garnett, 28, of Sharon Hill, and Gerald Crittenton, 30, of Southwest Philadelphia.
Garnett, of Bartlett Avenue near Chester Pike, was shot multiple times in the head and body just before 1 a.m. Tuesday on Mario Lanza Boulevard near Crane Street in Southwest Philadelphia. He was declared dead on the scene. Crittenton, of 55th Street near Chancellor, was shot in the head at Millick and Arch streets in West Philadelphia. He died at the Hospital at the University of Pennsylvania.
Police reported no suspects or motive in either case. Tipsters are urged to call homicide detectives at (215) 686-3334 or -3335.
Police are asking the public's help to identify a gunman who shot a security guard in the neck last week at a West Philadelphia gas station.
The victim was inside the Sunoco A-Plus gas station on Girard Avenue near 38th Street at 11:15 p.m. on Dec. 15 when he overheard a "disturbance" and decided to intervene, according to police. The guard did not work for Sunoco; rather, he was a customer, police said. The guard confronted the unruly man causing the disturbance, and the man left the station. But he returned within minutes and pointed a gun at the guard, police said. When the guard tried to leave the store, the gunman shot him in the back of the neck. He then rifled through the victim's pockets and stole his cell phone, police said. The guard was treated at the Hospital at the University of Pennsylvania and is recovering.
The gunman was seen fleeing in a green Chevy Venture minivan that had been parked at a gas pump. He's described as a black man, age 35 to 45, 5-foot-9 to 5-foot-11, 170 pounds, with a mustache and medium complexion. He was wearing a blue Polo hat, blue hooded jacket, blue jeans and white sneakers. Tipsters should call Southwest Detectives at (215) 686-3183 or -3184. See the video featuring the gunman here.
A 30-year-old was shot and killed in West Philadelphia shortly before 9 tonight, cops said. Police were called to Millick and Arch Streets where they found the victim with a gunshot wound to the head. He was taken to the Hospital of the University of Pennsylvania where he was pronounced dead, cops said. No weapon was recovered and police reported no arrests, investigators said.
Police are seeking suspects in the overnight shooting of a man in Southwest Philadelphia.
The man, whose identity remains unknown, was shot multiple times in the head and body just before 1 a.m. on Mario Lanza Boulevard near Crane Street, police said. Paramedics declared him dead on the scene at 1:04 a.m. The motive remains unknown. Tipsters are urged to call homicide detectives at (215) 686-3334.
The slaying was the city's 299th murder this year. The city tallied 305 homicides in 2009.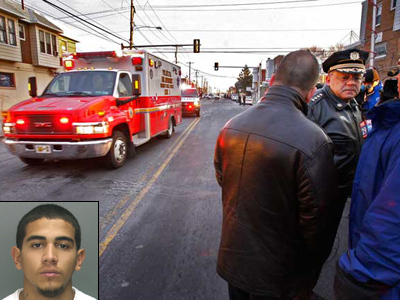 While kids this week are excited about Kris Kringle, it's Kevlar that had city cops all smiley and shiny-eyed this morning.
Bulletproof vests saved two SWAT officers who went to a Summerdale home before dawn to arrest a shooting suspect, who opened fire on police and hit two.
"He fired through a wall, so they never knew a bullet was coming. We're just very fortunate that we don't have a couple of officers seriously injured or killed," Police Commissioner Charles Ramsey said. "Fortunately, they were each wearing Kevlar-protected vests and helmets ... the bullets did not penetrate."
Police Commissioner Charles H. Ramsey's law enforcement career stretches back decades. So I asked him earlier tonight if he had ever run across a case involving a serial killer like the Kensington Strangler before.
"I don't remember the specifics, but we had them in Chicago" where his career started, he said.
"It's not all that uncommon. A lot of times it involves prostitutes ... how many people are willing to get in a stranger's car? How many are willing to walk with a stranger to a remote area?"