Archive: November, 2010
Police said two men were taken into custody earlier tonight in connection with the robbery of a Crescentville Dunkin' Donuts. The shop, on Adams Avenue near Whitaker, was held up at gunpoint about 4 p.m. by two crooks who fled in a Jeep Rubicon, an investigator said. Their getaway was filmed by a store surveillance camera.
A short while later, police stopped what appeared to be the same Jeep near 22nd Street and Indiana Avenue. Two men who were in the Jeep were taken in for questioning; one was positively identified as being involved in the Adams Avenue holdup, the investigator said. Police were trying to determine if both men were involved in armed robberies of at least two other area Dunkin' Donuts earlier in the day.
.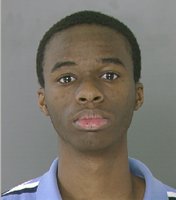 As Jan Ransom first reported in today's Daily News, police Monday night charged a 16-year-old with killing his 37-year-old mother and then dragging her body into an alley behind their South Philadelphia home this weekend.
Police Tuesday identified the teen as Kendall Anderson. He lived with his mother, Rashida Anderson, on Jackson Street near 5th.
He was arrested Monday and charged as an adult with murder for beating 37-year-old Rashida Anderson to death with a hammer and piece of a chair at their home, police said.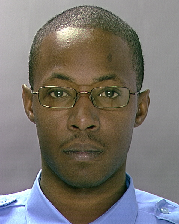 A Philadelphia police officer was arrested this weekend for domestic assault on his girlfriend, making him the 17th cop arrested in the department in little more than a year.
Ofc. Deric Lewis, 30, who had four years on the force with the 22nd District, was arrested Saturday and charged with simple assault, terroristic threats and recklessly endangering another person, police said.
He has been suspended by Commissioner Charles Ramsey for 30 days with the intent to dismiss, according to a press release.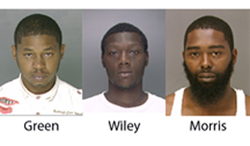 Philadelphia police released photos this morning of three murder suspects, and they're asking the public's help to locate them.
In the earlier case, police say Stanley Green, 31, shot Steven Walker, 30, to death in Walker's second-floor bedroom in his home on Upland Street near 61st in Southwest Philadelphia about 7:30 p.m. Oct. 23. The motive was robbery. Green's last known address was around the corner on Reinhard Street near 61st. He owns a 1995 tan Cadillac with the Pennsylvania license plate HMN-9231. Tipsters are urged to call Det. Rocks or Det. Burke in the homicide unit's fugitive squad at (215) 686-3084 or 686-3334.
In the most recent case, police say Michael Morris, 29, and Kevin Wiley, 21, shot Carlton White, 32, in the chest after an argument at 9:35 p.m. Nov. 18 in a second-floor bedroom in a home on Beechwood Street near Dauphin in North Philadelphia. White, 32, lived on Bouvier Street near Erie Avenue in Tioga. Morris' last known address was Park Avenue near York Street in North Philadelphia. Wiley's last known address was 20th Street near Dauphin. Tipsters can call Dets. Rossiter or Patterson at in the homicide unit's fugitive squad at (215) 686-3068- or -3084.
A 23-year-old man was stabbed and critically wounded this morning in an apparent robbery attempt in Lawncrest, police said.
Cops said the victim was stabbed once in the stomach on Allengrove Street near Godfrey Avenue around 10:30 a.m. by an unknown man wearing all black clothing. The victim was taken to Albert Einstein Medical Center and was listed in critical condition, cops said.
An unidentified man was shot and killed this morning in Kensington, police said. Police were called to I Street near Malta around 2:30 a.m. where they found the man, believed to be in his 20's, with a gunshot wound to his right side. He was taken to Temple University Hospital where he died at about 4:15 a.m.
He had no identification on him when he was shot and wasn't able to tell investigators who he was, cops said. Police were still trying to find out the victim's identity this morning and had no suspects or motive for the shooting.
Police are hunting for an unkempt pervert who attacked three women - including one pushing a child in a stroller - Saturday in Chinatown. They are urging women to beware, and report any suspicious activity.
In the first case, a man who was fondling himself approached a 24-year-old woman about 7:30 p.m. on 10th Street near Vine Street. The woman avoided him and went to her parked car, but the man followed her and tried, unsuccessfully, to open her car door. The woman drove off but reported the incident to police.
In the second case, the pervert ambushed a 31-year-old woman as she entered her residence on 11th Street near Vine Street while pushing a child in a stroller at 8:30 p.m. The man pushed her to the floor and sexually assaulted her; he fled when she screamed.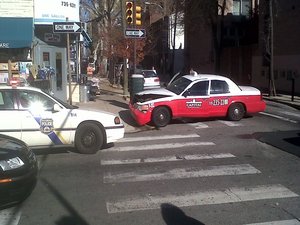 Scene from a gritty city: Daily News Assistant City Editor David Preston stumbled across this hit-and-run wreck this morning at 20th and Pine Streets in Center City. A minivan ran a red light, hit a taxi - and kept going. The cabbie was uninjured.