Archive: November, 2008
We didn't have any mayhem today directly related to shopping -- like, say, this or that -- but there was still violence in the City of Brotherly Love.
A man in his 20s was fatally shot in a parking lot behind a bar in Overbrook Park. Homicide detectives said the victim, whose name was not released, was gunned down at about 4 p.m. on Haverford Avenue near Woodbine Avenue. The victim died a short time later at the Hospital of the University of Pennsylvania. Investigators had no motives or suspects.
At about 6 p.m., a 32-year-old man was shot in the back during an apparent carjacking near 10th Street and Glenwood Avenue in North Philadelphia. Police said the victim was taken to Temple University Hospital in stable condition. The man's car was found abandoned not far from the shooting scene a short while later, but no arrests were made.
This is a topic we've visited before -- and will no doubt visit again in the future.
Just a day after Sgt. Timmy Simpson was laid to rest, FOP and police officials found out that a suspect who took aim at another police officer is already back on the streets:
Amado Lopez aimed a .40-caliber gun at Officer Sean McGinnis in West Kensington Saturday night and ended up taking a bullet to the arm for his brazen act, police said.
Today he walked out of jail.
Members of the police community — still reeling from the death of Sgt. Timmy Simpson on Nov. 17 — were outraged when they learned that Lopez, 20, needed to pony up only $800 to get back on the streets.
Union officials directed their ire at bail commissioner Abraham Polokoff, who set Lopez's bail at $8,000.
Funeral services were held today for Sgt. Timmy Simpson, who was killed last Monday when his cruiser was struck by another car driven by career criminal William Foster. Simpson was the fourth police officer to die in the line of duty this year and the sixth since 2006.
Above are a handful of photos from the viewing and funeral taken by freelance photo journalist Joseph Kaczmarek.
Every day, police phone call operators are bombarded with tons of phone calls with emergencies. They even at times have to field calls and inquiries from reporters. Some accomplish the task with a grace that oozes over the phone line. For their efforts, the Police Communications Division, in conjunction with the Police Radio Advisory Board, honor those who've demonstrated exceptional work throughout the year during their annual Dispatcher of the Year Award. Tonight, five dispatchers will receive an award at Police Headquarters Auditorium at 7p.m. They include:
Kirk Edwards, 1 Platoon PCD
Jakira Jones, 1 Platoon PCD
Another Philadelphia Police Officer is dead.
About 10:30p.m. last night, Sgt. Timothy Simpson, of the 24th District, was responding to a call of an armed robbery on Aramingo Avenue near Clearfield Street when he was struck by a vehicle, police said. Around Allegheny Avenue, police said the driver, who rode in a black Camaro, collided into Simpson's cruiser. Simpson was transported to Temple University Hospital where he was pronounced dead at 11:05p.m. Police have in custody two men, one in his 30s, the other in his 40s. Both men may be from out of town, said spokesman Lt. Frank Vanore.
Family members and police officers crowded around the entrance to the hospital where they consoled each other, devastated by another death in a police department still coping with the loss of the recently slain Officer Patrick McDonald, who was gunned down in North Philly last month, and Officer Isable Nazario who also died as a result of a car crash. Mayor Nutter, along with Commissioner Charles Ramsey, said they're shaken by the death.
Heartache has once again visited the family of Officer Isabel Nazario, who was killed in a car crash Sept. 5.
Police said Nazario's sister, Officer Maritza Mohamad, received another round of grim news Sunday when she learned her father-in-law had been murdered in Juniata Park.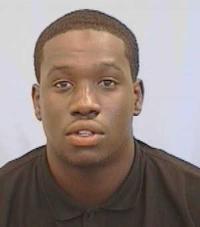 "Ruh-roh" might be the operative phrase in Jeffrey Prout's life right now.
The FBI issued an arrest warrant for Prout yesterday in connection with the robbery of a Dunbar armored-car guard in South Philadelphia Friday morning. Prout, 20, of North Philadelphia, forced the guard to the ground at gunpoint inside a check cashing shop at Oregon Avenue and Randolph Street, the FBI said.
Prout made off with the delivery the guard was about to make -- all $700,000 of it. Prout's cohort, Harry Jackson, 24, was arrested over the weekend. Dunbar has issued a $40,000 reward for info that leads to Prout's arrest and the recovery of the missing money, and the FBI has started to circulate his mugshot across the city.
Doesn't sound like anybody's made sense of this yet:
Latifa Greer, 30, who was reportedly abducted by her ex-boyfriend and his new girlfriend in Sharswood on Saturday, is alive and well. Police said Greer "reappeared" this morning, but offered no statement or clarification of the supposed abduction.
I'd tell you more if there was more to tell ... but at this point, there isn't. Check back, I suppose, for updates.