Archive: March, 2012
A 19-year-old man is in critical condition after being shot in his face, stomach and left leg near the Stenton Park recreation center on 17th Street near Courtland in Logan Friday night, police said.
Shots rang out around 9:30 p.m., and the man ran to the home of a nearby relative on 17th Street near Wingohocking, said Chief Inspector Scott Small.
Medics took the victim to Temple University Hospital, and Small said he was conscious and speaking with police after the shooting.
A 22-year-old man was hospitalized after being shot in his left leg on Bancroft Street near Tasker in Point Breeze Friday night, police said.
The victim was wounded around 7:45 p.m., and was taken to the Hospital of the University of Pennsylvania. He was listed in stable condition as of 9 p.m.
Chief Inspector Scott Small said the man would not provide police with a description of the suspect, or information on the shooter's motive.
A 70-year-old woman is in stable condition after being hit by a car on Frankford Avenue near Morrell in Torresdale Thursday evening, police said.
About 5:15 p.m., the woman was crossing Frankford Avenue when a 34-year-old woman driving a 2009 Dodge Caliber made a left turn from Morrell and hit the woman, Officer Christine O'Brien, a police spokeswoman, said.
The woman was taken to Aria-Frankford Hospital and was listed in stable condition. Police said the woman suffered head injuries.
A suspected cockfighting ring was busted Thursday afternoon in Hunting Park while Philadelphia Police performed a narcotics raid Thursday.
While cops were serving warrants at two homes on Fairhill Street near Lycoming, they found at least 47 roosters and about 50 hens and chicks, a fighting ring and other cockfighting paraphernalia, said Wendy Marano, a Pennsylvania SPCA spokeswoman.
Police also found weapons, drugs and an undisclosed amount of cash, she said.
A West Philadelphia man who was wanted in connection with two double shootings — and is a suspect in a third shooting — was arrested Thursday evening by the US Marshals in North Philadelphia.
Raheem Kareem, 23 of Dearbourne Street near Market, allegedly shot two people on Pennsgrove Street near 43rd in West Philadelphia on Dec. 29, said James Burke, supervising deputy U.S. Marshal.
The next day, Kareem allegedly shot two more people on 41st Street near Brown. Officials did not have details on the circumstances that led up to either shooting.
Thursday started out like any other afternoon at the Daily News. I got to the office for the night shift and eagerly headed to a North Philly block to investigate a tip we'd received earlier in the week. Maybe it was the bright sun or the unseasonable warmth, but there was no part of me that ever expected I'd find myself being chased by an angry drunk across a deserted street.
I arrived on the block and sized it up. A small block, tidier than many I've seen in my crime-reporting days. Four houses and a vacant lot on one side; three houses, one boarded up, on the other, where I'd parked. I jotted some notes and climbed out of my car to knock on a few doors. I was across the street from my car on a stoop when I heard a man's voice yell something incoherent behind me.
I turned on my heel, still at the top of the rowhouse steps, and saw a man coming around the corner onto the block.
"Oh good," I thought, "maybe he knows the people I'm here to ask about."
As a journalist – especially a woman who covers crime – I know not to let my guard down, but I'm also tasked with never assuming anything. Tabula rasa, everyone has a clean slate unless they prove otherwise.
If you spot this guy - and let's be honest, it'd be pretty hard not to - you should probably call police.
According to cops, the man with the glamour (mug) shot is Maurice Jones, 26, who frequents 12th Street near Wagner Avenue and Sharswood Street near 19th.
Police are looking for Jones in connection with the fatal shooting of Charles Tresse on Saturday. Tresse, 35, was shot several times in the chest on 20th Street near Montgomery Avenue around 10:45 p.m. and died shortly thereafter. Police believe the motive was an argument.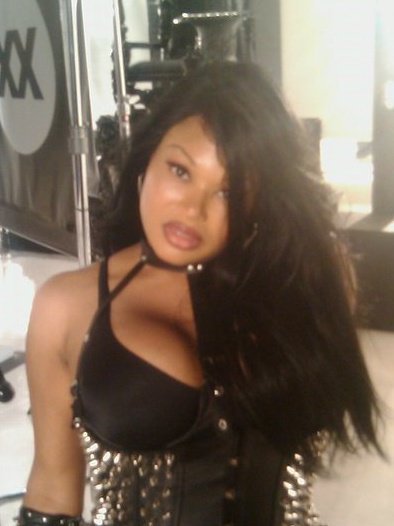 A friend of Claudia Aderotimi, the British tourist who allegedly died after receiving an illegal buttocks injection last year from an artist known as the Black Madam, marveled at news that the Black Madam was arrested last night right before she was to administer more dangerous injections at a "pumping party" in East Germantown, according to police.
"And this is all going down in Philly? Is it really that crazy there?" said Aderotimi's friend, Tee Ali, in a call today from London. "A pumping party? Damn, that is mad!"
The arrest of the Black Madam, a transgender gothic hip-hop singer whose real name is Padge Victoria Windslowe, 42, comes just more than a year since Aderotimi, 20, died after allegeldy receiving injections from Windslowe at the Hampton Inn near the airport on Feb. 7, 2011. Aderotimi was a dancer from London who aspired to be in music videos, according to Ali.