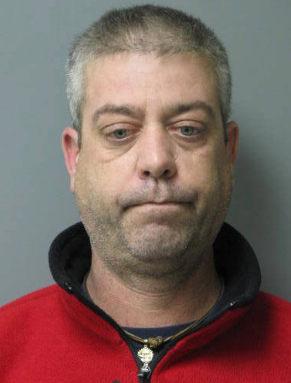 Eric T. Biase skipped dumb and dumber and went straight to dumbest after he got arrested for his third drunk-driving offense in the past four years - when he hit a parked state-police vehicle this morning, according to Delaware State Police.
Biase, 44, of Rehoboth Beach, was allegedly driving drunk south on DuPont Boulevard (Route 113) at 12:15 a.m. this morning when he tried to turn west onto Millsboro Highway (Route 24), according to the state police. Instead, he lost control of his 2002 Mitsubishi Lancer and hit a fully marked state police Chevrolet Tahoe that was stopped at the traffic light on Route 24, state police said.
The trooper, noticing an odor of alcohol, started a DUI investigation - and found 17.7 grams of marijuana and a glass pipe in the Lancer's center console, state police said.
Police have arrested a Southwest Philadelphia man for a drug-related homicide in 2006.
Tymin Lundy, 37, of Reinard Street near 60th, was charged with murder and several gun offenses for the July 8, 2006, slaying on his block of James Dolan, 40, of McClellan Street near 9th in South Philadelphia, said Officer Jillian Russell, a police spokeswoman.
Police found Dolan collapsed with multiple gunshot wounds to his face and body; he died shortly after at the Hospital of the University of Pennsylvania, Russell said.
After a grueling five-week search for Shane Montgomery, the Roxborough man who went missing Thanksgiving morning in Manayunk, came to an end this weekend, Montgomery's godfather on Sunday thanked the family's "angels" who aided in the intense hunt for the young man.
Montgomery's body was found Saturday afternoon in the Schuylkill by volunteer divers from the Garden State Underwater Recovery Unit. The 21-year-old West Chester University student and Roman Catholic High School graduate's family had called in the special dive team from Hunterdon County, N.J. two weeks ago to continue the search of the river started by the Philadelphia Police Marine Unit.
"We are so grateful for our community, our parish, the Philadelphia Police Department, Detective Lisa Collins from Northwset Detectives, the Marine Unit, and of course, Garden State Underwater Recovery Unit, who are our angels," Kevin Verbrugghe, Montgomery's godfather, said on Sunday.
This post has been updated.
Four days into the New Year, police have already made arrests in two of the year's first homicides, according to court records.
In the first killing of 2015, the fatal shooting of 18-year-old Hyneaf Harris about 5:15 the morning of Jan. 1 inside a house on Philip Street near Grange, in Olney, a 16-year-old, identified in court documents as Jahkere Moore, has been charged.
A 33-year-old woman was sexually assaulted this morning after stepping out of an elevator in a Center City parking garage, police said.
Detectives are questioning a man in his 30s in connection with the attack, which took place a stone's throw from the Community College of Philadelphia, a police source said.
The assault took place just before 11 a.m., police said. A couple who had just parked their vehicle in the garage — which is not affiliated with the college — heard the victim's screams and investigated, according to the source.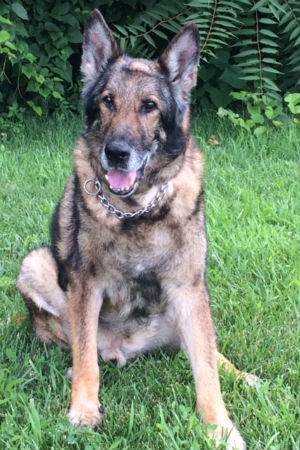 A retired Philadelphia police canine has died, the department announced today.
Danny, a German shepherd who retired recently, served the city as a patrol and explosives detection dog since 2004. He and his handler Officer Jim Zimmerman participated in many Hero Thrill Shows, which raise funds for college expenses for the children of slain officers, and won several awards in USPCA police dog competitions.
"After retiring, K9 Danny enjoyed retirement at home with (Officer) Zimmerman and his family," the department said in a statement.
It wasn't the load in a baby's diaper - but rather under it - that got two women arrested in Cherry Hill last weekend, police said.
Police handcuffed Amanda Platt, 21, of Belleplain, N.J., and Pornthip Charoensook, 34, of Egg Harbor Township, N.J., Saturday after the two women were seen hiding more than $500 in cosmetics underneath a 4-month-old infant in a stroller at about 4:40 p.m. inside the Sephora store in the Cherry Hill Mall, said Lt. Amy C. Winters, a Cherry Hill Police spokeswoman. The baby was sitting in a car seat mounted atop a stroller, Winters said.
Both women were charged with shoplifting and using a juvenile to commit a crime. Charoensook also was charged with hindering apprehension after giving police a phony identity. Both women were released on their own recognizance and the incident was referred to the Division of Child Protection and Permanency, Winters added.
A 23-year-old woman died last night after she lost control of her speeding car as she tried to exit Roosevelt Boulevard at the Germantown/Wissahickon exit, veered off the highway, hit a pole and sheared it in half and plunged down an embankment.

The woman, whose name wasn't released, died at the scene of the 10:31 p.m. crash, said Officer Christine O'Brien, a police spokeswoman. Three passengers in the woman's northbound 2013 Ford also suffered minor injuries - a man, 24, in the front passenger seat remains in critical condition at Albert Einstein Medical Center with a broken arm and facial cuts, while two rear-seat passengers (a man and woman, both 24) were taken to Einstein for observation for minor injuries.

Chief Inspector Scott Small told 6-ABC that investigators found several bottles of alcohol at the scene. "They believe both speed and alcohol were contributing factors to this auto accident," he said.