A 22-year-old man died Monday afternoon after police say he was stabbed several times on a block in the heart of Kensington.
The victim, who has not yet been identified, was found by SEPTA police on Somerset Street near Kensington Avenue at 1:16 p.m. after a pedestrian alerted them that someone had been injured. When SEPTA officers found him, the man was suffering from several stab wounds to his neck, chest, right shoulder and right arm, police said. He was taken to Temple University Hospital by SEPTA police and pronounced dead there at 1:37 p.m.
Police said no arrests in the stabbing have been made, but that they were looking for three men -- one of whom was armed with a machete -- seen leaving the scene in a gold BMW.
A 23-year-old woman who was allegedly behind the wheel in a fatal hit-and-run accident early Saturday in Olney has surrendered to police.
Police said Victor Ortiz, 42, staggered into the southbound lane of Rising Sun Avenue where he was struck by the woman's 2002 Honda Accord. The impact knocked Ortiz into the northbound lane where was struck by a second vehicle. The driver of the Honda initially fled, but the left front bumper was left at the scene, while the driver of the second car, a 47-year-old man, remained at the scene until police arrived.
Ortiz had to be extracted from underneath the second car and was pronounced dead at the scene at 3:31 a.m.
A man is in critical condition after being shot in the head early Sunday in North Philadelphia, police said.
The unidentified victim was shot once outside on Cambria Street near 10th at about 5:40 a.m. He was taken to Temple University Hospital.
No arrests were reported.
A 21-year-old man is clinging to life after being shot outside a club on South Street early Sunday, police said.
The man was shot multiple times near 2nd Street at about 1:30 a.m. The victim, whose name has not been released, was taken to Thomas Jefferson University Hospital in extremely critical condition.
According to multiple reports, the shooting stemmed from a brawl inside the Mixed Plate Club. The argument spilled outside and police were trying to break up the fight when someone pulled a gun and opened fire.
A North Philadelphia football coach has been charged with sexually assaulting two young boys, authorities said.
Leon Watson, 24, of Diamond Street near 24th, is accused of developing a relationship with two brothers, ages 8 and 9, which led to him sexually assaulting both boys and the boys moving into his home in October, the District Attorney's Office said. Watson was arrested Sunday after police received an anonymous tip, which led them to his home.
Prosecutors said Watson was part-time coach of the Rhawnhurt Raiders football team from August until October, and had started his own team called the Little Vicks comprised of young boys from his neighborhood. Prosecutors said they believe there may be more victims and are urging parents whose children were involved with either team to talk with their children.
This post has been updated.
A 25-year-old neighborhood man has been charged with raping one woman and attacking two others in Juniata Park last month, police said.
Byron Mitchell was picked up on a parole violation in the neighborhood Oct. 16, the day after the most recent attack, said Special Victims Unit Capt. John Darby at a news conference on Thursday. Mitchell, police said, is charged with rape, false imprisonment, kidnapping, violation of the Uniform Firearms Act and a slew of related offenses for a gunpoint rape and two additional attacks on young women near the Erie-Torresdale Market-Frankford Line stop last month.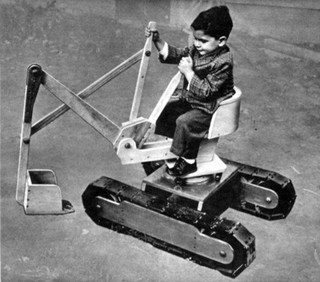 Remember the David Lynch film "The Straight Story," about an old man driving his tractor across the country to see his dying brother? This is kind of like that, but not at all.
According to a story on LancasterOnline.com, 33-year-old Michael Pusey stole a backhoe from a construction site in East Whiteland Township on Sunday and drove it roughly 30 miles to Philadelphia.
In what may be the slowest getaway ever, police estimate that it took Pusey about 2 1/2 hours to get to Philadelphia from Chester County using Route 202, the Schuylkill and Route 1.
A 24-year-old man was shot by police during a scuffle outside the I&S mini market in Wynnefield Tuesday night.
Chief Inspector Scott Small said officers responded to a report of a man with a gun inside the store at Lindenwood and Jefferson streets about 8 p.m. When they arrived, the suspect refused to be searched by officers, prompting a struggle with as many as four officers that spilled out into the street.
During the fight, the suspect punched one officer in the face and pulled a 9 mm semiautomatic handgun from his pocket, Small said.