Archive: February, 2011
A man was shot to death in Haddington Monday afternoon, police said.
The 20-year-old was shot multiple times in the chest and head as he was walking to Rodriguez Grocery on 57th Street and Girard Avenue at 5:02 p.m.
Police transported the victim to the Hospital of the University of Pennsylvania where he was pronounced dead at 5:27 p.m.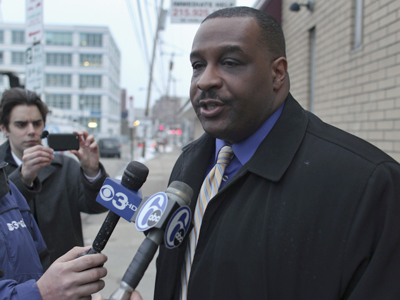 Homicide Capt. James Clark said at least two men were involved in the fatal beating of a 21-year-old pregnant woman outside Traffic Court earlier today.
Tovoyia Owens, 21, left the court shortly before 2 p.m. with a man who is believed to have been her boyfriend. They "got into a physical altercation with two other males," Clark said, and Owens was knocked unconscious. She died at Hahnemann University Hospital shortly after 3 p.m.
Clark said the medical examiner would rule on her exact cause of death. It was unclear how far along Owens was in her pregnancy. A traffic court sergeant darted outside the court, at 8th and Spring Garden, and apprehended one of the suspects, he said. It was unclear if the other suspect was in custody.
A 21-year-old woman was beaten to death at 8th and Spring Garden streets earlier today.
Police said the victim, whose name has not yet been released, was attacked at 1:54 p.m. She died of unspecified injuries at Hahnemann University Hospital at 3:10 p.m.
At least one man was taken into custody, but several others might have been involved in the woman's death, a homicide investigator said. It was unclear what sparked the fatal attack.
Bet this guy wishes he'd had some Fix-a-Flat.
Delaware State Police arrested a Bronx, N.Y., man Wednesday after a patrolman, who pulled over to help him with his flat tire on Interstate 95 in Newport, Del., spotted pot and almost $42,000 cash in the car.
Hazem Alasad, 24, was charged with possession of marijuana after the 3:15 p.m. incident near Route 141, according to Delaware State Police. Alasad allegedly had stopped his 2010 Dodge Nitro on the shoulder of the southbound lanes after he got a flat tire, police said.
Cheltenham Township police are searching for the motorist who hit and killed a pedestrian in Wyncote and then fled last night.
The 8:10 p.m. accident occurred on Cheltenham Avenue between Mt. Airy Avenue and Easton Road. The pedestrian, 53, of Sydenham Street near Chelten Avenue in West Oak Lane, was pronounced dead at the scene. Her name wasn't released, pending the notification of family.
A witness told police the hit-and-run vehicle was a light gray, older-model, full-size, four-door sedan, possibly a Buick LeSabre or Ford Thunderbird. It sustained damage to the passenger-side front and windshield. The driver was a black man in his 20s with bushy hair, wearing a tan jacket. The motorist fled south on Ivy Hill Road from Cheltenham Avenue.
A teen wounded Thursday was the victim of a rare occurrance -- a shooting in Center City, police said.
Shootings in the area –- loaded with office buildings, trendy stores and restaurants -- are so uncommon that a Central Detectives supervisor could not recall the last case of gun violence there.
"It just doesn't happen," he said. "Center City shootings are more rare. Historically, I don't recall as many here as the rest of the area."
An Upper Darby man was arrested Thursday after he nearly mowed down a police officer during a traffic stop. Police Superintendent Michael Chitwood said Upper Darby cops pulled over Michael Marva about 3:45 p.m., after he made an illegal left turn on Garrett Road.
Marva, 26, tried to run over Officer William Tully, who managed to escape injury, and then sped along Baltimore Avenue into Philly, Chitwood said. The chase ended at Avenue and Cobbs Creek Park, where Marva's car spun out of control. Police found several bags of heroin in his car, Chitwood said.
Marva, who is from Long Lane near Sansom Street, was charged with aggravated assault, reckless driving and related offenses.
Here's a tip: When you're trying to hide from police, don't ram their marked cruiser.
Police say Alberto Santana, 35, of Darien Street near Rising Sun Boulevard, caught police attention about 12:15 a.m. this morning when he allegedly blew through a red light and nearly sideswiped a cruiser at the intersection of E and Allegheny streets in Kensington. Officers gave chase, as Santana allegedly fled in his white Pontiac coupe into the southbound lanes of Interstate 95, police spokeswoman Officer Christine O'Brien said. The officers lost sight of Santana when he exited onto Girard Avenue, but quickly spied him again as he parked in a lot at Girard and Susquehanna and shut off his headlights, O'Brien said. When the officers pulled into the lot, Santana allegedly revved his engine and rammed the cruiser.
He has been charged with drunk driving, assault on police, resisting arrest, reckless endangerment and possessing an instrument of crime.