Archive: May, 2011
Timothy Connors, a 15-year-old freshman at Archbishop Ryan High School, was struck by a car and killed after school Tuesday.
Police said Connors was hit about 3:30 p.m. at Academy and Comly roads in Northeast Philadelphia. The teen died about 40 minutes later from head and body trauma at Aria Hospital-Torresdale.
The female driver, whose name was not released, apparently stayed at the scene after hitting Connors, who is the son of Martin Connors, a Philadelphia police detective, police sources said.
David Gambacorta and Phillip Lucas
@ 7:45 PM 
Permalink
|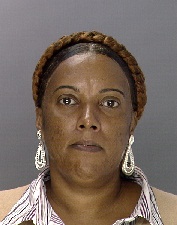 Melanie Postell was arrested by cops in North Philly on Friday for allegedly buying a packet of crack cocaine from some neighborhood drug dealers.
Postell's day job: cataloging confiscated drugs at the Philadelphia Police Department's Forensic Science Center.
Needless to say, this story could get much worse.
A mother was found dead from head trauma in her West Oak Lane house Saturday night, police said.
A woman flagged down police around 9:39 p.m. and asked them to check on her mother at their home on 21st Street near Eastburn Avenue, police said.
Police went to check on the woman's 46-year-old mother and found her face down in a second-floor bedroom of the house suffering from head trauma, according to authorities.
Police are investigating a bizarre home invasion in which a Tacony woman reported she was terrorized by two men who forced her to take pills and attacked her with a baseball bat, a glass candle holder and scissors.
But the home invaders fled without stealing anything, and the 22-year-old woman left Aria Hospital-Torresdale without being treated, police spokeswoman Officer Jillian Russell said.
The incident occurred just after midnight on Princeton Avenue near Algard Street, Russell said. The woman told police she was watching TV when two men, dressed in black clothing and ski masks, broke into her home through a living-room window, Russell said. The woman reported that the men sliced her neck and stomach with scissors, beat her with a baseball bat and candle holder and forced her to ingest pills. Her injuries were minor.
A man was shot and killed inside a South Philadelphia corner store on 18th Street near Sigel Street early Friday morning, police said.
Police Chief Inspector Scott Small said the victim, who appeared to be in his late teens or early 20s, was shot at least once in the head.
Officials found two shell casings inside the store, Small said, and medics on the scene pronounced the man dead at 12:23 a.m.
A woman was hospitalized after she was beaten with a baseball bat during a strong-arm, home-invasion robbery in Tacony.
The attack happened inside an apartment around midnight on Princeton Avenue near Algard Street, police said. Investigators were still on the scene doing a preliminary investigation shortly after midnight, but said the woman was been taken to Aria Torresdale Hospital.
Bensalem police have arrested a homeless couple who they suspect dealt drugs from a Route 1 hotel, after cops raided their room and found a sizeable stash of drugs and related paraphernalia within reach of the couple's 4-year-old child.
Brittany Alverest, 23, and Aljour Hoyle, 30, were charged with drug offenses, child endangerment and related crimes after the Wednesday raid, Bensalem police Sgt. Andrew Aninsman said.
Police say the couple ordered phony prescriptions off the Internet, filled them out illegally and recruited acquaintances to get the prescriptions filled at pharmacies in Philadelphia and Bucks County. The duo also allegedly sold marijuana. When police searched the room, they found various narcotics that were easily accessible to the child, a baby bottle with cough medicine residue on it, cash, laptops, pills that appeared to be oxycodone and other drug paraphernalia, Aninsman said.
This post has been updated
A 23-year-old man was buying a cigar from a cashier at a North Philly gas station about 9 tonight when another man approached him, pulled out and gun and started firing.