Archive: September, 2011
Police are searching for three teenagers who are wanted in connection with as many as 13 robberies in South Philadelphia.
The boys may have executed the robberies within the past month in an area spanning Lombard to Federal Street between the Grays Ferry and Bella Vista neighborhoods, police said.
Police posted surveillance footage for a recent robbery at the Ellsworth-Federal subway stop, and are asking for the public's help to identify the three suspects.
Today is Bob Eskind's last day!
His retirement might otherwise go unnoticed in a city that employs more than 20,000 people. But Eskind, who put in 28 years with the city, was the spokesman for the Philadelphia Prisons System for the past 18 years. There, he fielded questions from reporters about headline-grabbing stories that didn't necessarily reflect positively on the city, like cellblock stabbings and prison escapes. But always, he acted with class and professionalism.
Eskind, 62, of West Philadelphia, came to his prison post in a roundabout way: He started his first city job in 1983 at the Port of History Museum on the waterfront, where he was a curator. Another curating job followed at the Atwater Kent Museum, and changes in city leadership led him into public relations for the city's six prisons.
Police arrested a man who may be a juvenile in East Germantown late Thursday night for shining a laser pointer at the Philadelphia Police Department's helicopter while it was on duty in the area.
Lt. Anthony Ginaldi, a former police department pilot now working in the 35th District at Broad and Champlost streets, reportedly responded to the scene, on East Ashmead Street near Rubicam. Ginaldi had his own run-in with a laser pointer as pilot back in 2008, when James Gautieri shined a green beam into his eyes, forcing him to relinquish control of the chopper to his copilot as he attempted to land at Northeast Airport. Gautieri was sentenced to 33 months in prison for that incident in April.
Police in the Northwest Detective Division confirmed that the man was arrested and said he'll face aggravated assault charges, but were unsure of his age early Friday morning.
A student at West Philadelphia High School was shot in his forearm during a large fight outside the school Thursday around 4:20 p.m.
Police watched surveillance footage of the incident, which showed a crowd of between 40 and 50 teens — most in their school uniforms — fighting on 51st street near Walnut after classes were dismissed, Lt. John Walker, of the Southwest Detective Division said.
It was unclear who fired the shot, or what circumstances led up to the fight, he said.
Police were investigating a shooting in Point Breeze Wednesday night that left a young man hospitalized.
The 20-year-old victim was shot in both thighs around 9 p.m. outside at 20th and Morris streets. He was taken to the Hospital of the University of Pennsylvania and listed in stable condition.
Police did not have information on a motive, suspects or witnesses, and were still investigating the incident late Wednesday evening.
A 25-year-old Crescentville woman was arrested Wednesday afternoon after she stabbed her younger sister in the right breast, police said.
Police said some sort of domestic dispute led the woman to stab her 21-year-old sister just before 4 p.m. on Weymouth Street near Van Kirk. The victim was not seriously hurt, police said. She was taken to Jeanes Hospital in Fox Chase and listed stable condition.
The older sister remained in custody Wednesday night.
Police are searching for two men in connection with an armed robbery at a TD Bank in Bustleton on Aug. 20.
The two gun-wielding suspects walked into the bank on Haldeman Avenue near Red Lion Road demanding cash police said. A teller gave the men an undisclosed amount of money, and they ran away on foot.
The two are also suspected of robbing a TD Bank in Flourtown on Bethlehem Pike near McCloskey Road four days later, police said.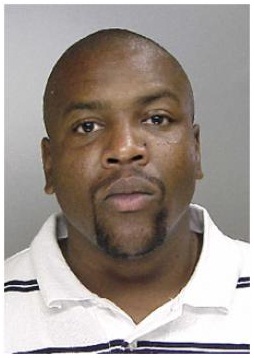 Police and the FBI are searching for a man who allegedly robbed a bank near Trenton in November and is suspected of shooting a teller when he robbed the same bank in August.
Jeffrey Lynn Garrett Jr., 34, walked into the JP Morgan Chase bank on Klockner Road in Mercerville on Aug. 23 and shot a bank teller in her stomach before fleeing on foot with an undisclosed amount of money, police said.
Garrett allegedly robbed the same bank on Nov. 10 after handing a teller a note demanding cash, and brandishing a handgun.