This post has been updated.
If it wasn't for the yellow police tape cordoning off Malta Street and the firefighters washing blood from the walkway of a redbrick rowhouse, it would have looked like any other September afternoon in Juniata park Monday, with school kids in navy polos and khakis walking home and cars jamming busy Hunting Park Avenue.
But Monday wasn't like any other day on the tidy rowhouse block lined with a patchwork of lawns split by concrete walkways. Around 12:30 p.m., police said, a 42-year-old man who went to the block in search of his estranged girlfriend went on a rage-fueled rampage outside a house, shooting the girlfriend's 21-year-old son and her 40-year-old sister before turning the gun on himself and putting a bullet in his own head.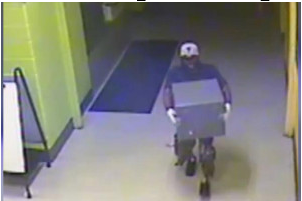 Some thieves steal money. Others prefer jewelry or electronics. But a burglar who broke into a North Philadelphia charter school got away with a safe filled with 100 SEPTA TransPasses valued at $9,200.
The heist happened at 10:19 p.m. Aug. 29 at Mastery Charter School on Rush Street near 12th, when a gloved man was caught on surveillance video sneaking into the school, through its deserted lobby and into an office where the safe was kept. Police found no signs of forced entry.
Investigators are hoping the public can help identify this loser. He's described as black, wearing white gloves, white Phillies cap, black shirt, camouflage shorts and black shoes. Tipsters, call (215) 686-TIPS (8477) or the East Detective Division's Det. McCullough at (215) 686-3243 or- 3244 (DC# 14-25-073728).
A driver rushing a gunshot victim to the hospital got into a car wreck with another motorist early this morning in West Philadelphia, leaving two men hospitalized.
The shooting happened about 12:30 a.m. at 56th and Catharine streets, police spokeswoman Officer Christine O'Brien said. A 24-year-old man was shot in the back inside a home there, and a friend put him in a Nissan to rush him to the Hospital of the University of Philadelphia, O'Brien said. But the driver blew through a red light at the intersection there, hitting a black Nissan that was heading north on 56th, O'Brien said.
Police responding to the accident found the gunshot victim lying on the ground outside the cars. He remains in stable condition after surgery at HUP. The driver of the black Nissan, who suffered a concussion, also is in stable condition at HUP.
A playground hangout turned violent for a group of teenagers Sunday night in the Northeast's Torresdale section when police say an armed robber accosted the group and shot an 18-year-old man.

The group of about five teens was hanging out at the Torresdale Playground, off of Frankford Avenue and Aubrey Street, shortly before 8 p.m. when witnesses said a man approached one of the young men, leveled a handgun at him and announced a robbery, according to Chief Inspector Scott Small at the scene.

The man's friends intervened, and a struggle ensued, ending with the gunman firing a single shot into the victim's chest. Police arrived and quickly rushed him to Aria Health's Torresdale Hospital, where he remained in critical condition late Sunday.

The shooter, who witnesses described to police as a man wearing black mesh shorts, was last seen running north on Leon Street from the playground, toward John F. Byrne Golf Course. K-9, SWAT and Aviation officers scoured the area for any trace of the shooter after a T-shirt he may have worn was found discarded not far from the playground, police sources said.

The quiet playground tucked on a hill off busy Frankford Avenue is not monitored by cameras, Small said.

The young victim's blood, his hat and his wallet marked the spot on the playground where he was shot, near wooden benches, a jungle gym and a swing set. Small said it was unclear how much money, if any, the shooter took.

Three boys and a girl who appeared to be in their late teens and witnesses the shooting were taken to Northeast Detectives to be interviewed.

"We have several good witnesses who gave us very good some identification on this shooter," Small said.

Police remained at the playground investigating late Sunday night.
A 26-year-old woman was wounded in a shooting in the city's Fairhill section Sunday night.
Police were called shortly before 7 p.m. to Clearfield Street near 7th after several people dialed 9-1-1 to report the shooting. In a house on the block, officers found the victim suffering from a gunshot wound to her neck behind her left ear, police said.
The woman was taken to Temple University Hospital, where a police commander said she was in guarded condition around 7:30 p.m. The circumstances surrounding the shooting were unclear Sunday night, but police were investigating the possibility that she may have been caught in the crossfire.
A 24-year-old woman was clinging to life Sunday night after police say she was stabbed twice on a Kensington street.
The victim was at Lee and Somerset streets when she was attacked around 6:30 p.m., police said. She suffered stab wounds to the left side of her torso and her left leg.
A police spokeswoman said officers took the woman to Temple University Hospital, where she remained in critical condition later Sunday. Police reported no arrests or motive in the stabbing.
A 19-month-old infant is recovering tonight after taking a nasty spill through a window at a home in the Summerdale section of Northeast Philly, police said.
Just before 7:30 p.m., police were called to a house on Bridge Street near Summerdale Avenue, where they found the girl with injuries to her head and leg. Medics took her to St. Christopher's Hospital for Children, where it was determined she had fractured her skull, sustained a concussion, and possibly injured her liver in the fall, police said.
She remains at the hospital tonight in stable condition. Investigators are continuing their investigation into how the girl fell.
Passengers onboard an eastbound Market-Frankford El train made a gruesome discovery earlier today, SEPTA said.
Just before 4 p.m., a passenger on the train called police, saying a man was unresponsive on the train, said SEPTA spokeswoman Kristin Geiger.
The train was stopped near the station at 46th and Market streets, where police boarded it to investigate.