Archive: December, 2011
Police are still searching for the mother of a newborn baby girl who was found lying in a cardboard box on Huntingdon Street near Sergeant in North Philadelphia on Wednesday morning.
Church members who were doing community service in the neighborhood found the baby around 10 a.m. near a daycare, police said.
The girl was wrapped in a red and white hounds tooth pattern blanket, a brown women's sweater from Casual Corner, a black bathrobe with pink polka dots and a large peach colored bath towel, police said.
A 21-year-old man was hospitalized after being shot on 20th Street near Windrim Avenue in the Logan section of North Philadelphia Wednesday evening, police said.
The man was shot once in his buttocks and once in his right thigh just before 7 p.m., Chief Inspector Scott Small said.
The victim was taken to the Albert Einstein Medical Center, and was listed in stable condition Wednesday night.
A 35-year-old man was critically wounded after being shot on 46th Street near Lancaster Avenue in West Philadelphia Wednesday night, police said.
About 8:30 p.m., the unidentified man was shot once in his chest and was rushed to The Hospital of the University of Pennsylvania, police said.
Cops did not recover a weapon and no arrests were made.
A store clerk who was robbed in late October came face to face with the bandit again on Dec. 15 during a second armed robbery, police said.
Cops posted a video of the incident in hopes that help from the public will lead to an arrest.
Around 7:10 p.m. on Dec. 15, a man walked into the Golden Sports store on Grays Ferry Avenue near 30th Street demanding cash.
Police posted surveillance footage of a man who assaulted a mentally handicapped gas station employee in hopes that help from the public will lead them to making an arrest.
Around 11:30 a.m. on Nov. 15, police said a man in the parking lot of Uncle Willie's Gas Station on Fox Street near Westmoreland in Tioga got in an argument with the employee outside the building.
Cops said the man retrieved a bottle from a white work truck he was driving and walked back into the gas station.
A 70-year-old woman jumped to her death this morning from a high-rise apartment building at 19th Street and John F. Kennedy Boulevard.
The woman, whose name wasn't released, was declared dead on the scene outside the Kennedy House Apartments at 6:17 a.m., police spokeswoman Officer Christine O'Brien said.
Suicides nationally are on the rise, with more than 36,000 reported in 2008, the most recent year for which statistics are available, according to the American Association of Suicidology (AAS). Suicide rates are higher among elderly people than the general population, according to AAS. Suicide rates for Philadelphia were not immediately available this morning.
The Pennsylvania SPCA removed 12 live and six dead cats from a row house in Lawndale Tuesday, and expect to arrest a couple who lived there on animal cruelty charges, among other offenses, a PSPCA spokeswoman said.
Acting on a tip from neighbors, PSPCA officers raided the home on Lawndale Avenue near Levick Street and found a couple in their late 50s to early 60s living in squalid conditions along with the cats, said Wendy Marano, a PSPCA spokeswoman.
The PSPCA did not release the identities of the people who lived in the home following the raid.
Police and the FBI suspect that the same man robbed at least four banks in Philadelphia between Nov. 29 and Monday afternoon, and are asking for help from the public to identify and arrest him.
At 12:33 Monday afternoon, the man walked into a Citizens Bank branch on Frankford Avenue near Aldine in Holmesburg, and presented a threatening demand note to a teller, police said.
The teller handed the man and undisclosed amount of cash, and police said he may have fled the scene north on Frankford Avenue in an older cream Mazda sedan with another man.
Police investigating a double shooting and homicide in Olney on Oct. 1 released surveillance footage of the suspects just before the incident, and are asking for help from the public to make an arrest.
Two men approached the victims around 3:50 a.m. on 5th Street near Ruscomb, and were involved in a brief argument with them on the street, police said.
One of the men opened fire, fatally wounding Bernabe Montes, 43, who lived on the same block where he was slain.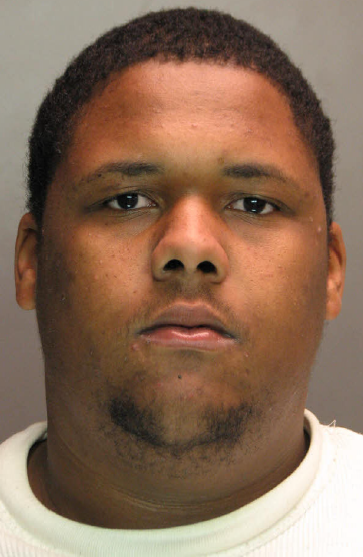 Crime runs in the family for one Montgomery County clan, police say.
Lansdale police arrested Robin Green, 41, and her son Marc Wallace, 20, after police raided their apartment Saturday and found marijuana, cocaine, drug paraphernalia and cash, according to the police department.
The raid capped off an investigation that began last year, after the police department fielded multiple reports of drug-dealing and traced the reports to a property on Hancock Street near Montgomery Avenue. Through surveillance and undercover controlled drug buys, police discovered that Green and Wallace manufactured cocaine in the apartment and that dealers bought it there to distribute in Lansdale and the North Penn region, according to the police department.