A spat between two brothers took a horrific turn tonight, leaving one dead and the other on the run from police.
Shots rang out about 7:15 p.m. inside the home the two men shared on Kershaw Street near 51st in Parkside, according to Lt. John Walker of Southwest Detectives.
Responding officers found a man, 32, shot twice in his back and once in his elbow. They took him to Penn Presbyterian Medical Center, where he was pronounced dead at 9:15 p.m., Walker said.
A 2-year-old boy was killed tonight after getting hit by a SEPTA paratransit bus, police said.
The fatal crash happened about 5:15 p.m., as the boy was playing in front of his family's home on 21st Street near Morris in Point Breeze, said Chief Inspector Scott Small.
Nearby surveillance cameras recorded the incident, which Small described as a "tragic accident." In the video, the boy can be seen sitting on the house's stoop with his father and other family members, then suddenly standing up and darting into the middle of the street and into the path of the vehicle.
A street fight in Ogontz on Monday afternoon escalated to fatal gunfire, police said.
Officers responding to reports of a shooting found the victim, 21, lying on 17th Street near Nedro Avenue just before 4:30 p.m. He had been shot once each in his face and chest, police said.
The victim was taken to Einstein Medical Center, where he was pronounced dead minutes later.
Lookouts use all sorts of props to look innocent as they stand guard while an accomplice commits a crime - hats, sunglasses or even just a studied air of nonchalance.
One brazen bandit used a baby when he acted as a lookout Friday while a friend stole someone's scooter in Sharswood.
The incident happened at 11:30 a.m. Friday on Ridge Avenue near College Avenue, just off Girard College's campus, police said. One thief approached a scooter and broke the lock securing it, while another suspect, with a baby in his arms, acted as lookout. Once the scooter thief walked the vehicle away down the sidewalk, the lookout hopped onto a bicycle - baby still in his arms - and pedaled off, according to footage captured on a nearby home's security system.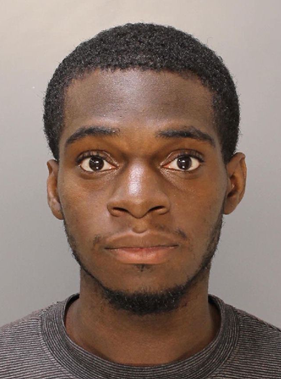 Police have arrested a Kingsessing man for allegedly stabbing a coworker Friday afternoon in a truck outside the Herr's offices in Southwest Philadelphia.
Tamaron Jones, 21, of Paxon Street near Kingsessing Avenue, was charged with aggravated assault, possessing an instrument of crime, simple assault and recklessly endangering another person for allegedly using a black kitchen knife to stab a 23-year-old man repeatedly in a Herr's truck at the snack factory's city headquarters on Brewster Avenue near 76th Street, police said.
The victim, a Herr's employee who was able to escape the truck, told police he'd had no prior arguments or disagreements with Jones, a temporary employee who had been assigned to Herr's about two weeks ago. The victim was treated at Penn-Presbyterian Hospital, where doctors had to stitch up wounds to his right eye, his right arm, the back of his head, his stomach and his leg, police said.
Police have identified the victims of three unrelated weekend murders.
In the most recent case, LaBrian Dale-Parker, 34, of Fredericksburg, Va., died at Einstein Medical Center about 6:45 p.m. last night after a gun battle erupted a half hour earlier at the Tangeray Tavern, a popular bar on Pratt Street near Godfrey Avenue in Summerdale. Three other men, ages 53, 42 and 34, were also hit by bullets, police said. The eldest remains in critical condition at Aria Health's Torresdale campus; the youngest man, who was shot in the right thigh, is in stable condition at Lankenau Hospital; and the 42-year-old remains in critical condition at Thomas Jefferson University Hospital.
An argument sparked the gunfire, but police reported no suspects. Police told reporters yesterday that they were probing whether a dispute over the Eagles-Cowboys game triggered the gun battle. Investigators also suspected members of the notorious Wheels of Soul motorcycle gang were involved; witnesses reported as many as 15 motorcycles fled the scene after shots rang out.
The state Bureau of Professional and Occupational Affairs has filed formal disciplinary action against three funeral directors embroiled in scandals last month.
Janet Powell Dailey, John M. Price and Blair Hawkins were each served with the orders Thursday, to which they have 30 days to respond or face punitive measures without a hearing, including the revocation of their professional licenses.
A spokeswoman for the Department of State said the filings represent a more serious step than the injunctions filed Wednesday against the three funeral directors. Yesterday's legal action expedites the state's review of the allegations against the trio.
Let's hope this isn't the way we treat the actual pope when he comes to town next week.
The good people over at Pop-Up Pope, who've been drumming up excitement about Pope Francis' visit for months using a life-size cardboard cutout of the holy man they take around town, told me about a disturbing incident they experienced at LOVE Park yesterday.
While Christa Scalies was holding the papal cutout up and talking to Philly Jesus, who calls LOVE Park his home base, a young skateboarder came out of nowhere and tackled the Pop-Up Pope to the ground. Then he laughed about.